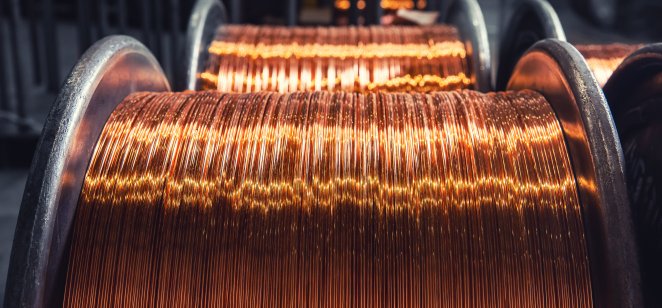 On March 7, 2022, the price of copper – a gauge of global economic growth and a critical metal for the production of electric vehicles – reached new all-time highs of $5.03 per pound, marking a 150% increase from COVID-19 lows.
It appeared that the world could no longer exist without this metal, and its industrial demand would continue to rise unhindered to support a growing desire to electrify the global economy, which was caught by surprise by the increase in fossil fuel prices (petroleum and natural gas) after the Ukraine war.
Copper is also a key metal in electric vehicles, which will power the green transition, along with others such as nickel and lithium, with as much as 80kg of copper being used in some electric cars.
Two months after its peak, copper officially entered a bear market by plunging 20% to $4 per pound, knocked down by the COVID-19 lockdowns in China as investors worried about a recession.
However, the brown metal has attempted to rebound from technical oversold levels in recent days.
Is this an indication that investors have already priced in a global economic downturn and that the worst is now over? Or are we merely experiencing a copper bear market rally, with further declines to come?
Copper is trading about 20% down from earlier March highs
What copper prices are telling us
Copper is a key indicator of global economic health due to its widespread use in a multitude of sectors ranging from electric goods to industrial machinery.
When copper prices rise, it's a sign that the economy is picking up steam and businesses are ramping up output to meet rising consumer demand. On the other hand, when copper prices fall, global economic growth becomes more uncertain.
This has been the case over the last three months, with copper prices sliding from record highs established in early March as investors questioned global growth prospects.
Several factors have influenced copper and global growth momentum, including geopolitical concerns about the Ukraine conflict, but most notably, Chinese lockdowns to combat the spread of COVID-19.
China is the world's largest copper consumer, accounting for more than half of total demand. As a result, China's economic fate is inextricably linked to copper performance.
When China sneezes, copper always gets a cold.
What is your sentiment on Copper?
Vote to see Traders sentiment!
Copper on a bullish technical divergence
On a technical level, a bullish divergence appeared in the daily copper chart, with prices recording new lows, but relative strength levels not falling further into oversold, a symptom that the selling pressure may have run out of steam, as David Jones pointed out in his latest video.
The analyst believes that a new pullback of copper in the $4.15 per pound area could represent an interesting entry point, placing the stop loss, in the $3.90 per pound area, slightly below the major support line of $4 per pound.
Copper has officially entered a bear market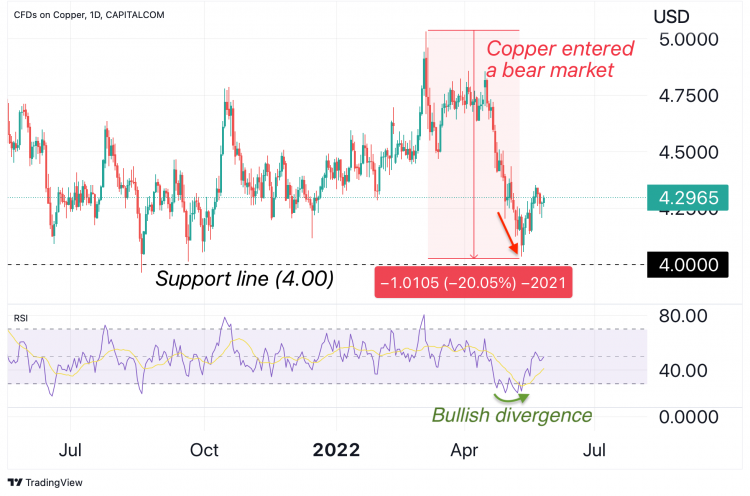 Copper has officially entered a bear market – Credit: TradingView
Fundamental factors may still weigh on the brown metal
According to Piero Cingari, analyst at Capital.com, the previous days have acted as a relief rally in all assets that had declined in recent months.
This is because interest rate fears cooled as inflation peaked. The market is beginning to believe that the US Federal Reserve may not go all-in with rate rises and will thus need to release the brake to prevent more damage (a recession).
The most significant concerns associated with copper, particularly Covid in China and the negative repercussions on global growth, remain and have not diminished.
This might represent a hit-and-run window for copper bulls, as the metal's fundamentals have not improved, and prices are just surging from oversold levels and in sympathy with the broader risk appetite.
If current geopolitical and economic challenges, such as COVID-19 in China and the conflict in Ukraine, derail globalisation efforts, copper prices may face a further headwind in the coming months as trade flows stall due to a drop in global consumer demand amid real income losses.
Copper prices also exhibit an extraordinarily close link with South Korean exports — one of the world's most open economies and a gauge for the health of global trade flows.
Copper and South Korean exports are closely linked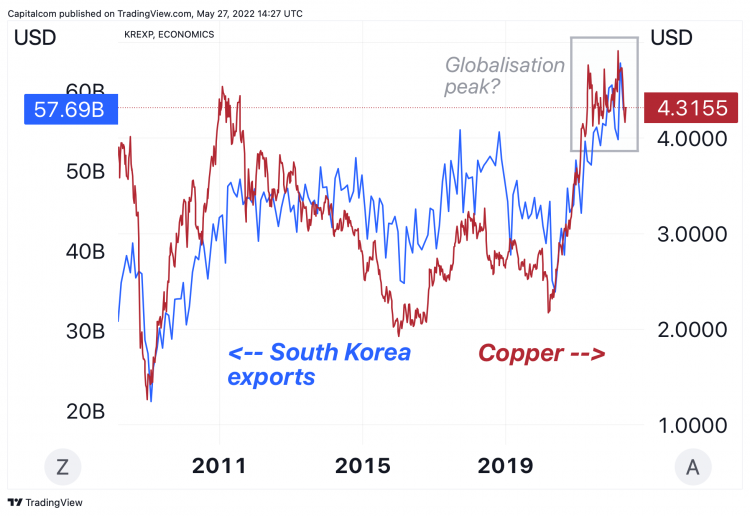 Copper and South Korean exports are closely linked – Credit: TradingView
Read more