Copper and iron ore prices soar after China eases Covid restrictions
Subscribe to Weekly Highlights
The major market events for the week ahead right in your inbox.
Subscribe
Content
Both copper and iron ore prices showed significant gains lately, as investors keep a close eye on China reopening developments, which are crucial to both industrial metals. China consumes about 52% of the world's copper, making it the world's largest consumer of brown metal. China is also the largest consumer of iron ore globally, with it importing about 80% of the iron ore it uses, mostly from Brazil and Australia.
Copper, although slightly down on Friday, was still up about 5.4% this week, with a monthly gain of about 11.6%. At the time of writing, copper was trading at about $3.8 per pound.
Iron ore has had a more pronounce upswing, with a weekly gain of about 6.1% and a monthly jump of more than 28%. At the time of writing, iron ore was trading at about CNY 724 per tonne. This was mostly due to China already having eased some of its zero-COVID-19 restrictions in some areas following increasingly violent protests.
Iron ore prices were up about 6.1% this week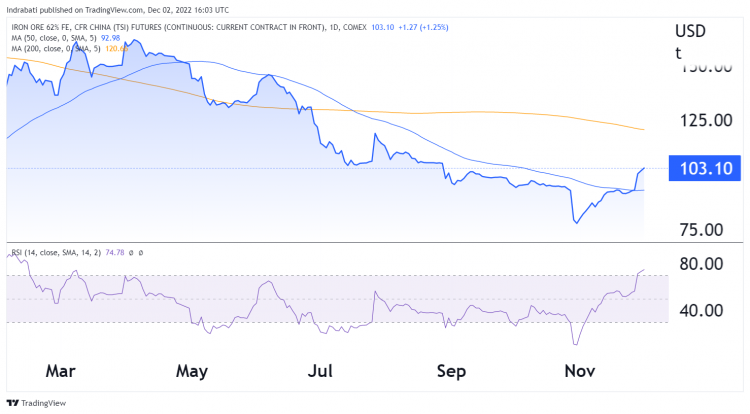 Iron ore prices have increased over 6% this week – Credit: TradingView
How have easing China restrictions impacted copper and iron ore?
China has recently been easing its rigid zero-COVID-19 restrictions, following mass protests across the country, sparked by a high-rise building fire in Urumqi, which led to the deaths of 10 people. This has led to widespread outrage, with citizens blaming ongoing restrictions for the delay in emergency services.
The Chinese government has responded by loosening zero-COVID restrictions in Urumqi, as well as several districts in Guangzhou and Shanghai. Furthermore, in some localities of Beijing, COVID-19 patients with relatively mild cases of the virus have been allowed to self-isolate at home, as opposed to in the hospital, or whole buildings and localities cordoned off earlier.
This has also been supported by the fact that top pandemic officials are highlighting that the Omicron strain of virus has been losing strength, through herd immunity improving significantly, as well as more people getting vaccinated. Although cases are still quite high, they are less severe than before, with fewer deaths than in countries such as the UK and the US.
This has led to widespread speculations that China may now be willing to turn away from its rigid zero-COVID policy and perhaps end mass lockdowns altogether. This is also due to the fact that so far, China's policy of introducing mass lockdowns whenever cases rise has not been working very well, leading to a delay in herd immunity as well as hitting the economy very hard.
To counter these effects and revive the economy, the Chinese government has already issued a slew of stimulus measures, which are focusing heavily on the infrastructure and real estate sector, amongst others. This is going a long way in boosting copper and iron ore prices, which are heavily reliant on these sectors.
The People's Bank of China (PBoC) has also recently reduced the reserve requirement ratio for banks, in an attempt to increase liquidity in the market. For the same goal, in November, it also infused the economy with about CNY 850 billion, in the form of medium-term loans, in order to help combat the bond weakness seen a couple of weeks back, when Chinese government bonds had their biggest sell-off in about 6 years.
What is your sentiment on Copper?
Vote to see Traders sentiment!
At the time of writing, iron ore prices were trading at about CNY 724, which was about 36% down from the record highs seen earlier this year in April. However, the metal was still up about 33% from the record lows seen at the end of October.
Since November 25, iron ore prices have also crossed above the 50-day moving average, indicating the start of an upswing, but are still about 17% down from the 200-day moving average. Since November 28, the relative strength index for iron ore has also crossed above 70, which indicates overbought levels and could signal the start of a trend reversal.
At the time of writing, copper prices were trading at about $3.8 per pound, which was about 22.5% down from its early-March 2022 highs, but still about 17.8% higher than mid-July 2022 lows. Copper prices have also moved above their 50-day moving average since November 3, but are also still trading about 3.1% down from the 200-day moving average.
Copper prices were up about 17.8% from mid-July lows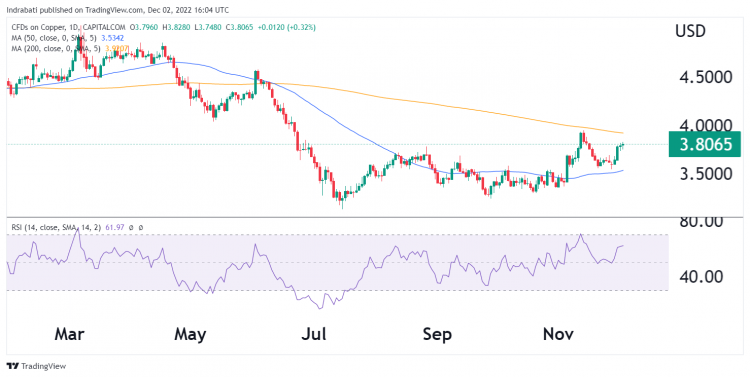 Copper prices benefited significantly from loosening zero-COVID restrictions in China – Credit: TradingView
What is the outlook for iron ore and copper?
Investors are keeping a close eye on any new Chinese developments regarding further relaxations of COVID-19 restrictions, as these are likely to help support iron ore and copper prices further. Further stimulus measures by the Chinese government, if any, will also do the same.
Furthermore, a strong US non-farm payroll data for November may also prove to be negative for metals in the coming days, as the US Federal Reserve may decide to put unemployment concerns on the backburner, instead focusing solely on controlling inflation. This may lead to more aggressive rate hikes in the coming months, which may subdue metal prices somewhat.
Related reading