Commodity market outlook: will slowing economic growth impact prices?
Subscribe to Weekly Highlights
The major market events for the week ahead right in your inbox.
Subscribe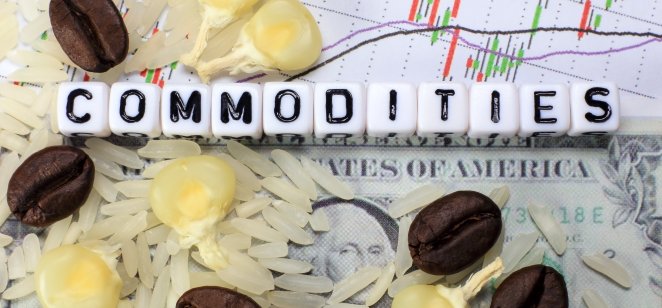 Content
Commodity markets have performed strongly so far this year across the board with energy, metal and soft commodities rising throughout 2021 and hitting multi-year highs. However, concerns over slowing economic growth and COVID-19 related lockdown measures are starting to weigh on the market.
In this article, we look at the latest trends and developments in the four principal commodity markets and review some of the analysts' latest predictions.
Energy commodities
Out of the many types of commodity market, energy has been in the limelight lately for the regular supply disruptions and price hikes this year. Energy commodities include crude oil, natural gas, gasoline and coal. Crude oil prices are the key indicator for the energy market.
The US crude oil benchmark West Texas Intermediate (WTI) November contract traded on the New York Mercantile Exchange (NYMEX), hit a seven-year high and surged past $80 a barrel on 8 October. The November WTI contract peaked at $83.87 on 18 October before falling but remaining above $80.
ABN Ambro lifted its oil forecast in October, as it expects demand to outstrip supply in the near-term. Hans van Cleef, senior energy economist at the Dutch bank, said in a recent commodity prices analysis:
"Oil demand is now roughly back to the level it was before the start of the corona crisis (100 million barrels per day (mb/d), while given the economic outlook it is expected to increase further. Meanwhile, OPEC+ is normalising supply only slowly. As a result, the balance between supply and demand is currently slightly out of sync. This will lead to continued upward price pressure."
Commodity prices are mainly driven by supply and demand, and as such, economic data will often influence commodity markets forecasts.

Oil production and its downstream refinery operation in the US were severely disrupted in February when a once-in-a-century winter storm hit Texas, the US state with most of the refinery capacity. This was followed by a series of destructive hurricanes and storms in the Gulf of Mexico (GOM) in August and September, which again shut oil refineries and production. The GOM is one of the key production hubs for oil in the US and accounted for 15% of the country's crude oil production in 2020, according to the US Energy Information Administration (EIA).
As gasoline is a petroleum product, its prices are driven by crude oil market movements. The WTI price rally has pushed the gasoline market to a seven-year high. The gasoline contract last settled at $2.5084 a gallon on 20 October.

Natural gas and coal prices were also boosted by the gains in crude oil markets and hit multi-year highs.
Precious metals
Precious metal commodities include gold, silver, platinum and palladium.
Gold is often featured heavily in investment portfolios as the precious metal is considered to be an inflationary hedge and a safe-haven asset. Safe-haven assets such as gold tend to fall in value when interest rates are higher (higher interest rates can lead to increased profitability in other, more risky investment products).
As more central banks around the world start to tighten their monetary policy, analysts at ABN Amro expect gold prices to fall in the coming months. Georgette Boele, the bank's senior FX and precious metals strategist, noted:
"There are several reasons behind our negative gold price outlook. First, monetary policy will tighten globally going forward. Some central banks have already started, such the central banks of Norway, New Zealand, Brazil and South Korea. We expect the Fed to start hiking early 2023. The Bank of England and Bank of Canada will probably hike before that. The ECB, the Bank of Japan, the Reserve Bank of Australia, the Riksbank and the Swiss National Bank will likely hike later compared to the other central banks, but the direction is towards tightening and not easing. Only in China has the central bank been easing in piecemeal steps to support the economy."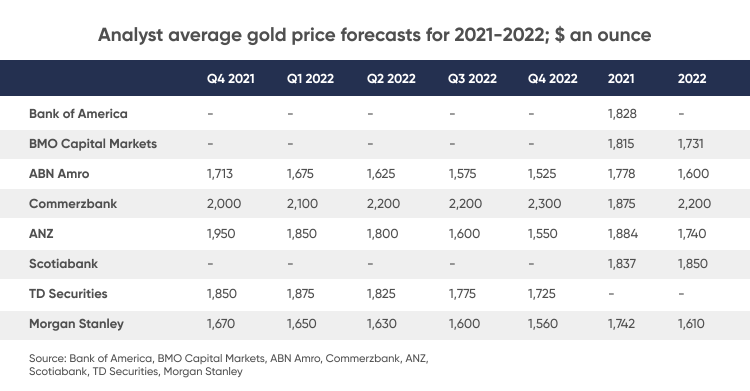 Non-ferrous/base metals
Base metals' complex includes copper, aluminium, zinc, lead, nickel and tin.
Copper is the bellwether metal of the global economy and is a key material for wires, tubes and pipes for buildings. The global green energy transition has boosted copper demand as more metal will be needed in electric vehicles (EVs). This coupled with recovering demand as countries re-opened after Covid lockdown have pushed the metal's prices to record highs this year.
| | |
| --- | --- |
| Long position overnight fee | -0.0061% |
| Short position overnight fee | 0.0025% |
| Overnight fee time | 22:00 (UTC) |
| Spread | 0.18 |
| | |
| --- | --- |
| Long position overnight fee | -0.0062% |
| Short position overnight fee | 0.0023% |
| Overnight fee time | 22:00 (UTC) |
| Spread | 0.020 |
| | |
| --- | --- |
| Long position overnight fee | -0.0157% |
| Short position overnight fee | 0.0013% |
| Overnight fee time | 22:00 (UTC) |
| Spread | 0.03 |
| | |
| --- | --- |
| Long position overnight fee | 0.0438% |
| Short position overnight fee | -0.0682% |
| Overnight fee time | 22:00 (UTC) |
| Spread | 0.005 |
The London Metal Exchange (LME) copper prices surged past $10,000 a metric tonne in May, an all-time high. The benchmark three-month contract settled at $10,149.50 a tonne on 19 October.
As the metal market is largely driven by supply and demand, the global economic growth will have a big impact on outlook. As the world continues to struggle with COVID-19 outbreaks, this has impacted the economic recovery especially in developing countries where vaccination rate has lagged behind developed nations.
In October, the IMF downgraded its latest world economic outlook growth forecast to 5.9% in 2021, 0.1 percentage point lower compared with the previous projection in July 2021. The IMF expects the global economy to grow at 4.9% in 2022. In its World Economic Outlook report published on 12 October, the IMF wrote:
"The downward revision for 2021 reflects a downgrade for advanced economies—in part due to supply disruptions—and for low-income developing countries, largely due to worsening pandemic dynamics."
Despite the growth forecast downgrade, analysts at ANZ Commodities suggested the supply constraint in the metal markets is expected to provide support to prices. Daniel Hynes, senior commodity strategist at ANZ Commodities, said:
"The metals markets are still dealing with tight markets. Copper inventories on the LME have fallen 30% since the start of September. This has seen available stocks fall to their lowest level since 1974. Power shortages in China could see aluminium smelters forced to close."
Soft commodities
Soft commodities consist of perishables such as sugar, cocoa, coffee, cotton and orange juice. Sugar is one of the world's ten largest agricultural futures markets and prices have been climbing this year amid supply issues in Brazil.
Brazil is the world's top sugar producer and frosts in the country have cut the size of its sugarcane crop this year, pushing the US raw sugar October contract to $0.20 a pound on 30 August, the highest since February 2017. Prices have since fallen, but remained at around 4.5-year highs. The March 2022 contract last settled at $0.1897 a pound on 20 October.
Sugar is produced from sugarcane and sugar beets, and is used widely in food and industrial applications. Sugarcane only grows in tropical climates, so the crops are concentrated in the southern hemisphere, while the main sugar beet producing regions are in Russia and Europe.
The unfavourable weather condition in Brazil has led S&P Global Platts Analytics to cut its cane supply forecast to the lowest in a decade at 522 million tonnes, with further cuts possible in Q4. It said:
"The Center-South Brazil 2021-22 sugarcane harvest is proving to be one of the most challenging seasons on record. On top of a prolonged drought – the worst in almost a century – the sugarcane crop has been recently impacted by three waves of frost."
In view of lower output, consultancy group Fitch Ratings expects sugar prices for the 2021/2022 season to reach the highest level since 2016/2017, according to the report published in May. It also expects a sugar supply deficit for the 2020/2021 season, followed by a surplus in 2021/2022. Claudio Miori, director at Fitch Ratings Brazil, said:
"Brazilian sugar mix in calendar 2021 will remain relatively unchanged, but then sugar output should fall by at least 2.3 million tons due to lower yields in the ongoing crop season."
Based on a poll of 11 traders and analysts conducted by Reuters in August, raw sugar is expected to gain more than 30% this year because of the negative supply outlook in Brazil, which would swing the global market into deficit. Raw sugar prices are projected to end of 2021 at $0.20 a pound, while white sugar prices are suggested to end the year at $520 a tonne.
Note that this article does not constitute financial or investment advice. Before investing in any commodity, always do your own research and remember that your decision should be based on your attitude to risk, your expertise in this market, the spread of your portfolio and how comfortable you feel about losing money. Never invest more than you can afford to lose.
Follow Capital.com to stay on top of the latest news on commodity markets.
FAQs
Are commodities a good investment?

Whether commodities are a suitable investment for you depends on your investing goals and portfolio composition. You should always do your own research and never invest what you cannot afford to lose.
How do commodity markets work?

Commodities markets work just like any other financial market. They are a physical or a virtual space, where one can buy, sell or trade different commodities at current or future date. Most commodity contracts are traded on exchanges such as the Chicago Mercantile Exchange (CME), London Metal Exchange (LME), New York Mercantile Exchange (NYMEX) and etc.
What are the main types of commodities?

The main four types of commodities are energy, precious metals, non-ferrous or base metals, and soft commodities.
Read more: Gasoline price forecast: Where to after 7-year highs?