Coke (KO) vs Pepsi (PEP): Which stock is pick of the pops?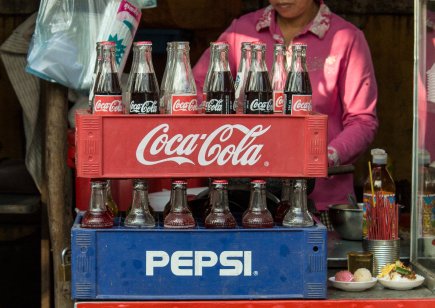 Soft-drinks icons Coca-Cola (KO) and Pepsico (PEP) reported their first quarter results this week, revealing an impressive performance. As inflation soars, the food and beverage sector was expected to outperform and these earnings backed up that forecast.
Coca-Cola's first quarter earnings saw its EPS grow by 23% on revenue growth of 16%. Coke also raised its dividend rate to 4.3%
Coca-Cola (KO)
Pepsico also bet its EPS estimates by 4.03%, and revenue expectations by 4.24%. The company's dividend rate remains at a handsome level, with a dividend growth expected in 2022.
Of the two stocks, analysts surveyed by Refinitiv place a more positive outlook on Coca-Cola stock than on Pepsico shares.
What is your sentiment on PEP?
Vote to see Traders sentiment!
Pepsico (PEP)
Consumer staples have historically performed well during times of inflation: the products have relatively inelastic demand, so price increments do not reduce sales as much. The S&P consumer staples sector grew by 16.4% in the past year, while the broader S&P 500 (US500) only rallied by 0.57% over the same period.
Peers such as Keurig Dr Pepper Inc (KDP) also rallied by more than the market over the past year. Other members of the food sector such as Nestle (NESN) and Kraft Heinz (KHC) have also grown by double digits in the past year.
Can Coca-Cola keep its fizz?
In the past year, Coca-Cola stock has risen by 56%.
Per its earnings release, Coca-Cola grew its organic revenue by 18%. This included 7% growth in product prices, and 11% growth in concentrate sales. Europe, the Middle East, Africa and Latin America contributed the most sales growth.
Coca-Cola also made propgress on its ESG goals. Conrad MacKinnon, SVP at activist investor proxy group As You Sow, told Capital.com: "We are pleased to see Coke management affirming the environmental and economic validity of increased use of refillable bottles. We sent this message to the company earlier this year through dialogue and the filing of a shareholder proposal. In February, Coke agreed to boost sales of beverages in refillables to 25% by 2030."
Carlos Laboy, Managing Director at HSBC, explains why this can positively affect profits: "The refillable, reusable packages tend to give you the opportunity especially in larger sizes, have a lower entry price point, which is particularly useful in developing and emerging markets. And so you have an intersection of a very important business imperative on affordability and the fact that ultimately, a refillable package is less likely to go to waste and has a lower carbon footprint."
Pepsico earnings
Pepsico stock is up by more than 20% in the past year.
Pepsi grew its total revenue by 9% this quarter, and much like Coke its biggest growth came from Europe, the Middle East, Africa and Latin America. As outlined in its earnings release, Pepsico is also growing its dividends by 5% this year.
The Frito-lay and Quaker Food arms of the company also saw a double-digit revenue growth in the past quarter.
Although Refinitiv analysts have the stock at a neutral outlook, there is a consensus "buy" rating on the stock. Analysts at Zacks also have a neutral outlook for the stock, according to a note seen by Capital.com.
Inflation feeds the food sector
The food sector is likely to do relatively well for the year 2022 if inflation remains high, although the sector may not be the best performer when compared to energy or healthcare.
As this insight by BlackRock explains, consumer staples can pass on prices onto consumers, but at a limit. At very high prices, company profit margins do start to become depressed as consumer demand dwindles.