Coca-Cola Europacific Partners H1 profits soar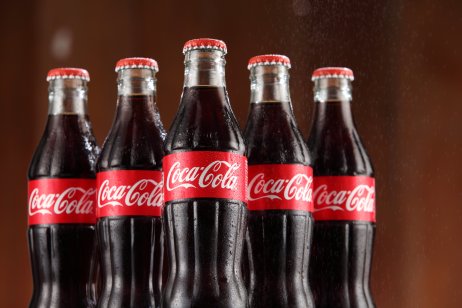 UK-based Coca-Cola Europacific Partners has recorded robust first-half 2021 results, thanks to the lifting of coronavirus restrictions in its regions and the purchase of Coca-Cola Amatil.
The drinks distributor achieved a pre-tax profit of €455m ($539m) in the six months to 2 July, up from €211m ($250m) in the corresponding period of 2020.
A lot of bottle
The Uxbridge-based franchise saw the sale of its goods approach 1.23 billion cases in the first half of 2021, an 18% increase on the first six months of 2020. Sales by volume of Coca-Cola were up 4.5% in H1, with Coca-Cola Zero Sugar the standout performer, achieving 10% growth, compared with the corresponding period of 2020.
Fanta sales rose 8% in the first six months of the year, compared with H1 volumes last year. Energy drink sales were also up, by more than 35%, reflecting the upward trend for products such as Monster in particular.
Volumes of still products also rose, but it was a mixed bag. Water sales fell 1%, whereas juice sales were up more than 15%, year on year.
What is your sentiment on KO?
Vote to see Traders sentiment!
Global revenue up
Revenue figures were encouraging across the board, with Asia Pacific recording a first-half total of almost €1.6bn ($1.9bn), a 19% increase on the first six months of 2020. Sales increases reflected the easing of coronavirus restrictions and a strong Ramadan period in Indonesia.
The acquisition of Coca-Cola Amatil also contributed to sales in Australia, the Pacific and Indonesia. The company was purchased for AUD9.77bn ($7.22bn) in May.
Elsewhere, revenue in Great Britain rose 16% to approaching €1.2bn ($1.4bn), with the popularity of Monster and Coca-Cola Zero Sugar driving sales. Revenue growth was marginally higher in Iberia, where it topped €1bn ($1.2bn).
Confident of successful pandemic exit
Commenting on the results, Coca-Cola Europacific Partners CEO Damian Gammell said: "We are pleased to report a strong H1 performance, as we confidently navigate the varied impact of the pandemic across our markets, with our focus remaining on supporting our people, customers and communities. Top-line growth, operating margin improvement and stronger free cash flow generation demonstrate the strength of our business and the successful integration of Coca-Cola Amatil."
Gammell added: "Together with The Coca-Cola Company and our other franchise partners, our collective focus on our core brands alongside solid in-market execution has served us well, growing share both instore and online. We are resolved in our determination to move further and faster towards a stronger and even more sustainable future."
Read more: Domino's Pizza completes exit of international markets with Swiss sale