CN facing shareholder revolt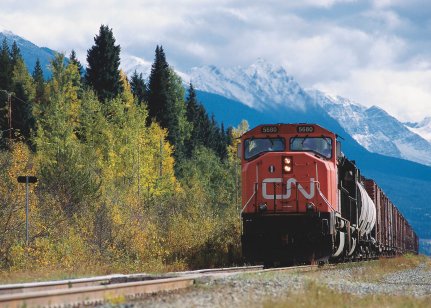 CN Rail's CEO and other executives are fighting to keep their jobs as Canada's largest railway tries to rebound following a failed merger with Kansas City Southern.
The company's largest shareholder, TCI Fund Management, wanted to replace CEO Jean-Jacques Ruest after Canadian rival CP won control of KCS last week following a months-long battle. KCS accepted a $27bn merger deal with CP – which was $2bn less than CN's final $29bn offer – after the US Surface Transportation Board rejected CN's application for a voting trust.
Ruest pre-emptive moves
Ruest attempted a pre-emptive strike on Friday 17 September by announcing several cost-cutting moves.
"We have the right leadership team and management team to execute our strategic plan, both in the short term and the long term," said Ruest on a conference call with analysts to that discussed the moves. "We have a vision for the industry which is forward-looking, not backward-looking."
London-based TCI, headed by British billionaire Chris Hohn, is seeking to oust Ruest as well as CN's chairman Robert Pace and four board directors. TCI has formally given the company three weeks to call a shareholder meeting for the purpose of doing so. CN has not yet responded to the demand.
The British company owns 5% of CP.
The failed merger would have made CN the only North American railway with links covering Canada, US and Mexico. But CP will hold that distinction once its merger with KCS is approved sometime in 2022.
To appease TCI and other shareholders, CN unveiled plans to increase efficiencies through the sale of off-rail businesses, share buybacks worth C$5bn (US$4bn), layoffs, and reduced spending.
The railway aims to boost its operating profit by C$700m (US$548.09m) through C$550m (US$430.64m) in cost reductions, and C$150m ($117.45m) from price increases. The cuts include C$250m (US$195.75m) in savings from a reduction in management personnel and unionised workers.
TCI not impressed
But Ben Walker, a partner in TCI, has called CN's plans "reactive."
"A lot of the things they're doing should have been done already as part of a continuous improvement plan and efficiency optimisation," Walker told The Globe and Mail. "We're hopeful that shareholders will vote for our slate of independent, high-quality nominees."
TCI is seeking to replace Ruest with Jim Vena, who now serves a former Union Pacific chief operating officer, who previously held the same post with CN as part of his 40-year tenure with the firm. Vena "has committed to accepting CN's top executive post if it is offered to him in a suitably expedient manger," TCI said in a news release.
TCI said it has no previous ties to Vena and the potential directors. But TCI does have links to CP.
As result of CP's victory in the merger battle, CN will receive $1.4bn in break-related fees.
Read more: KC Southern to terminate merger with Canadian National