CMA opens inquiry into IAG's planned purchase of Air Europa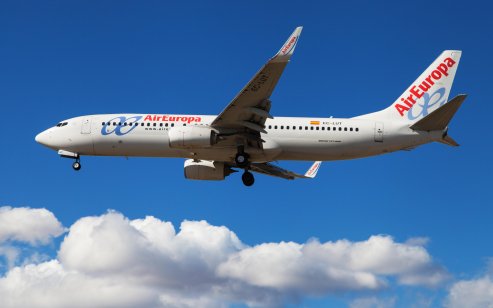 The UK's Competition and Markets Authority (CMA) announced on Monday that it is looking into whether the planned €500m ($564m) purchase of Spain's Air Europa by International Consolidated Airlines Group (IAG) would harm competition in the UK.
In a statement, the regulator invited interested parties to put forward their comments on the merger by 29 November 2021.
"The Competition and Markets Authority (CMA) is considering whether it is or may be the case that this transaction if carried into effect, will result in the creation of a relevant merger situation under the merger provisions of the Enterprise Act 2002 and, if so, whether the creation of that situation may be expected to result in a substantial lessening of competition within any market or markets in the United Kingdom for goods or services," it said.
European Commission delays
The CMA's announcement comes just weeks after the European Commission (EC) delayed its own decision on the deal, extending it from 5 November to 4 January next year.
The Commission originally opened an in-depth investigation in June, voicing concerns that the proposed transaction would reduce competition on Spanish domestic routes and on international routes to and from Spain.
"The European Commission has opened an in-depth investigation to assess the proposed acquisition of Air Europa by IAG, under the EU Merger Regulation. The Commission is concerned that the proposed transaction may reduce competition in the markets for passenger air transport services on Spanish domestic routes and on international routes to and from Spain," the EC said in a press release at the time.
What is your sentiment on IAG?
Vote to see Traders sentiment!
Competition concerns
In a further breakdown of its concerns regarding competition, the EC highlighted in the press release that IAG and Air Europa are respectively the first and third largest providers of scheduled passenger air transport services in Spain.
"They both operate a network of Spanish domestic routes, as well as short-haul routes between Spain and other countries in the European Economic Area (EEA) or outside the EU, and long-haul routes between Spain and the Americas," it said.
It also noted that the proposed transaction could significantly reduce competition on 70 origin and destination (O&D) city pairs within and to/from Spain, on which both airlines offer direct services. "On some routes, IAG and Air Europa have been the only two airlines operating," it added.
Moreover, the Commission noted that it was concerned about the effect of the proposed transaction on routes on which other airlines rely on Air Europa's domestic and short-haul network for their own operations at Madrid airport and a number of other EU airports.
"Without Air Europa's feeder traffic, some airlines may decide to terminate their services to international destinations also served by IAG, reducing choice for travellers," it said.
Meanwhile, the Competition and Markets Authority (CMA) said it has a 19 January deadline for its initial investigation decision.
IAG response
An IAG spokesperson responded to a request from Capital.com for comment.
"We will collaborate with the CMA. The London-Madrid route is highly competitive and is already part of the European Commission process," it said.
Read more: IAG sees losses narrow in Q3 – Vueling and Iberia strongest