Clinical study results separate Pfizer from vaccine pack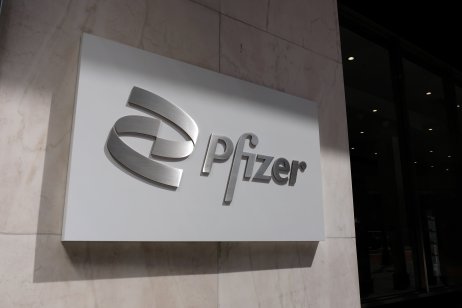 Pfizer continued to pull away from other Covid-19 vaccine makers on Friday as its shares gained 8% to $47.36 (£35.12) on news that the company's oral anti-viral treatment was nearly 90% effective at preventing hospitalisation or death. Shares were up over 10% in after-hours trading.
Shares of Pfizer are up more than 11% on the month while shares of other biopharmaceutical companies like Merck, Moderna, Johnson and Johnson, and Emergent BioSolutions have all either fallen or plateaued.
Oral anti-viral treatment
One reason why Pfizer has seen its shares jump recently is that the company's oral anti-viral treatment was found to be more effective than similar products that are currently under regulatory review.
A Phase 2/3 study of Pfizer's Paxlovid found that 0.8% of hospitalised patients who received the drug remained in the hospital after 28 days compared to 7% of patients who received a placebo.
What is your sentiment on PFE?
Vote to see Traders sentiment!
Merck Phase 3
In comparison, the Phase 3 study of Merck's oral anti-viral drug found it reduced hospitalisations by just 50% with 7.3% of patients who received the drug being hospitalised for an entire month.
Even so, Merck's oral drug received the world's first use authorisation in the UK on 4 November, a sign that approval of Pfizer's treatment may not be far behind.
"Today's news is a real game-changer in the global efforts to halt the devastation of this pandemic," Albert Bourla, Pfizer's CEO, said in a press release. "These data suggest that our oral antiviral candidate, if approved or authorised by regulatory authorities, has the potential to save patients' lives and reduce the severity of Covid-19 infections."
Supply chain and manufacturing issues
While Pfizer and Merck compete for the best oral anti-viral treatment, shares of companies like Emergent BioSolutions are taking a beating from supply chain and manufacturing issues.
On Friday, the US government announced it is ending its contract with Emergent to manufacture ingredients for the Covid vaccine.
Emergent was at the center of an issue that plagued Johnson and Johnson's vaccine rollout back in April when the company's manufacturing plant was contaminated.
Shares of the company were down 41.1% to $30.90 by 16:55 UTC on Friday.
Vaccine sales
Meanwhile, both Moderna and Johnson and Johnson are seeing their shares plummet on weak Covid vaccine sales.
In its Q3 earnings report, Moderna revised its Covid vaccine sales forecast down to between 700 million and 800 million from its previously projected 800 million to one billion levels.
Moderna shares were down more than $71 per share to $212.14 by 16:55 UTC, representing a greater than 25% fall on the day.
Similarly, Johnson and Johnson shares were down slightly to $162.70 per share, a per-share drop of $1.90 by 16:55 UTC despite the company anticipating another strong quarter of vaccine sales in Q4, according to the company's Q3 earnings report.
Read more: Pfizer stock price forecast 2021: don't count on the vaccine to support stock