Citigroup beats earnings expectations amid corporate refresh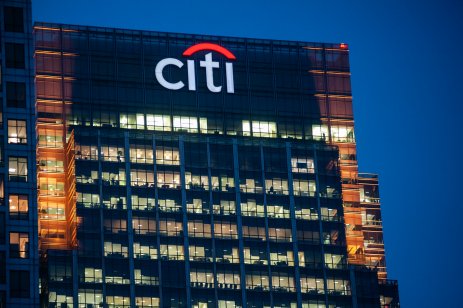 Citigroup posted third-quarter earnings on Thursday that beat investor expectations but saw overall revenue decline slightly when compared with the same period a year ago.
The US bank reported revenues of $17.15bn (€14.7bn) for the quarter, which is down 1% year over year but higher than estimates of $16.97bn, according to analysts surveyed by Refinitiv. Citigroup noted that revenues for the quarter would have been up 3% year over year excluding a $680m pre-tax loss following the sale of its Australian consumer business that was executed as part of the bank's new strategic refresh.
Earnings per share grew to $2.15 up from $1.36 in the third quarter 2020 and handily beat analysts' estimates of $1.65.
Citigroup shares opened in the red Thursday but rebounded following the call to trade up by around 0.25% to a price of $70.48 per share.
Institutional banking
Citigroup increased its net income by 48% year over year to $4.6bn, which was largely driven by its institutional clients group that includes investment banking and securities trading, according to a report.
Total banking revenues were up 11% year over year to $5.8bn. The increase was largely due to a robust equities market for initial public offerings and corporate merger and acquisition activity.
Citigroup boosted revenue from mergers and acquisition advisory to $539m during the latest quarter from $163m during the comparable period from last year. Likewise, revenue from underwriting equity IPOs and corporate bond offerings increased 5% and 19%, respectively, to $507m and $877m.
While equities trading boomed during the quarter, fixed-income trading showed signs of moderating as the market normalises off the highs it reached during the pandemic.
New CEO, new strategy
Citigroup is undergoing somewhat of a business refresh under new CEO Jane Fraser, who took over in February as the first woman to lead a major Wall Street bank.
The company is exiting 13 consumer markets including Australia, while fortifying its core businesses and investing in new opportunities in wealth management and commercial banking.
"We are moving forward with urgency on our top priorities in order to responsibly narrow the returns gap with our peers: the Transformation, refreshing our strategy and building a culture of excellence," Fraser said in a statement. "The recovery from the pandemic continues to drive corporate and consumer confidence and is creating very active client engagement."
Read more: Morgan Stanley posts record quarter driven by latest acquisitions