Will China's Property Crisis Become A Global Doom Loop?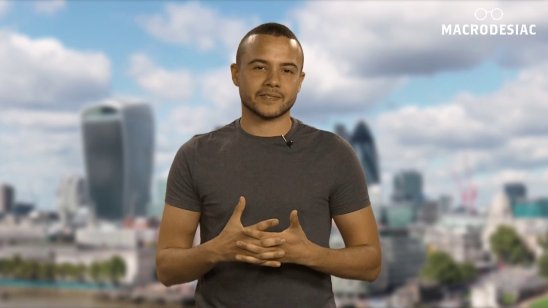 The media was full of stories about China's 'Lehman moment' back in September 2021. Evergrande was about to default, this was the end! Then… Nothing.
You'd be forgiven for thinking the storm had passed but that couldn't be further from the truth. All is not well in China, and these property woes are at the heart of the issue - the most obvious symptom of excessive leverage.
The CCP is trying to manage developer defaults at a systemic level, and wants to ensure that properties are delivered all while keeping prices stable. It's a mammoth task, and frankly, it may well be impossible to pull off.
Developers are cash-strapped. Many are defaulting on bonds so markets are unwilling to finance them further. Prospective buyers prefer finished properties, fearing that any payments for unfinished projects will disappear into the developers' black hole of debt.
Over the past few weeks, existing buyers have even started to boycott their mortgage payments, frustrated at paying out for unfinished homes amid little sign of construction restarting or progressing.
This complete lack of confidence has also spread to contractors and suppliers who are now refusing to work without a guarantee of payment and/or settlement of outstanding debts. The crisis of confidence is contagious.
What could all this mean for things like iron ore prices?
China's property and infrastructure boom was a huge driver of global demand after the 2008 crisis and there's one statistic that highlights this like no other: In just three years (2011-2014) China used more concrete than the US had used in the entire 20th century!
That increased the demand for other materials that went into the construction process, which for a commodity exporter like Australia, was an absolute windfall.
Australia's economy managed to avoid recession, largely supported by this super-sized Chinese demand for commodities like iron ore and copper.
Now, as the global economy once again slows, China is unlikely to repeat the trick. Concerns surrounding economic slowdown have already seen copper tumble to the $3.25 area: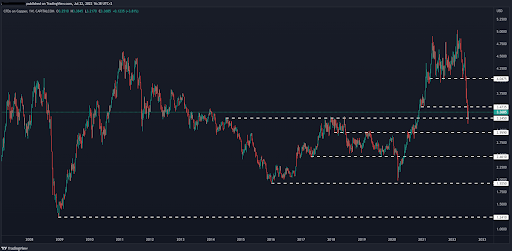 Mining giants BHP & Rio Tinto both warned of tougher times ahead as global growth slows further. Demand for iron ore, used primarily for steel-making, is especially uncertain. The price recently fell towards $100/ton (vs $230 in mid-2021), as China's top steel producer, Baowu, flagged concerns over weak demand and declining profitability in their steel mills.
They're unlikely to be the only company suffering with lower profit margins. As input costs (labour, energy, raw materials) increase, this pushes up the price of production.
This isn't a problem in a high demand environment; the costs can simply be passed on to the customer.
But when demand is slowing, this is a much tougher task and companies are usually forced to accept lower profit margins as a result.
Tesla's earnings this week gave the perfect example. The automaker's core profit margins fell from 32.9% in Q1 to 27.9% in Q2. Those are still healthy margins but the fact that profitability has taken a hit despite Tesla's flurry of price hikes is a clear warning sign.
There's another concern too. Retailers such as Target over-stocked and are now trying to shift inventories from stores and warehouses while cutting down on new orders.
What is your sentiment on TSI?
Vote to see Traders sentiment!
If global demand slows, what could this mean for the Australian dollar?
History suggests it's probably not good news! Let's take a couple of examples to see how the Aussie performs around recessions.
In July 2008 AUD/USD traded at 0.97. By the end of October 2008 the pair plummeted to 0.60

In December 2019 AUD/USD traded at 0.70. By March 2020, it had plunged to 0.55
In both examples, huge uncertainty about the future of the global economy led to a demand collapse. In both cases, it was short-lived, but markets don't tend to wait for certainty.
Interest rates are a big factor in decreasing demand too. Central banks around the world are hiking rates to slow economic demand and bring inflation under control. With one very notable exception…
Japan.
The Japanese economy doesn't have the same inflation problems as the rest of the developed world so the central bank has stuck with very loose monetary policy while everyone else tightens. The divergence of interest rates between Japan and other major economies has seen the yen devalue significantly. USD/JPY is now trading close to 137, at levels not seen since the Asian Financial Crisis back in 1998.
AUD/JPY will be an intriguing pair to watch. As mentioned earlier, the Australian dollar has tended to collapse in slowdowns/recessions. Add to this that the yen has tended to outperform in recessions, especially in a low/decreasing interest rate world.
Inflation is the wildcard, as central banks may be more fearful about rate cuts if inflation doesn't slow…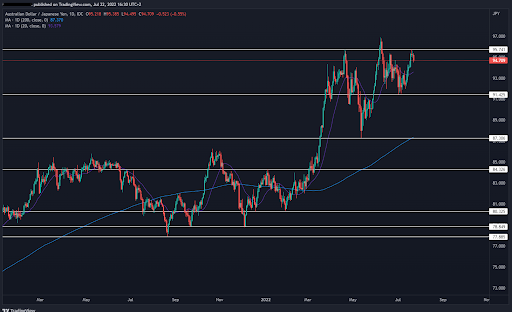 Amid signs that the global economy is starting to crack, investors could seek safety in bonds regardless, driving global sovereign bond yields lower, and eliminating one of the key factors driving yen weakness in the process.
The Australian housing market economy could face double trouble too. There's little doubt that rock bottom interest rates have helped fuel the property boom. In May, the RBA hiked interest rates for the first time in 12 years and the central bank is set to continue the 'normalisation' process to deal with inflation.
China has invested heavily in the Australian property market over the past couple of decades. A liquidity crunch at home could force the sale of foreign assets, potentially piling pressure on an Australian property sector suffering withdrawal symptoms from their own low rate addiction.
Today we have seen a news report that the CCP is continuing with infrastructure programmes, but is this merely a distraction from the nakedness of the Emperor?
To hide that these infrastructure programmes have largely yielded nothing and this is purely a support measure?
Time will tell, but we think AUD/JPY is the best representation of the potential risks Chinese leverage could be posing.
And a true liquidity crisis in China would be a gateway to what we discussed last week…