China energy transition to keep base metals high in 2022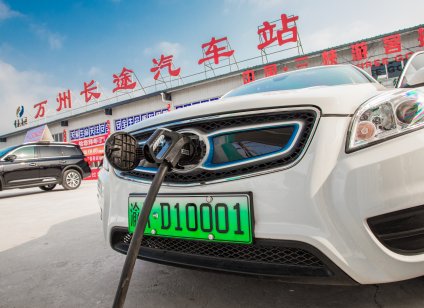 Demand for base metals – copper, nickel, aluminium, tin, lead, and zinc – is expected to be strong in 2022, partly boosted by demand for energy transition, such as for electric vehicle batteries and China.
China's metals demand had dropped in the second half of 2021 because of energy shortages.
"We therefore see some of the demand being pushed back into 2022, as the outlook for autos manufacturing, machinery and appliances, and consumer electronics sectors remains positive," according to Fitch Solutions.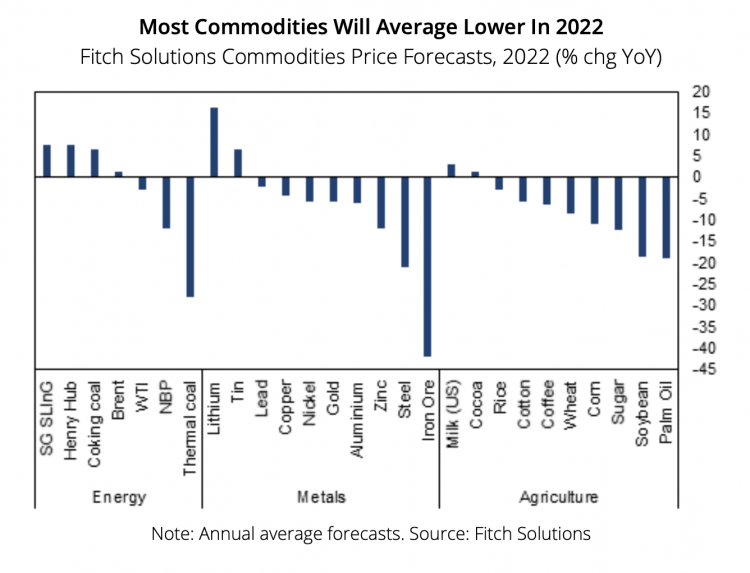 Fitch Solutions commodities price forecasts, 2022 (% change year-on-year) – Credit: Fitch Solutions
However, most analysts estimated that debt woes in China's property sector could put a lid on price gains.
Aluminium: Supply will remain a challenge for the metal in 2022 as high energy price and tight environmental policy may put pressure on China's output. ANZ Research expects China's aluminium production growth to slow from 4.5% to 2.5% next year if production restriction continues. The firm forecasts aluminium prices at $2,780 per tonne in 2022, up from $2,380/tonne as the market is expected to fall into further deficit. ING Group says aluminium will average at $2,900/tonne in 2022. Fitch Solutions is less optimistic and instead thinks aluminium will trade at $2,300/tonne next year, down from $2,450/tonne in 2021.

Copper: ING Group expects copper price to slip moderately in 2022, from average $9,300/tonne in 2021. Copper, the indicator of economic health, hit a record high of $10,460 in May, the Dutch bank said. ANZ Research forecast copper to average at $9.770/tonne in 2022, compared with $8,740/tonne this year.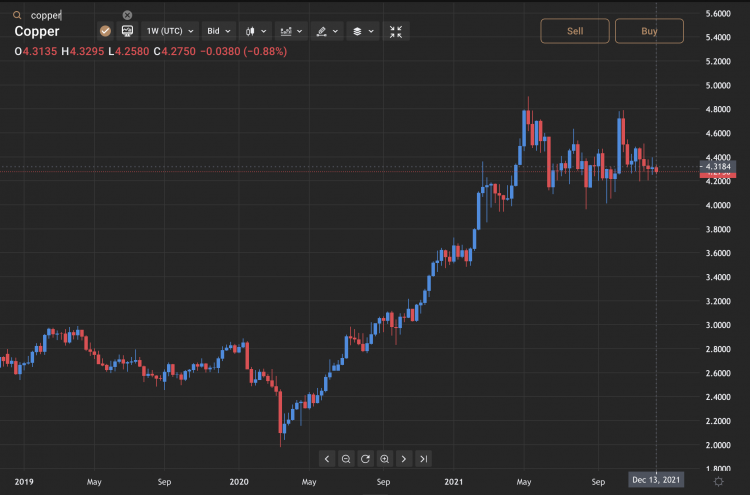 Copper price chart – Credit: Capital.com
Nickel: Nickel price briefly broke the $20,000/tonne mark in the last quarter of 2021 as supply growth was unable to match robust demand as some major producers faced production problems. However, supply is expected to recover with ING Group estimated supply to grow by 15% year-on-year in 2022, compared with an estimated 5.6% growth in 2021. The supply growth next year is driven by Indonesian nickel pig iron production. Demand from stainless steel makers is expected to remain firm while consumption from electric vehicles and renewables will further lift nickel consumption. ING forecasts nickel price to average at $19,000/tonne in 2022. Fitch Solutions sees the price eases to $16,500 next year versus $17,000/tonne this year; while ANZ Research expects nickel to trade at $21,180/tonne, compared with $17,300 in 2021.
Read more: Evergrande (3333) default still a possibility?