China's Luckin Coffee settles shareholder lawsuit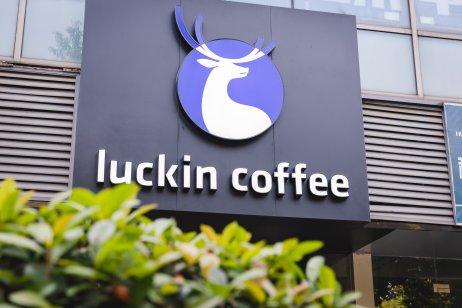 A Chinese rival of Starbucks reached a settlement Monday in a $175m (£240m) class-action lawsuit with investors alleging inflated shares and revenues.
Lukin agreed to pay the negotiated amount by June 2022 in exchange for release of all claims. The deal requires approval by Chinese authorities and liquidators in the Cayman Islands. The company filed liquidation proceedings before the Grand Court of the Cayman Islands and a related Chapter 15 bankruptcy proceeding in the US to recognise actions by the Cayman Islands court.
Luckin Coffee officials and company underwriters raised $645m during its 2019 initial public offering and later offered American depositary shares, negotiable certificates of a non-US company deposited in a foreign bank. The US government estimates Luckin raised $864m from debt and equity investors during the multiple-month fraud.
SEC warning
The case bolsters the Securities and Exchange Commission's argument for extra scrutiny paid to Chinese businesses issuing securities in the US. Certain industries are prohibited by China to sell ownership in their businesses to foreigners.
"As a workaround, they use structures called variable interest entities to raise capital on U.S. exchanges through shell companies in the Cayman Islands and other jurisdictions. We are working to ensure that the heightened risks related to these structures and other risks related to operating in China are clearly and prominently disclosed to investors," said SEC chair Gary Gensler in mid-September before the Senate Committee on Banking, Housing and Urban Affairs.
The settlement comes a day before the US House Committee on Financial Services holds hearings on the risk to investors of Chinese companies with US stock listing.
Denys wrongdoing
Luckin Coffee denies any wrongdoing and its US legal team did not respond to an email sent by Capital.com seeking comment Tuesday afternoon.
Luckin was founded in 2017 and at the end of March 2021 had about 5,000 outlets across China.
Muddy Waters Research
In late January 2020, Muddy Waters Research wrote that the Xiamen, China-based company inflated its increased revenue.
Two weeks later, shareholders sued Luckin.
According to court papers, on 2 April 2020, Luckin disclosed voluntarily that nearly $300m of its sales during much of 2019 were "associated with fabricated transactions" and advised shareholders to "no longer reply upon the company's previous financial statements and earnings released" for the nine months ending 20 September 2019.
A short time later, the company's stock dived 81% after an internal investigation. The company said its chief operating officer and other staff members inflated about $310m in sales during 2019.
In May 2020, Nasdaq notified Luckin of plans to delist the stock for "past failures to publicity disclose material information."
SEC fine
In December 2020, the company agreed to pay $180m in fines to settle US SEC accounting fraud allegations. It was also kicked off the Nasdaq earlier this year.
There're more than 100 plaintiffs, the shareholders were led by Swedish pension fund Sjunde AP-Fonden and the Louisiana Sheriffs' Pension & Relief Fund.
Read more: SEC exploring crypto safety for investors
The difference between stocks and CFDs
The main difference between CFD trading and stock trading is that you don't own the underlying stock when you trade on an individual stock CFD.
With CFDs, you never actually buy or sell the underlying asset that you've chosen to trade. You can still benefit if the market moves in your favour, or make a loss if it moves against you. However, with traditional stock trading you enter a contract to exchange the legal ownership of the individual shares for money, and you own this equity.
CFDs are leveraged products, which means that you only need to deposit a percentage of the full value of the CFD trade in order to open a position. But with traditional stock trading, you buy the shares for the full amount. In the UK, there is no stamp duty on CFD trading, but there is when you buy stocks.
CFDs attract overnight costs to hold the trades, (unless you use 1-1 leverage) which makes them more suited to short-term trading opportunities. Stocks are more normally bought and held for longer. You might also pay a stockbroker commission or fees when buying and selling stocks.