Chiliz price prediction: What is chiliz (CHZ)?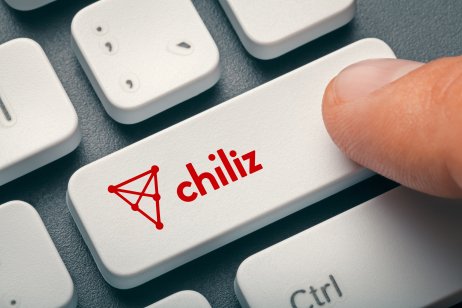 Chiliz (CHZ) is the native token of the Socios crypto network. The ambition of the Socios platform, founded by Alexandre Dreyfus in 2018, is to convert all 3.24 billion gamers worldwide from mere spectators into team-connected influencers with decision-making powers.
In other words, it aims to put the fans in the driving seat. Let's take a closer look, and also investigate some of the chiliz price predictions that were being made as of 10 January 2023.
Chiliz explained
Every blockchain-based network needs its own cryptocurrency, and Socios has the chiliz token, also known by its ticker handle of CHZ.
This crypto aims to use both cryptocurrency and blockchain-backed fan platforms as tools to empower sport and esport fans, "transforming them from passive spectators into active influencers".
It is based on the Ethereum (ETH) and Binance Smart Chain (BNB) blockchains, and gives holders tokenised voting rights, executed via smart contracts on the platform.
Three benefits of the system are:
Team management is turned into an entertainment proposition in its own right;

Voting rights are transformed into a trading and re-trading experience;

Every fan's voting decision will directly affect real-world sport and esport teams, as well as other partnered organisations.
The Socios whitepaper describes it as "a universal sport and esport 'crowd-control' engine, capable of giving fans voting rights to guide some of their favourite teams' management and strategy decisions".
2022 was a busy, if ultimately unprofitable, year for CHZ. In March, its price rose 25% when the football megastar Lionel Messi was unveiled as a global brand ambassador in a $20m deal. The token had already been on a charge in March from its 2022 low point of $0.147.
In August, the ByBit crypto exchange announced that its Fan Token Kickoff would be powered by Chiliz. The contest ran until 2 September, with users in with a chance of winning a 200,000 tether (USDT) jackpot.
Over the autumn, work was carried out on the Chiliz testnet, with the hope that it would lead to the system and CHZ having their own blockchain. In turn, this would mean that CHZ would become a coin, rather than a token. It is possible that this could happen at some point this year.
How does CHZ work?
Chiliz is classified as a virtual financial asset in accordance with the Maltese Virtual Financial Assets Act. Since the Socios fan engagement platform is built from the ground up, it uses CHZ as its exclusive on-platform currency.
When people buy chiliz, they become part of the crowd-managed decision engine for whichever organisation they have chosen to support. The more fully a team immerses itself in a Socios partnership, the more powerful that team's fan engagement becomes.
Fans must buy CHZ to acquire fan tokens. These tokens, which are club-specific, provide access to an encrypted ledger of voting and membership rights ownership.
Ownership offers holders the ability to take part in fan-led decisions through a mobile voting platform, as well as serving as a ticket into an exclusive inner circle of fans. The more tokens someone holds and the more they vote, the higher their clout rating, moving them upwards through different reward tiers until they have access to the biggest VIP benefits.
Socios has attracted an impressive array of customers, including more than 100 major global sporting organisations, many of them top football clubs such as FC Barcelona, Paris Saint-Germain, Manchester City, Juventus, Inter Milan, Arsenal, Atlético Madrid, AS Roma, Galatasaray and many more.
On 16 December 2021, Socios announced it had signed 12 new agreements with teams in the US National Hockey League (NHL) – the biggest single daily total – and Sport Club Internacional, one of Brazil's leading football clubs.
On 2 December 2021, it began trading on the Kraken exchange.
On 11 January 2022, it announced a sponsorship deal with Italian football's Lega Serie A. It also announced that the New York Knicks basketball team and New York Rangers ice hockey team had signed up.
In late January, it announced new football club deals with the Russian club FC Spartak Moscow, the Brazilian team CR Vasco de Gama and the French club AS Monaco.
On 15 February 2022, European football's governing body UEFA signed a global licensing and regional sponsorship agreement with Socios.com, making it the official fan token partner of the UEFA Champions League, UEFA Europa League, UEFA Europa Conference League and UEFA Super Cup.
On 13 April, Socios announced partnership deals with 13 American football franchises, sparking an 18% uplift in the value of CHZ. But that was small beer compared to the bearish sentiment facing the cryptocurrency sector in April, and the gain soon evaporated.
One thing to note is that, as chiliz is based on Ethereum and the Binance Smart Chain, it is a token rather than a coin. You may see references to such things as a chiliz coin price prediction, or to chiliz coin news, but these are wrong. This may, however, change if and when the Chiliz blockchain is launched.
Elevating everyday fan experience?
The unique proposition of the chiliz token is that claims to elevate everyday fan engagement experiences by empowering supporters to become influencers of any competitive entity.
This, in turn, enables teams, leagues and events from any corner of the sport and esport world to monetise the fan demand for these voting rights through blockchain-based tools.
Historically, fans have only been able to watch sport, not to make any decisions that influence these organisations. The current sport and esport environment, for the most part, only offers transactional contact for fans: they pay for licensed products in a passive manner.
What Socios claims to do is tap into the fan appetite for direct team connection outside of sporting broadcasts and live events. Direct fan engagement, as well as the monetisation of fans in both sport and esport, is the niche of the CHZ token.
Currently, there are almost no systems in place for influencing team decisions and there is certainly no way to transition from fan to active participant. But through the CHZ token, fans can gain a voice through direct investment in a specific team, potentially reducing barriers to entry for average sport fans.
Socios's fan-controlled teams can also operate in both existing sport and esport infrastructures, independently of conventional events, such as the English Premier League or La Liga.
One of the major risks for CHZ is that trying to improve fan engagement in both sport and esport is still in its infancy.
Activating and monetising an audience through radical fan engagement is completely new territory, and chiliz could be seen as a pioneer in this field. This means that investors must exercise caution when investing, especially when cryptocurrency itself is still an emerging and volatile market.
Chiliz price history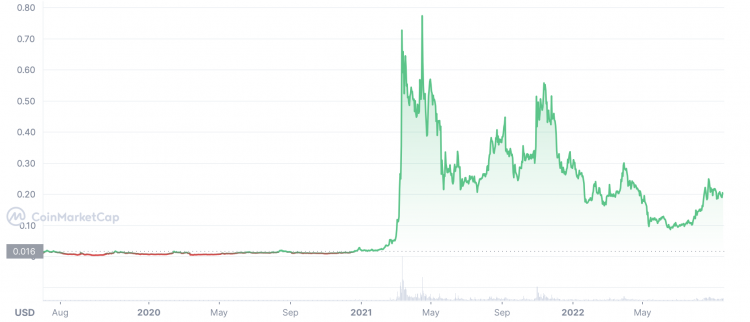 Let's now take a look at the chiliz price history. While past performance should never be taken as an indicator of future results, knowing the CHZ price history can give us some much-needed context if we want to either interpret a chiliz price prediction or else make one of our own.
The CHZ token was launched in October 2018 and achieved all-time high on 13 March 2021 of $0.89, more than triple its October level. Only a week earlier, on 6 March 2021, CHZ had been trading at $0.118.
The price spike on 13 March 2021 could be attributed to the platform's announcement earlier that month that it would invest $60m in the tokenisation of brands, media, entertainment and retail. However, the price retreated to $0.4695 on 6 April 2021, before climbing back up to $0.834 on 16 April 2021.
After that, the CHZ price consolidated and traded in the $0.20 to $0.40 range. Demand for the crypto jumped slightly at the end of October when the token was trading $0.64 on 30 October 2021, but this strong rebound was short-lived and the price fell to close the year at $0.2837.
So far, 2022 has been a poor year for cryptocurrency and chiliz has not exactly set the market ablaze. The crypto fell to a low of $0.1449 on 24 February 2022 in the wake of Russia's invasion of Ukraine. Although there was a recovery, with something of a bull run culminating in a high of $0.3287 on 30 March, the price soon fell again.
Things got worse in May, when the news that the UST stablecoin had become depegged caused the collapse of the associated LUNA cryptocurrency and plunged the market into turmoil, with CHZ sinking to a low of $0.08511. Then, in June, the cancellation of withdrawals on the Celsius (CEL) crypto lending network confirmed the bear market, and the CHZ price fell to $0.08135.
After that there was a recovery, boosted in part by the news about ByBit, and a rally culminated on 23 September with a high of $0.2816. Market conditions caused a decline in price to $0.1662 on 13 October.
However, the news that the Chiliz organisation had grown its workforce by 70% over the course of 2022 helped it stand at about $0.183 on 18 October. Excitement about the new blockchain and the upcoming FIFA World Cup saw it reach $0.2952 on 7 November, but a market crash caused by the collapse of the FTX (FTT) exchange pushed CHZ down to $0.1471 on 9 November.
It recovered to $0.2714 on 19 November and by 21 November 2022, it was worth about $0.1955. Over the next few weeks, despite the ongoing World Cup in Qatar, it continued to fall, reaching a low of $0.1323 on 13 December. However, the news that Chiliz had launched a sporting memorabilia authentication service saw something of a recovery, and on 15 December 2022 CHZ reached a high of $0.1467 before dropping to close the year at $0.1002, an annual loss of around 65%. Following that, it recovered slightly and, on 10 January 2023, it was worth about $0.12.
At that time, there were a little under 6.65 billion CHZ in circulation out of a total supply of exactly 8,888,888,888. This gave the token a market cap of about $800m, making it the 49th largest crypto by that metric.
Chiliz price prediction round-up
With that all said and done, let's take a look at some of the chiliz price predictions that were being made as of 10 January 2023. Price forecasts, especially when it comes to something as volatile as cryptocurrency, often turn out to be wrong. Long-term crypto price predictions are often made using an algorithm, which means that they can change at a moment's notice.
CoinCodex had a mixed short-term chiliz price prediction, suggesting that the token could drop to around $0.113147 by 15 January before rising to $0.126215 by 10 February 2023. Overall, the site's technical analysis was neutral, with 15 indicators apiece making bullish and bearish signals.
WalletInvestor had a downbeat CHZ price prediction. The site foresaw a tough time ahead for the token over the course of the next 12 months or so, with the price potentially plunging to $0.00912 by January next year.
DigitalCoinPrice offered a more positive chiliz crypto price prediction. It expected the token to reach $0,26 in 2023, while its chiliz price prediction for 2025 saw CHZ potentially climbing to $0.42. The same site gave a chiliz price prediction for 2030 of $1.24.
Finally, CoinsKid had a chiliz price prediction that said the token could potentially close this year at $0.1792, reach $0.215 in December next year, trade at $0.3835 by the end of 2025 and potentially break through the dollar barrier to stand at a possible $1.05 in April 2027.
When considering any CHZ token price predictions, it is important to keep in mind that cryptocurrency markets remain extremely volatile, making it difficult to accurately predict what a coin or token's price will be in a few hours, and even harder to give long-term estimates. As such, analysts and algorithm-based forecasters can and do get their predictions wrong.
If you are considering investing in cryptocurrency tokens, we recommend that you always do your own research. Look at the latest market trends, news, technical and fundamental analysis, and expert opinion before making any investment decision.
Keep in mind that past performance is no guarantee of future returns, and never trade with money that you cannot afford to lose.
FAQs
Is chiliz a good investment?

It is hard to say. A lot will depend on whether Socios and Chiliz can expand, as well as on what happens to the market in general going forward. If and when the Chiliz blockchain is complete, that might also be a time to take note of what the crypto's price is doing.

Remember, you should always carry out thorough research before making an investment. Even high-market-cap cryptocurrencies have proved vulnerable to the current bear market, so investors should be prepared to make losses and never purchase more than they can afford to lose.
Will chiliz go up or down?

It is difficult to tell. While sites such as DigitalCoinPrice are optimistic, the likes of WalletInvestor are far more bearish. It is important to remember that price forecast very often end up being wrong, and that prices can go down as well as up.

In volatile cryptocurrency markets, it is important to do your own research on a coin or token to determine if it is a good fit for your investment portfolio. Whether CHZ is a suitable investment for you depends on your risk tolerance and how much you intend to invest, among other factors. Keep in mind that past performance is no guarantee of future returns, and never invest any money that you cannot afford to lose.
Should I invest in chiliz?

Before you decide whether or not to invest in chiliz, you will need to do your own research, not only on CHZ but on other sport-related coins and tokens.

This is a question that you will have to answer for yourself. Before you do so, however, you will need to conduct your own research. Never invest more money than you can afford to lose, because prices can go down as well as up.