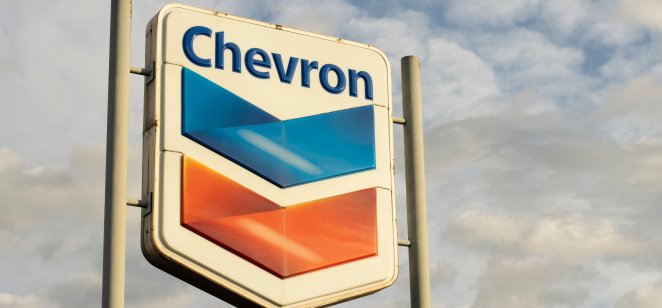 Morgan Stanley cut Chevron and Occidental stocks Monday, citing relative outperformance and valuation which sent prices downward during trading, but one analyst said oil will remain a strong investment.
Analyst Devin McDermott downgraded both stocks to 'equal weight' from 'overweight', saying in a client note the stocks' spike last week was premature compared to the rest of energy shares.
"Alongside this rally, there has been a widespread relative performance across the group. As a result, we are re-evaluating some of our ratings and are downgrading Chevron (CVX) and Occidental Petroleum (OXY) from Overweight to Equal Weight. Both stocks have outperformed their peers and now offer less attractive relative valuations," McDermott wrote in the note, viewed by Capital.com
On Monday afternoon, both stocks were losing value. Chevron lost more than 3% during the day, to a low of $164.30 per share. Occidental Petroleum lost nearly 4.5% sinking to a low of $53.32 during afternoon trading. Overall, West Texas Intermediate slipped more than 6% to reach a low of $99.76 a barrel
'Overstretched'
The note adds that stocks leading the re-energised energy sector are looking "overstretched" and likely will pull back.
Occidental stocks "valuation discount versus peers that previously underpinned our constructive view has now closed," McDermott wrote.
'Strongest earnings'
The move was not unexpected for one analyst.
"The downgrade of Chevron and Occidental Petroleum did not surprise anyone as the recent outperformance and potential peak in energy prices suggests it can't get any better for these stocks," said Edward Moya, senior market analyst for OANDA, told Capital.com
Moya said energy stocks are still a solid trade as oil prices will likely remain elevated over the next couple of years. "Energy companies will deliver some of the strongest earnings going forward," he said.
Overall pricing
In the past month, Chevron stock prices jumped 25%. However, earlier this month, JP Morgan downgraded Chevron to sell.
Occidental surged more than 40% after Warren Buffet's Berkshire Hathaway endorsed the company by buying a large amount of its stock. Last week, Bank of America warned clients to reduce risk in the oil and natural gas sector, dropping Occidental to hold.
Morgan Stanley kept its price target on Chevron at $166 per share, while clipping Occidental's price target by $2 to $50 per share.
The SPDR S&P exchange-traded fund (ETF) fund on oil and gas exploration and production EFT gained more than 13% within the past few weeks as oil prices and stocks hit elevated levels. Morgan Stanley continues to remain bullish on the exploration and production front, forecasting sector trades at about a 60% discount to market.
Morgan Stanley reaffirmed its faith in Canadian large-cap oil companies, the note reads, writing highly of buy-rated Canadian Natural, Cenovus, Imperial and Suncor.
Russia rubbish
Meanwhile, Fitch downgraded more than two dozen Russian natural resources companies including state gas giant Gazprom, and oil giant Lukoil warning of default risk on payments under sanctions imposed on the country for invading Ukraine.
The credit rating firm said it lowered the companies from 'B' to 'CC', explaining the latter score implies some form of default on their payments was "probable". A cut makes it harder for a company or country to borrow money at favourable interest rates.
The note, obtained by Capital.com, cites the Kremlin's 5 March decree authorising Russian companies to pay off debts to foreign companies via roubles instead of foreign currency.
The decree was in response to international sanctions slapped against Russia for its invasion of Ukraine, which sent the rouble into a freefall, according to the note, obtained by Capital.com
The decree is, "against the backdrop of an escalating sanctions regime, could impose insurmountable barriers to many corporates' ability to make timely payments on foreign- and local-currency debt to certain international creditors," Fitch's note reads.
Gazprom and Lukoil were also downgraded by Moody's last week. In total, three respected raters now classify Russia as at risk of defaulting on long-term sovereign debt after its invasion and subsequent sanctions. Lukoil has about 240 gas stations in the US, mostly operating in New York, New Jersey and Pennsylvania. They are owned by franchisees, not the oil giant.
"Ongoing ratcheting up of sanctions, including restrictions in energy trade and imports, increase the probability of a policy response by Russia, and further weaken its economy, eroding the operating environment for its corporates," the note concludes.
Read more