CarMax shares sink after auto dealer misses estimates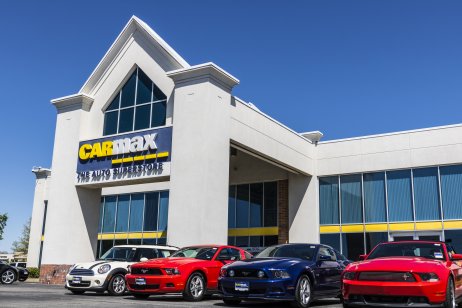 Auto dealer CarMax's shares fell about 11% after its fiscal second-quarter earnings released Thursday did not meet investor expectations.
The company (KMX) reported per-share earnings of $1.72 (£1.28) from $8bn sales, considerably down from Wall Street's earnings forecast of $1.87 a share from $6.9bn in sales.
Although sales were strong, operating profit margins were about 5% instead of the 6% analysts had been expecting.
Gross profits on used vehicle sales down significantly
Gross profit earned for every used vehicle sold was about $2,185, significantly down from $2,214 earned in the same period last year. Record net revenues were $8bn, up 48.7% from the prior year's second quarter.
"Our omni-channel platform, in combination with our unique customer offerings… led to a record level of used sales for the second quarter and an all-time record for wholesale vehicle sales," said CEO Bill Nash in the earnings release. Omni-channel refers to both the online and in-person sale of cars by CarMax.
"Of particular note is the performance of our online instant appraisal offering, which continues to exceed our expectations. Just six months after the nationwide launch, we have already purchased over 350,000 cars from consumers online with this digital product," he said.
The lower earnings will offset recent gains for the shares. Until Thursday, shares have gained about 55% year to date, well above the 16% comparable gain of the S&P. The company cited a 30% increase in costs such as sales and administration due to staffing increases, technology platforms and other initiatives.
Q2 earnings fall short after string of wins
Net interest income and profit margins have grown year over year at the company's finance arm. However, the report breaks a string of four quarterly earnings wins coming out of the global economic downturn created by the Covid-19 pandemic.
CarMax officials hosted a conference call Thursday morning and investors and analysts were not surprised to hear the global shortage of automotive semiconductors is affecting new and used car inventories. The lack of chips resulted in about 5 million or 6 million fewer cars built than could have been in 2021.
With more than 220 locations, CarMax is the largest retailer of used autos in the US.
Read more: Online used car sales thrive in market upended by pandemic