Cargo shipper ZIM blows past analyst expectations for 2021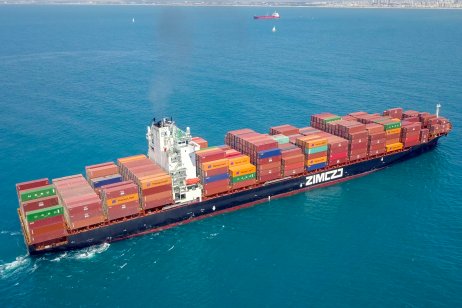 It was smooth sailing for the cargo shipping business ZIM when it presented its earnings report on 9 March. The company reported numbers for its fourth quarter and full year that exceeded earlier estimates.
ZIM Integrated Shipping Services (NYSE: ZIM) hosted a conference call to share the positive developments with analysts and investors.
ZIM's net income in Q4 was $1.71bn, up from $366m year-over-year. For the full year of 2021, net income was $4.65bn, an increase of 787% from $524m in 2020. Revenues in Q4 were up 155% year-over-year, with $3.47bn reported, and the year's revenues for 2021 were $10.73bn.
Growth opportunity
It's been a whirlwind year for the Israel-based international shipper that made its debut on the New York Stock Exchange on 28 January 2021.
ZIM has captured just 1.7% of the industry market share, and ranks 10th in size, according to Alphaliner, a data provider for the liner shipping industry. It competes head on with shipping giants many times bigger. But the combination of the grounding of planes in the early stages of the pandemic and the subsequent ocean shipping bottlenecks offered ZIM a prime growth opportunity.
ZIM's carried volume in 2021 increased 23% from 2020, with the company transporting the equivalent of nearly 3.5 million TEUs.
The term TEU stands for a 20-foot equivalent unit, a common measurement of volume used in the cargo shipping industry.
The average freight rate per TEU also jumped, with the rate averaging $2,786 in 2021, up 127% from the previous year. By the fourth quarter of 2021, that had climbed even higher to $3,630.
What is your sentiment on HLAG?
Vote to see Traders sentiment!
Asset-light business model
ZIM's relatively smaller size allows it to be nimble when it competes with its behemoth competitors. It has an asset-light business model that takes on ships as it needs them and returns them to the owners when it doesn't.
Its fleet currently consists of 125 vessels, but just six are owned by ZIM. The remaining 119 vessels are chartered. Historically, ZIM's strategy has been to mainly rely on chartered capacity, although more recently, they have decided to purchase more vessels, said ZIM president and CEO Eli Glickman.
"We are seizing the opportunity to be at the forefront of carbon intensity reduction among global liners, with 28 eco-friendly LNG (liquified natural gas), dual-fuel container vessels due to be delivered to us between 2023 and 2024, which could account for 40% of our operated capacity," Glickman said.
ZIM is headquartered in Haefa, Israel, and its North American operations are based in Norfolk, Virginia.
Dividend exceeded expectations
Citi director and analyst Sathish Babu Sivakumar is the head of European transport and infrastructure research. He has covered ZIM since the stock began trading.
Sivakumar spoke with Capital.com from his office in London, England following the ZIM earnings call. He remarked on the better-than-anticipated dividend of $17 per share for a total distribution of $2.04bn (£1.55bn). When the Q3 dividend of $2.50 is included, the amount represents half of ZIM's 2021 net income.
"It was quite punchy, actually," Sivakumar said. "The expectation was more like $13. I had $15 and I thought I was being quite optimistic."
ZIM's Glickman addressed the significance of the dividend.
"In total, including our special dividend paid in September 2021, we will return to shareholders approximately $2.6bn or $21.50 per share since our IPO, which represents approximately 30% of our current market cap and, incredibly, approximately 50% higher than our IPO market cap," Glickman said.
No slowdown in sight
Sivakumar has been covering the transportation sector for about seven years. He said the lift that ZIM is getting from higher shipping prices because of supply chain congestion isn't likely to slow down anytime soon.
He said the "current bottleneck in the supply chain is unlikely to return to normal levels before the Q3 peak season. We update our supply and demand model and expect supply dynamics to continue to be favourable for elevated freight rates."
The market responded to ZIM's good news. By the close of trading on 9 March, ZIM's stock had surged more than 6% to land at $75.14. In the past six months, the stock has gone up nearly 30%.
Sivakumar's target price for ZIM shares is currently sitting at $100.
"We expect bunker costs to be up 50% year-over-year in 2022," Sivakumar said. "However, given the tight supply chain, liners are in a position to pass on the cost to shippers with a lag of six weeks. We do see the favourable rate environment offsetting cost pressure and the sector is likely to report year-over-year growth in earnings."
A bunker is the fuel carried and consumed by a marine vessel.
Founded in 1945
The encouraging state of the business climate for shipping companies caused Sivakumar to update his target prices for Germany's Hapag Lloyd (OTCMKTS: HPGLY), Denmark's Maersk (OTCMKTS: AMKBY) and ZIM. Sivakumar also added ZIM to Citi's "positive catalyst watch" list.
ZIM was founded in 1945 by Histadrut, a Jewish labour federation, and the Israel Maritime League. Its first ship was purchased in 1947. In its early years, ZIM carried immigrants from Europe and wartime supplies. In the 1950s, ZIM purchased 36 passenger, cargo, bulk-carrier, and container ships and began offering a wider range of services.
When air travel became more accessible in the late 1960s, ZIM ceased offering passenger services and began dedicating its energy and resources to international cargo shipping.
In 1969, about 50% of ZIM was acquired by the Israel Corp, and the Ofer Brothers Group became the controlling shareholder of that company in 1999. By 2004, Israel Corp had acquired all shares still owned by the government.