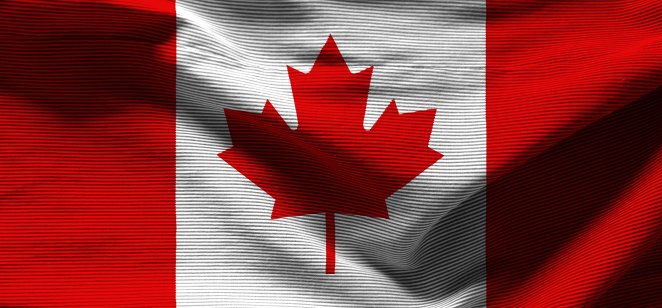 Content
What more does USD/CAD want? A super-hawkish Bank of Canada appears laser-focused on fighting inflation (8.8% in June), witness a 100 basis point rise last month. High oil and gas prices are keeping things humming for a largely commodity-supported economy.
OPEC+ has also just agreed to open up the taps but supplies remain super-tight and an extra 100,000 daily barrels doesn't really touch the supply/demand sides, particularly for President Joe Biden, desperate for an inflation breather for hard-pressed Americans.
Saudi Arabia, while wanting better relations with the US, doesn't want to oppose Putin or pump up production, risking Russia's leverage on prices.
Yet while the loonie has been one of the best performing currencies this year, relative to its peers, USD/CAD – flat this morning at 1.2841 – has diced somewhat lower as oil prices have surged. How to explain?
What is your sentiment on USD/CAD?
Vote to see Traders sentiment!
Oil not so essential
Viraj Patel at Vanda Research says petro currencies haven't been as tightly pinned to the oil price given the supply and demand gyrations driving crude markets. "That being said, lower oil prices don't help – and CAD is slightly more sensitive than the Norwegian krona (NOK) to this story."
G10 currencies are driven also by wider risk sentiment plus local growth and policy nuance. "I suspect getting the direction of US equities right probably matters more when forming a view on USD/CAD," he adds.
Citi has called oil down to $45 by the end of 2023 and the higher prices are eating hard into alternatives. Recession risk is rising. While Prime minister Justin Trudeau is popular abroad he is not so well-liked at home, even if some Canadians feel a connection to the family brand.
Bullish form, still
Capital.com FX analyst Piero Cingari says CAD can still pull on stolid defences, however.
"In the past three weeks, the Loonie (USD/CAD) has been trading in a tight, choppy range between 1.278 and 1.294 from a technical standpoint."
Even though USD/CAD's ascendancy has been in place for more than a year, indicating a still-bullish trend, the short-term momentum is shifting towards the Canadian currency believes Cingari.
And while a more hawkish Federal Reserve is a risk, the loonie looks robustly shielded thanks to an equally hawkish Bank of Canada.
USD/CAD teardown – four thoughts
Since July 18, the RSI has been below 50 while the MACD fell below the zero line.
Short term, a support level of 1.278 (61.8% Fibonacci retracement of the Jun/Jul USD/CAD rally) represents an important test says Cingari. "If USD/CAD breaks down here and then the 200-day moving average at 1.273, it could fall to 1.266 [78.6% Fibonacci retracement]".
Alternatively 1.295 [50% Fibonacci retracement] would be a possible resistance test he adds. "A breakout to the upside would pave the way for 1.305 and then the yearly highs of 1.322. Returning to those levels, however, will necessitate a cocktail of a Fed hawkish shift and a Bank of Canada dovish shift, as well as signs of a significant slowdown in oil demand."
Federal Reserve-Bank of Canada monetary policy divergences are narrowing – check the short-term (2-year) rate differential between US and Canadian Treasuries, almost close to parity, now just nine basis points apart.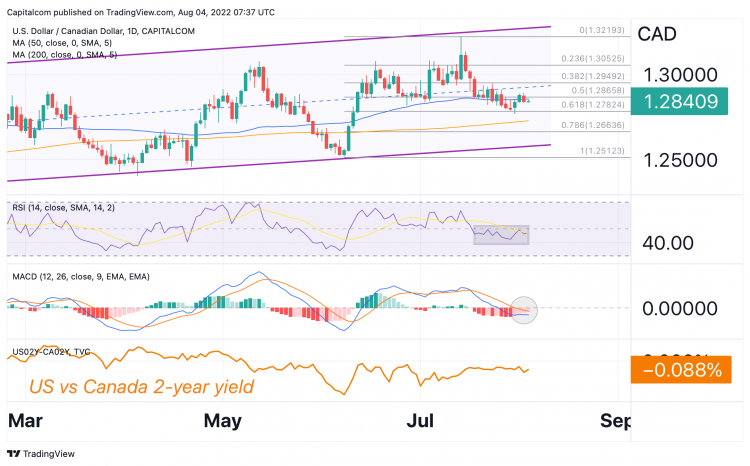 USD fade realistic?
The longer-term outlook is harder to know. Europe remains weaned on Russian energy, interest rates are going up everywhere and China-Taiwan tension is flaring. Oil could still remain higher for longer, despite recession risks, though if recession subsides and both the Fed and the Bank of Canada ease off on rate hike cycles then the Canadian dollar may get a boost.
Canada's economy grew 4.6% in the second quarter in contrast to the US second quarter contraction, recent numbers show. Canadian balance of trade numbers for June arrive later today and an employment numbers update arrives tomorrow. It's expected that the Bank of Canada will raise rates by 0.50% next month to 3%.
Further reading