Canada recession: BoC's rate rises will squeeze activity but low unemployment may cushion blow
Subscribe to Weekly Highlights
The major market events for the week ahead right in your inbox.
Subscribe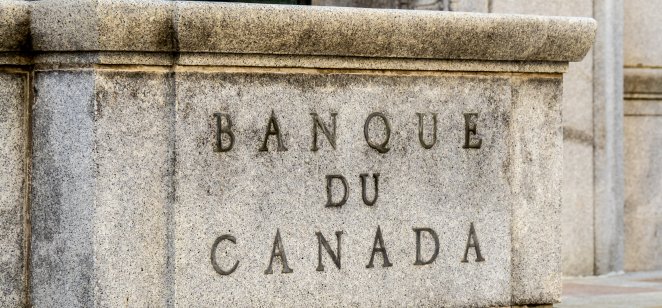 Content
The Bank of Canada (BoC) has continued its fast pace monetary tightening cycle by raising its policy rate to 3.25% in September.
The recent pace of rate increases has slowed after the jumbo 100 basis point (bp) hike in July as high interest rates have continued to hit the economy.
Canada's national currency, the Canadian dollar (CAD), has declined against its American counterpart, the US dollar (USD), with the USD/CAD currency pair trading around the 1.37 mark, as of 5 October, according to data from Investing.com.
Slowing economic growth and the BoC's policy of monetary contraction appear to be increasing the risk of Canada's recession.
At the same time, the latest August reading showed that the country's unemployment rate rose for the first time in seven months, providing relief to the tight labour market.
Will the friendly unemployment rate cushion Canada's economy from the BoC's hawkish rate rises?
What is the Bank of Canada?
Founded in 1934, the Bank of Canada (BoC) is Canada's central bank.
The primary responsibility of the Bank of Canada, like that of many other central banks worldwide, is to keep inflation at the 2% target inside the control range of between 1% and 3%. It does this through the use of monetary policy tools, such as interest rates.
The Bank of Canada's Governing Council adjusts its key interest rates eight times a year on fixed announcement dates. The council makes policy decisions by consensus, in contrast to some other central banks, which use individual votes to determine rates.
The Bank's other duties include overseeing the design, printing, and distribution of Canadian banknotes. As the fiscal agent of the Government of Canada, it also oversees the public debt programs and foreign exchange reserves.
What is your sentiment on USD/CAD?
Vote to see Traders sentiment!
Canada interest rate history
During the Covid-19 pandemic in 2020, the Bank of Canada's interest rate was cut three times, as the overnight rate was lowered from 1.75% in January 2020 to 0.25% on 27 March to support the economy.
The bank left its key rate unchanged at 0.25% throughout 2021 despite inflation having accelerated from the second half of the year.
In 2021, Canada's economy rose 4.6% after a 5.2% increase in 2020 as activity picked up in line with easing Covid-19 restrictions and rising vaccination rates, according to Statistics Canada.
The country's annual Consumer Price Index (CPI) rose 3.4% in 2021, the fastest pace since 1991, according to the country's official statistics body. In 2020, Canada's annual CPI inflation increased 0.7%.
BoC was concerned about the adverse impact of the devastating floods in British Columbia and uncertainties from the Covid-19 Omicron variant on Canada's economic growth.
"The Governing Council judges that in view of ongoing excess capacity, the economy continues to require considerable monetary policy support," the BoC said in a policy rate meeting on 7 December 2021.
On 2 March 2022, the BoC raised its overnight target rate by 25 bps to 0.50% as the inflation rate hit 5.1% in January – well above the Bank's target range. The BoC attributed the rising inflation rate to Russia's invasion of Ukraine at the end of February, which boosted energy and food-related commodities prices.
Slowing pace of rate hike
Canada's interest rate has been raised five times since March 2022, according to BoC data.

The Bank's latest interest rate decision came on on 7 September, when the Canadian interest rate was lifted by 75bp to 3.25% – a smaller hike after a supersized 100bp hike that shocked markets in July.
Easing annual inflation – though core inflation remains high – and slowing economic growth have prompted the BoC to slow the pace of its interest rate hikes.
Annual inflation slowed to 7% in August, from 7.6% in July and 8.1% in June, as petrol prices fell, according to Statistics Canada. Core inflation in August rose to 6.3%, slowing from 6.6% in July – the first time since June 2021 that year-over-year (YoY) core inflation slowed.
On 29 September, Statistics Canada reported that the national economy grew by 0.1% in July – a number similar to the one observed in June.

In July, the economy saw expansion in mining and agriculture production, but manufacturing activity, retail and wholesale trade experienced multi-month contractions. Accommodation and food services also experienced the first contractions since January 2022.
In Q2 2022, Canada's gross domestic product (GDP) grew by 3.3% on an annualised basis, up from 3.1% in the first quarter, Statistics Canada reported.
Subdued economic growth outlook
The slowing economy has changed BoC's tone into a more dovish one, though it defended the need to raise the policy rate further given the inflation outlook.
"Quantitative tightening is complementing increases in the policy rate. As the effects of tighter monetary policy work through the economy, we will be assessing how much higher interest rates need to go to return inflation to target," the BoC said in the statement on 7 September.
In July, the BoC lowered Canada's economic growth forecast from 4.25% to 3.5% in 2022 and 3.25% to 1.75% in 2023, but elevated its GBP prediction for 2024 from 2.25% to 2.50%.
| | |
| --- | --- |
| Long position overnight fee | 0.0000% |
| Short position overnight fee | -0.0001% |
| Overnight fee time | 22:00 (UTC) |
| Spread | 0.093 |
| | |
| --- | --- |
| Long position overnight fee | -0.0042% |
| Short position overnight fee | 0.0003% |
| Overnight fee time | 22:00 (UTC) |
| Spread | 0.00060 |
| | |
| --- | --- |
| Long position overnight fee | 0.0047% |
| Short position overnight fee | -0.0130% |
| Overnight fee time | 22:00 (UTC) |
| Spread | 0.014 |
| | |
| --- | --- |
| Long position overnight fee | -0.0084% |
| Short position overnight fee | 0.0024% |
| Overnight fee time | 22:00 (UTC) |
| Spread | 0.00010 |
David Doyle, head of economics at Macquarie Group, told BNN Bloomberg that Canada will enter recession in the first quarter of 2023. Doyle forecast Canada's GDP to contract by 3% along with a 5% drop in the unemployment rate.
"We actually think it [a recession] will be pretty severe in Canada," Doyle said.
According to Statistics Canada, recession in Canada has happened three times: from March 1990 to April 1992, October 2008 to May 2009, and during the Covid-19 downturn in 2020.
Recession is defined as when a nation's gross domestic product (GDP) declines markedly for two consecutive quarters.
TD Economics said on its 7 September report that the odds of recession tilted to above 50% if BoC waited to see inflation nearing the 2% target before pausing the rate hike.
Unemployment rises
In recent Canada recession news, Statistics Canada reported on 9 September that the country's unemployment rate rose for the first time in seven months, growing by 0.5% in August to 5.4%. It rose from a record low of 4.9% in June and July.
The adjusted unemployment rate, which includes people who wanted a job but did not look for one, climbed 0.5% to 7.3% in August.
TD Economics was of the view that Canada's unemployment rate in August was back to a more sustainable level.

James Orlando, Director of Economics at TD Bank, wrote on 9 September:
"We'd argue that a slowing labour market is what is needed to ensure that this high inflation environment does not become entrenched. The labour market is coming from levels of extreme tightness and has been due for some giveback. This is exactly what is currently playing out."
The firm forecast Canada's unemployment rate to hit 6.5% in 2024.
Dovish monetary policy to pressure the Loonie
The Canadian dollar has been weakening against the US dollar due to the hawkish monetary tightening policy of the US Federal Reserve (Fed), volatile oil prices, along with the BoC's pace of interest rate rises.
The US dollar has gained 7.7% in a year against the Canadian dollar (USD/CAD), hitting 1.368 on 5 October, according to data aggregator TradingEconomics. The currency pair was forecast to rise to 1.399 by the end of this quarter and to 1.45 in one year, the economic data provider estimated.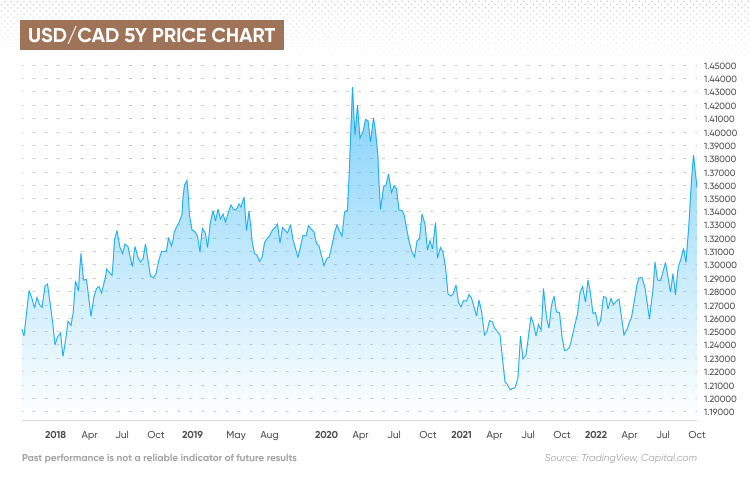 Fitch Ratings expected USD/CAD to stay at 1.30 in 2022 until 2024.
On 15 September, CIBC Capital Markets forecast USD/CAD to trade at 1.35 in December 2022, dropping to 1.27 by December 2023 and to 1.20 by December 2024.
CIBC's Chief Economist Avery Shenfeld wrote on 15 September:
"The increases in our targets for Fed tightening suggest an even softer loonie by year end. But come 2023, we expect that a somewhat earlier-than-expected end to the Fed tightening cycle will take a bit of steam out of the US dollar, and allow the Canadian dollar to be marginally stronger as the year progresses, even with commodity prices tamed by the global slowdown."
Canada interest outlook: 2022 target and beyond
Will the Bank of Canada hit the brakes on interest rate hike to avoid recession?
"With the economy in need of tightening, the Bank of Canada is set to continue raising rates at an aggressive pace, such that the policy rate reaches a peak of 4.0% in 2022," TD Bank's James Orlando and Senior Economist Thomas Feltmate wrote in a long-term forecast dated 27 September.
Orlando and Feltmate predicted that the BoC will cut Canada's interest rate back to its neutral level starting at the end of 2023. TB Bank's interest rate forecast had the BoC's policy rate falling to 1.75% by the end 2024.
Beyond 2024, TD Economics forecast that the BoC could keep the overnight rate at 1.75% until 2028.
In 11 September's outlook, Fitch Ratings projected BoC's overnight rate to average 4% in 2022 and 2023, falling to 3.75% in 2024.
CIBC projected the BoC to increase the overnight rate to 3.75% in December 2022 and maintain it at that level until December 2023. CIBC expected the central bank to cut the rate starting in June 2024, gradually lowering it to 2.75% in December that year.
The bottom line
Analysts in this article forecast the BoC's overnight rate to peak by December 2022 before the Bank considers lowering it.
Remember that analyst predictions and opinions can be wrong. Forecasts should not be used in place of your own research.
Always conduct your own due diligence before trading or investing. And never invest or trade money that you cannot afford to lose.
FAQs
Is Canada in a recession?

Based on the statistics, Canada is not in a recession, as of early October 2022. However, economists mentioned in this article forecast the risks for the country's economy to enter recession were now greater amid slowing economic growth.

Remember that analysts can and do get their predictions wrong. Always do your own research before making an investment decision. And never invest more than you can afford to lose.
When was the last time Canada had a recession?

Canada last had a recession during the Covid-19 pandemic in 2020.
Is Canada's economy stable?

Canada's economy is relatively stable – it showed annualised growth of 3.3% in Q2 2022. However, multiple economists mentioned in this article, such as Macquarie Group's David Doyle, have forecast Canada to slump into a recession next year.

Remember that analysts can and do get their forecasts wrong. Always do your own research before making an investment decision. And never invest or trade more than you can afford to lose.
Related reading