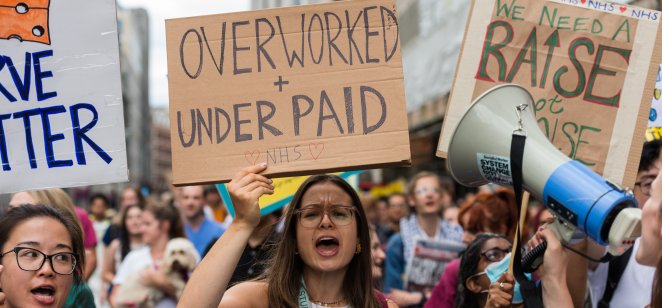 Content
Crucial UK GDP numbers for the second quarter land on Friday. It's thought Q2 shrank 0.2% according to some market economists.
The Bank of England has been brutally clear about UK recession risk with a deep forecast drop in real incomes. Where does this leave GBP/USD, trading at 1.2094 this morning having breached 1.21 briefly earlier?
What is your sentiment on EUR/GBP?
Vote to see Traders sentiment!
Fresh lows beckon
FX strategist Jane Foley at Rabobank believes EUR/GBP may hold its ground on a one to three month view – though the pair slipped to a two-week low this morning on fresh energy anxiety – however GBP/USD could trade as low as 1.14 on a 1-3 month timetable. "This assumes another break below parity for EUR/USD," Foley says.
With inflation heading for 13% and surging interest rates, is the UK looking more and more like an emerging markets basket case? Saxo Bank's Christopher Dembik, head of macro analysis, believes there's miserable similarities, bar a full-blown currency crisis.
"Last week the Bank of England updated its macroeconomic forecasts for the years until 2025. These are frightening.
"The United Kingdom is projected to enter into a recession in Q4 2022. This could last five quarters and cause GDP to fall about 2.1 % - as deep as the recession of the early 1990s," he adds.
Zero respite potential for now
But this isn't the worst. Very often, an economy rebounds sharply after a recession. "This is unlikely to happen this time," Dembik thinks. "The slump will last. The Bank of England sees GDP still 1.75 % below today's levels in mid-2025."
Weak UK growth outlook has weighed on sterling right through 2022. This has meant the pound hasn't seen much benefit from the Bank of England rate hike cycle lifting rates sooner compared to most of its G10 peers says Jane Foley.
Textbook economics suggest a large incremental rate rise generates a short-term sterling lift but "recessionary warnings from the Bank this month appear to have over-ridden the attraction of higher short term interest rates" she says.
Handout battle dominates
Meanwhile a Tory leadership war is being fought on tax handouts, not post-Brexit trade, energy security – or long-term fiscal challenges.
"Most importantly," says Neil Shearing, chief economist at Capital Economics, "neither Rishi Sunak nor Liz Truss has set out a plan to address the economy's chronically low rate of productivity growth."
| | |
| --- | --- |
| Long position overnight fee | -0.0085% |
| Short position overnight fee | 0.0024% |
| Overnight fee time | 21:00 (UTC) |
| Spread | 0.00006 |
| | |
| --- | --- |
| Long position overnight fee | 0.0037% |
| Short position overnight fee | -0.0108% |
| Overnight fee time | 21:00 (UTC) |
| Spread | 0.008 |
| | |
| --- | --- |
| Long position overnight fee | 0.0000% |
| Short position overnight fee | -0.0000% |
| Overnight fee time | 21:00 (UTC) |
| Spread | 0.035 |
| | |
| --- | --- |
| Long position overnight fee | -0.0029% |
| Short position overnight fee | -0.0014% |
| Overnight fee time | 21:00 (UTC) |
| Spread | 0.00006 |
Average UK output per hour increased just 0.7% a year in the decade before the pandemic. That's well down on the 1.7% average in the five years before the global financial crisis – not to mention the 2.8% average of the 1980s and 2.4% of the 1990s.
It is productivity growth which determines income increases and living standard increases reminds Shearing.
"If governments can raise productivity, many other seemingly intractable policy challenges – from the 'cost of living' crisis to the green transition – will become much easier to address."
More pain to come
Meanwhile Bank of England Deputy Governor Dave Ramsden said yesterday that interest rates will rise further while also saying, at some point, that rates will also have to slip promptly.
Bank of England's Huw Pill speaks later. Meanwhile USD is trading heavily ahead of the July CPI report.
"The median survey calls," says Marc Chandler of Bannockburn Global Forex, "for a 8.7% headline rate down from 9.1% which still shouldn't significantly change the Fed funds futures market calling for an 80% chance of a 75bp hike discounted for next month's meeting."
Short term respite: US inflation dips
The pound, however, rallied strongly against the dollar on Wedesnday afternoon as the greenback slid against all its rivals following weaker-than-expected US inflation data.
Headline inflation fell by more than expected in July - dipping to 8.5% from 9.1% in the previous month. Economists had expected the headline consumer price index to fall to 8.7%.
Core inflation, which strips out volatile energy and food prices, was expected to continue rising to an annual rate of 6.1% but held steady at 5.9%.
The pound gained 1.1% against the dollar to $1.2209.
Further reading