Can Smith & Nephew's (SN.) share price rally as NHS gets back on its feet?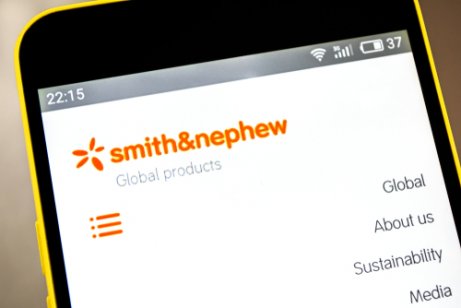 British medical technology firm Smith & Nephew (SN.), a FTSE 100 stalwart, has experienced a few volatile months as it recovers from the impact of the Covid-19 pandemic.
In July 2021, the company reported soaring sales during the second quarter and strong half-year earnings, and outlined a positive outlook as pandemic restrictions eased. However, in November the company relayed how supply chain issues were hindering sales.
Smith & Nephew is an often-overlooked stock, but as pandemic fears subside and the National Health Service (NHS) tackles its backlog of elective surgical procedures, it could well deserve more attention from traders and investors.
What is your sentiment on UK100?
Vote to see Traders sentiment!
Smith & Nephew (SN.) is a FTSE 100 stalwart
Encouraging start to the year
Smith & Nephew's first-quarter 2022 trading update showed some promising results. Revenue was up by 3.3%, from $1,264m (£1,011m) in 2021 to $1,306m (£1,044m) for this year's first quarter.
Established markets revenue was up 4.1%, while emerging markets increased by 14.3% from the same period last year. The company highlighted that it is seeing progress with new product development, including US regulatory clearance for its cementless knee software.
Newly appointed chief executive Deepak Nath said it was an encouraging start to the year, adding that the first-quarter performance puts the company on track to deliver on its guidance for 2022.
The market received news of the update well, and the company's shares rose 3.4% on the back of the announcement that it had benefited from a rebound in surgical procedures.
Upside potential
Russ Mould, investment director at AJ Bell, agrees that there's potential for the company.
"Orthopaedics to wound care to sports medicine specialist Smith & Nephew could yet be a beneficiary of anything like a return to normality in hospitals, and April's first-quarter trading update offered hints of the upside potential.
"Sports Medicine led the way with sales growth of 6.1%, followed by Advanced Wound Management at 5.1% and then Orthopaedics at 0.3%, where hip implant revenues fell, as if to re-emphasise the upside potential if, as and when elective surgery volumes really start to recover.
"Higher volumes would again be a big help on this front. Hip and knee replacements and other surgical procedures have been crowded out by the viral outbreak at busy hospitals, and new variants have delayed the recovery in volumes. Smith & Nephew could therefore get a boost if, as and when the virus is finally beaten off," Mould said.
Supply chain issues
Supply chain issues have been the latest thorn in the company's side, but it's making progress here too.
Susannah Streeter, senior investment and markets analyst at Hargreaves Lansdown, said: "While Smith & Nephew's been struggling against supply chain headwinds, things are starting to normalise. In particular there should be significant opportunity in the group's Sports Medicine and Orthopaedics businesses, which were both hit by delays from the pandemic.
"Demand hasn't gone away, it's just that operations have just been delayed, which could set the stage for a strong recovery as hospitals play catch-up. The company is now well placed to meet an expected wave of demand with a much more efficient business."
Restructuring efforts
Profits were hampered in 2021 by higher fixed costs, but Smith & Nephew has made efforts to deal with this problem. Streeter believes the company's strong set of financials could see it through any potential future delays.
"The group embarked on a restructuring effort designed to lower its cost base by optimising the manufacturing network and outsourcing warehousing and distribution. This project is costing around $350m but is set to save the group $200m per year by 2025.
"The group's also got a relatively strong balance sheet, with net debt roughly two times last year's cash profits, which also gives the group breathing room if the flood of expected surgeries takes longer to materialise and supply chain issues keep causing problems," she said.