Can gold regain its lustre as Indian wedding season ramps up jewellery demand?
Subscribe to Weekly Highlights
The major market events for the week ahead right in your inbox.
Subscribe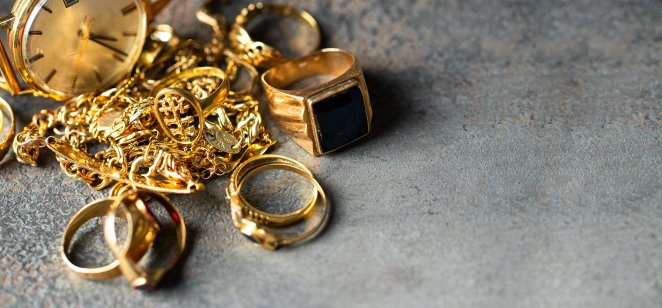 Content
India is the second largest consumer of gold worldwide, especially gold jewellery, just after China, accounting for about 850 tonnes of gold jewellery annually according to the World Gold Council, which is approximately 27% of world global consumption. In 2021, India spent a record $55.7 billion approximately on gold imports, most likely to fuel this huge jewellery demand.
Gold jewellery demand in India spikes during wedding season, which is largely considered to be between October and March. According to the World Gold Council report, 50% of gold demand in India arises from weddings, which require a massive amount of jewellery. Apart from weddings, gold is also used liberally in religious and cultural festivals and is ingrained in the very cultural and economic fabric of India, often being seen as a mark of wealth and status.
Gold is more likely to see good returns during the Indian wedding season, from October to March
Gold is likely to see good returns during the Indian wedding season – Source: TradingView,Credit: Capital.com
Can gold prices be pushed higher by India alone?
Gold sees significant seasonality trends over the course of a year, especially in top consumers India and China, which both use it for cultural and religious aspects. According to this article by Piero Cingari, November to February is an especially strong time for the precious metal, which sits right in the middle of wedding season in India.
Then, we have another spike in May, around the time of the Akshaya Tritaya, which is considered one of the most prosperous days in Hindu and Jain culture, believed to be "the third day of unending prosperity". This triggers a huge amount of gold buying. We also see another spike in October, around Dhanteras, the festival of wealth, during which gold sales surge as well.
This has led investors to wonder whether gold prices could potentially be heaved up by India alone, especially during this turbulent time, when the precious metal has been under pressure by rising interest rates. This is following India recently overtaking the UK to become the fifth largest economy, as well as seeing a stronger-than-expected services PMI print at 57.2, in August.
This question arises primarily due to wedding season in India starting from next month, which is sparking speculations of how high gold prices are likely to reach then.
India, as well as China have also been consistently importing gold from Russia, despite international sanctions and resulting criticism from a number of other countries. This has bolstered prices somewhat and is expected to keep doing so in the coming months.
| | |
| --- | --- |
| Long position overnight fee | 0.0436% |
| Short position overnight fee | -0.0680% |
| Overnight fee time | 22:00 (UTC) |
| Spread | 0.005 |
| | |
| --- | --- |
| Long position overnight fee | -0.0216% |
| Short position overnight fee | 0.0061% |
| Overnight fee time | 22:00 (UTC) |
| Spread | 0.04 |
| | |
| --- | --- |
| Long position overnight fee | -0.0157% |
| Short position overnight fee | 0.0013% |
| Overnight fee time | 22:00 (UTC) |
| Spread | 0.03 |
| | |
| --- | --- |
| Long position overnight fee | -0.0061% |
| Short position overnight fee | 0.0025% |
| Overnight fee time | 22:00 (UTC) |
| Spread | 0.18 |
However, the US Federal Reserve has hinted heavily towards raising interest rates by a third consecutive 75 basis points hike in September, which would go a long way in putting a cap on the gains seen by gold due to India. Due to this, India's imports alone may not be enough to bolster the precious metal in the long run, which is very sensitive to rate hikes.
What is your sentiment on Gold?
Vote to see Traders sentiment!
Gold's gain frequency over the months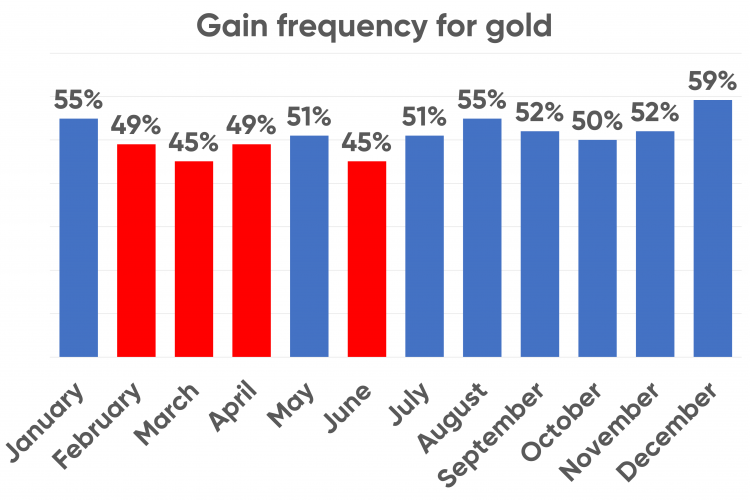 Gold has consistently shown greater likelihood and frequency of gains during the Indian wedding season – Source: TradingView, Credit: Capital.com
Which could be some of the major gold miners if Indian demand hikes gold prices?
Newmont Corporation (NEM), the world's biggest gold miner, is likely to benefit greatly from this, with the company already producing about 5.9 million ounces of gold yearly. Investors also believe that the Newmont (NEM) stock could potentially be highly oversold, with plenty of room for a bounce back, due to the Relative Strength Index (RSI) of the stock falling below 30 between 14th July and 10th August, followed by other frequent dips.
Barrick Gold (ABX) is another company which is likely to gain if India boosts gold prices, with its stock already having gained about 2.5% since the end of July. However, just like Newmont (NEM), Barrick Gold (ABX) also has the potential to rise even more, due to its RSI skimming below the 30 level.
Agnico Eagle (AEM) is another likely contender for a boost, with the company's shares already having lifted about 11.4% since the end of July. This shows that the company has fared slightly better than other large-cap gold miners so far, even with pressurised gold prices, with investors hoping that this trend is likely to continue.
What is the outlook for gold for the rest of 2022?
As the US Federal Reserve prepares to hike interest rates by another 75 basis points- the third consecutive hike of this scale- in September, gold prices are likely to be more pressured in the coming momths. This will potentially be made even worse by expectations of the US Fed raising rates to above 4% by early next year, as a number of Fed members are calling for.
The central bank has gone on record to highlight that it will do anything and everything necessary to bring inflation under control and will keep increasing rates until this happens. Recent economic data, such as the US non-farm payroll numbers have been better than expected, which the central bank is expected to take as a green signal to continue on its aggressive monetary policy strategy.

This, along with a consistently strong US dollar (DXY), is likely to keep gold prices subdued for the rest of the year. However, if inflation expectations continue to rise in particular in Europe, investors could start losing faith in central banks' actions. In this context, gold may likely see a resumption of safe haven demand.
Related reading