BuzzFeed (BZFD) stock forecast: has the buzz quieted?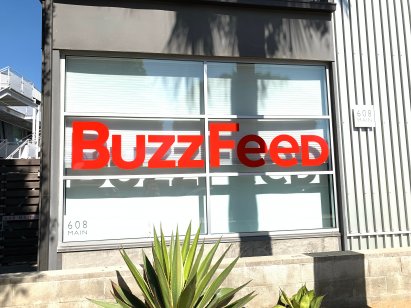 "A way to track viral content on the internet" was the premise on which BuzzFeed (BZFD) was built in 2006. Jonah Peretti, who was working at his co-founded HuffPost website at the time, (formerly known as The Huffington Post), started BuzzFeed as a side project. In 2014, BuzzFeed acquired HuffPost.
The American news and entertainment company's primary focus is digital media. According to the company's official website, it's home to the best of the internet. As of 6 December 2021, it became the world's first publicly traded digital media company.
On 24 June 2021, the company announced a merger with 890 Fifth Avenue Partners Inc., a special purpose acquisition company (SPAC).
In other BuzzFeed stock news, the company acquired Complex Networks, a global youth entertainment network. Peretti mentioned how this acquisition was expected to expand the company's reach and open doors to more revenue opportunities.
Ahead of its debut on the stock market, the company prepared a quiz called, "Should you buy BuzzFeed stock?" Although the quiz was "purely satirical", according to the company's CEO.
On 6 December 2021, BuzzFeed Inc. was listed on the Nasdaq. On its first day of trading, BZFD fell by 11.01%, closing at $8.56.
On 10 December 2021, the stock closed at $6.07. In this article, we dig into the company's financials and look at analysts' insights for a plausible BuzzFeed stock prediction.
BuzzFeed stock fundamental analysis
On 19 November 2021, BuzzFeed reported Q3 2021 results for the quarter ended 30 September 2021. It reported growth of approximately 20% revenue growth to $90.1m from to Q3 2020. When compared to a nine-month comparison of 2020, the growth percentage climbs higher to 27%, rising from $198.3m to $251.9m.
Zooming in on the BuzzFeed stock analysis, the company's primary revenue drivers are through advertising, content and commerce. Advertising is the biggest earner. In Q3 2021, revenues through advertising were $50.2m, a 39% increase from the Q3 2020 figure of $36.1m. While income from commerce and other sources grew by 14%, up from $11.7m to $13.4m, revenue from content dipped by 4%.
For the quarter ended 30 September 2021, net losses were $3.58m – a 68% increase from Q3 2020's loss of $2.13m. This increase could be a result of global supply chain issues and labour shortages that are expected to continue through the last quarter of 2021. They could affect the BuzzFeed stock value.
BuzzFeed's management and Board of Directors measure the company's operational strength through adjusted earnings before interest, taxes, and depreciation (EBITDA).
Adjusted EBITDA was reported at $6m for the quarter ended 30 September 2021. Compared to the Q3 2020 figure of $2.8m, the Q3 2021 figure records a jump of 114%.
Felicia DellaFortuna, BuzzFeed's chief financial officer, said: "The strong growth in our higher-margin revenue lines contributed to a doubling of EBITDA year-over-year. Additionally, Complex Networks delivered a profitable Q3, reinforcing our confidence in and excitement about the long-term benefits of bringing the portfolio of BuzzFeed and Complex brands together."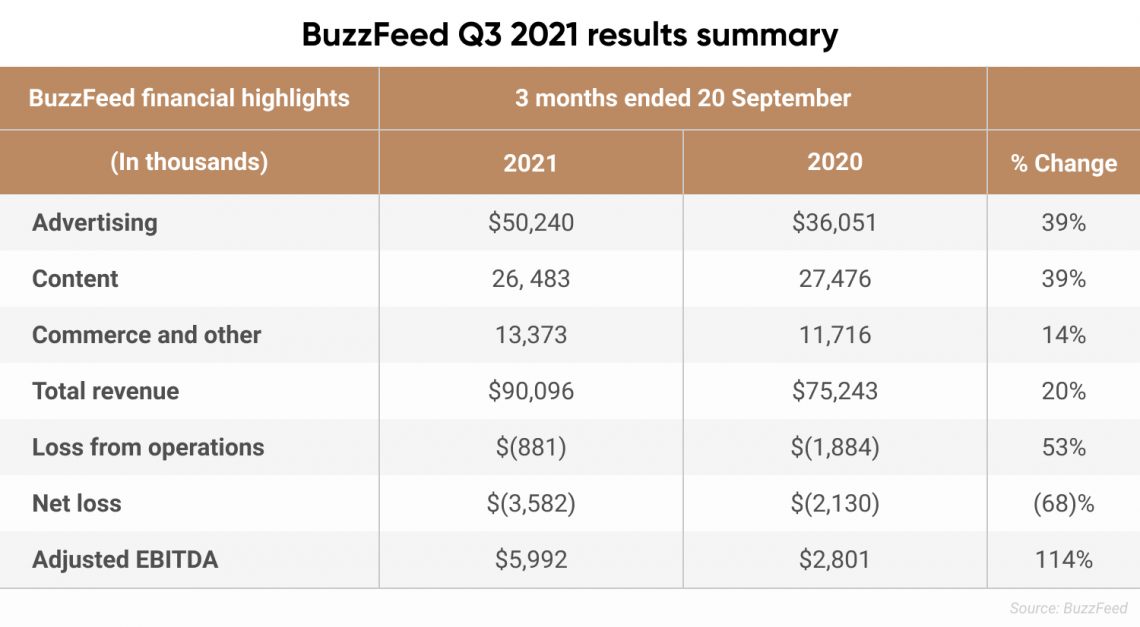 BuzzFeed share price news
BuzzFeed's decision to go public through the SPAC 890 Fifth Avenue raised $287.5m earlier this year. Almost 94% of that sum was recouped by investors. BuzzFeed received a cash infusion of roughly $16m, along with $150m in convertible notes.
On 2 December 2021, BuzzFeed News employees staged a one-day strike. In a protest for better wages and working conditions, 61 employees, representing about 6% of the company's workforce, participated in the 24-hour digital walkout just days before the company went public.
On its debut day on the Nasdaq, BZFD closed the day at $8.56. Before the takeover, the SPAC traded at $9.62 on 3 December 2021.
At the time of writing (15 December 2021) BZFD's close price stood at $6.19, at a five-day high and a 7.8% increase from the previous close of $5.77. Does this mean better times are ahead for BZFD?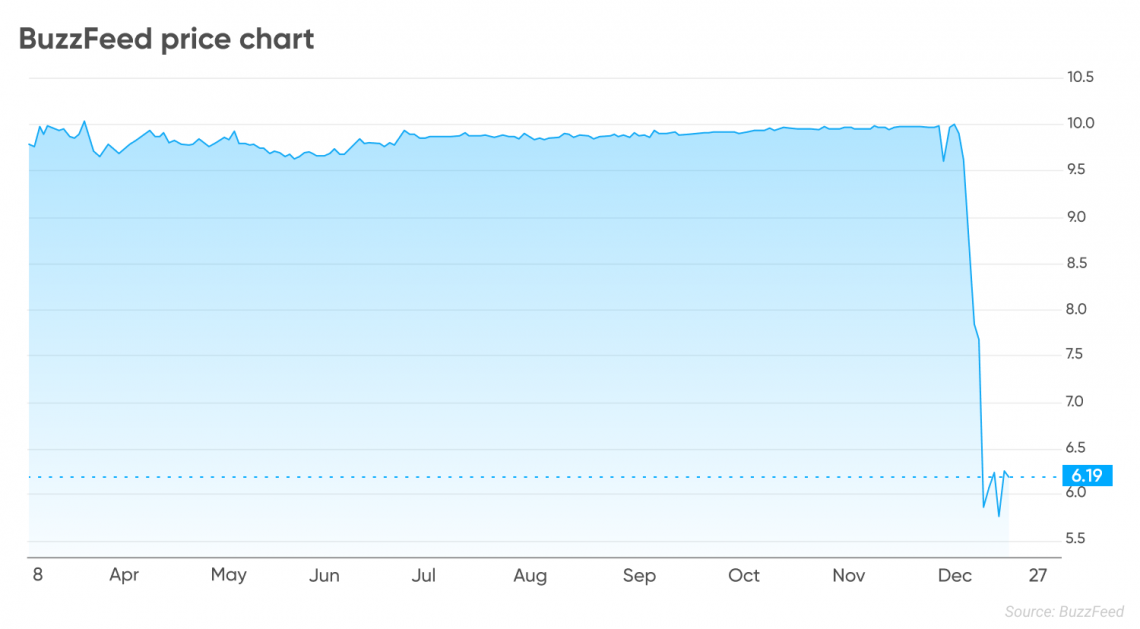 The company's most recent acquisition was for Complex Networks, a global youth entertainment company catering to the GenZ and Millennials through pop culture, style, music, sneakers and food. This $300m deal, first announced on 24 June 2021, was settled through $100m of equity in BZFD stock and $200m in cash.
Complex Networks, the latest addition to the BuzzFeed brand, joins the company's diverse portfolio of offerings through BuzzFeed News, BuzzFeed Entertainment, HuffPost and Tasty Lifestyle.
Rich Antoniello, Founder and CEO of Complex Networks, said:
"In Jonah and BuzzFeed, we've found unparalleled vision; a deep respect for our company culture, brands, and editorial independence; and a partner with business lines that will enable us to take Complex Networks to an entirely new level. With this move, we're joining another rocketship and just getting started."
BuzzFeed stock forecast
In an interview with CNBC, Peretti said: "As far as digital media that reaches a Millennial or Gen Z audience, we're the only one that's public."
Bryan Goldberg, CEO of Bustle Digital Group, believes the key level for BuzzFeed will be $15 a share.
"At $15 per share, BuzzFeed's market capitalisation would be about $2.25bn. That approaches a trading multiple of four times revenue. BuzzFeed generated $161m in revenue in the first half of 2021 and acquired Complex Media earlier this year, which brought in $53m in the first six months. 4x revenue should be the default which will make the sellers feel they're getting a just price. But it may take BuzzFeed stock market six to eight months to get there."
Goldberg further mentioned how supply chain disruptions have led to curbed advertising spending, which could continue to affect Buzzfeed's shares adversely.
"I have a particularly informed view of what digital advertising sales are going to look like in the fourth quarter and in 2022, I think digital advertising is going to have a rough Q4 2021. But I think 2022 is going to be clear skies."
Beth Nichols, of the Motley Fool website, said: "The regular infusion of large sums of venture capital demonstrates that some savvy tech investors are betting on a bright future for BuzzFeed and its advertising revenue model. Nevertheless, the company's sharing strategy is very much dependent on other social media platforms, an interdependence notorious for acquisitions, rule changes, and strikes against competition. Changes in the social media world could conceivably undermine BuzzFeed's success."
With that said, at the current time there isn't enough trading data available to base a BZFD stock price forecast.
Milan Vaishnav, a Consulting Technical Analyst at Gemstone Equity Research & Advisory Services, said, "There is as such not much technical reading given this situation, relating to BuzzFeed share forecast. If the stock defends 5.50, some technical pullback can be expected."
When considering whether to invest in the company's stock, you should always do your own research, considering the outlook and relevant market conditions. A number of factors dictate whether stock prices rise or fall, including the company's fundamentals and broader macro-economic factors. There are no guarantees. Markets are volatile. You should conduct your own analysis, taking in such things as the environment in which you trade and your risk tolerance. And never invest money that you cannot afford to lose.
FAQs
Is BuzzFeed stock a good buy?

BZFD is the first digital media company to trade on a stock exchange. It has added global youth entertainment company Complex Network to its existing raft of titles.

Whether BZFD stock is a suitable investment depends on your own investment objectives. You should conduct your own research and then make a decision regarding BuzzFeed stock buy, sell or hold. It's important to reach your own conclusion on a company's prospects and the likelihood of achieving analysts' targets.
Will BuzzFeed stock go up or down?

On its debut as of 6 December, BZFD fell 11%. At the time of writing (15 December), it was trading at $6.19, down on its first-day close price of $8.56.

A number of factors dictate whether stock prices rise or fall, including issues with the company and broader macro-economic factors. There are no guarantees. Markets are volatile. You must make your own assessment of the BuzzFeed stock chart, taking in such things as the environment in which it trades and your risk tolerance.
Read more: Tesla's EV revolution: Where will the TSLA stock price be in five years?