Bulk Fiber Networks and WFN Strategies lay first sustainable undersea cable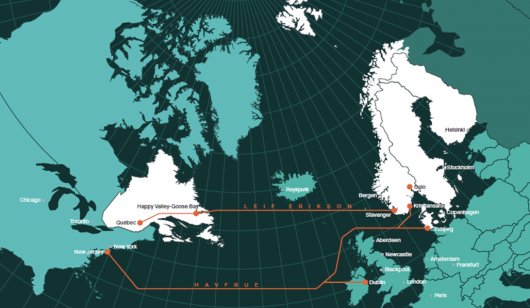 Two international companies specialising in fibre cable communications have joined forces to create a northern undersea cable route between Canada and Norway that will be powered by 100% renewable energy.
The Leif Erikson subsea fibre cable, a joint feasibility study announced on Saturday by Oslo-based Bulk Fiber Networks, builder and operator of fibre network infrastructure, and Sterling, Virginia-based submarine cable firm WFN Strategies, aims to unlock the global renewable power of Norway and Canada.
Work has already begun on the 4,200km direct link between southern Norway and Goose Bay in Atlantic Canada, the companies said in a statement. They also plan to extend the cable overland to Montreal.
Bulk Fiber Networks owns and operates more than 10,000km of international and intra-Nordic high-capacity subsea and terrestrial fibre networks, including four live subsea fibre systems.
WFN Strategies will act as the project planner, designer, and implementer.
Sustainability key to project
"WFN's experience with submarine cable projects in the Arctic regions, as well as their determination to include sustainability as a key element all through the project management makes them the ideal partner for us in a project like Leif Erikson," said Peder Naerboe, Bulk's founder & executive chairman.
The companies said on Twitter they timed the announcement for Saturday because 9 October is Leif Erikson Day in Norway, named after the Norse explorer believed to have led the first Europeans to land in continental North America.
The feasibility study will be used for survey and construction planning, hazard identification, risk management and budget and economic modelling. The work will include sustainability requirements for the supply chain and life-cycle management of the network.
The Norwegian government has said it wants to become a digital infrastructure hub in Europe and issued a national report in 2018 about its vision.