Brokers buy Airbnb ahead of expected tourism boom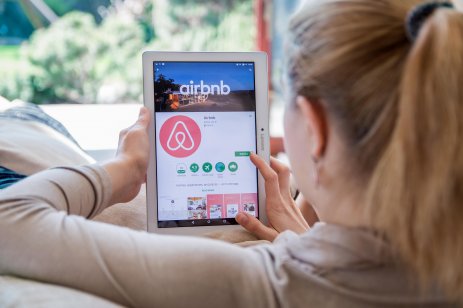 Go back 14 years and Airbnb (ABNB) didn't even exist but today the home rental specialist is a global brand and a well-watched Nasdaq name.
After being hit hard by Covid-19 with hosts not being able to rent out their properties, the company is now in a much better place as lockdowns become a thing of the past and tourists pack their cases and passports.
On paper the climate looks good for Airbnb and analysts appear to agree; Citigroup has just upgraded the stock from a 'neutral' to a 'buy' rating. Citi now has a $200 price target on the stock. This represents a potential 19% upside from the current price of $168. The general consensus from analysts is positive – with 15 out of 32 rating the stock a buy, 16 rating it 'hold' and just one rating it a sell.
In March 2020, when the pandemic hit, borders closed, travel stopped and Airbnb's business declined by nearly 80%. It was forced to put its IPO on hold.
Its stock price has been all over the place since its eventual IPO in December 2020. Airbnb's initial public offering was priced at $68 a share, with the company bringing in $3.5bn in return for selling 51.5 million shares. It led to a company valuation of $47bn and was the largest IPO that year.
Since then, its stock price has hit a high of $212.68 in February 2021 and a low at $134.31 in July 2021 before recovering to the current level.
What is your sentiment on ABNB?
Vote to see Traders sentiment!
Airbnb (ABNB) share price
What's to like about Airbnb?
Firstly, it is essentially an internet stock that is linked to travel and hospitality. The accommodation hosts are responsible for any cleaning, maintenance and liaising/follow up with visitors. Airbnb is a global platform that makes instant bookings possible.
In terms of competition, Airbnb has a very strong brand and is more familiar to people than other rivals such as Vrbo, Flipkey and Homestay (which is a bit different as visitors stay with the host rather than rent from them).
True, there are other big brands such as Expedia (EXPE) and Booking.com (BKNG) that offer, among other things, the option for owners to list their property for rental but they are not as focused in one area.
It could be argued that there are few barriers to entry in this field but established brands with global presence have a distinct advantage.
And Airbnb has purposely focused on acquisitions to build its presence globally and further boost recognition – the focus has been more on growth than profitability.
Profitable track record?
The recently listed business may have much to offer investors but a track record of consistent profitability is something that is simply not there yet.
Though it is in essence a tech stock, it still faces similar pressures to many more traditional travel companies – for instance when travel stopped and borders closed, Airbnb guests needed to cancel their reservations, many of which were non-refundable.
Airbnb issued over $1bn in refunds. While this helped guests, it created problems for hosts. Hence, Airbnb committed to paying up to $250m to hosts affected by cancellations.
The company does face some headwinds, for instance several cities have introduced regulations in a bid to stop Airbnb driving up local rent prices.
Most analysts, though, will be looking at Airbnb as operating in a market that for 2022 at least will enjoy a huge boost in bookings as tourist numbers soar post-lockdowns.
The question will be whether belt tightening as a result of rising inflation and the cost of living means a slowdown for Airbnb further down the line.