Britvic (BVIC) reports revenue boost despite cost pressures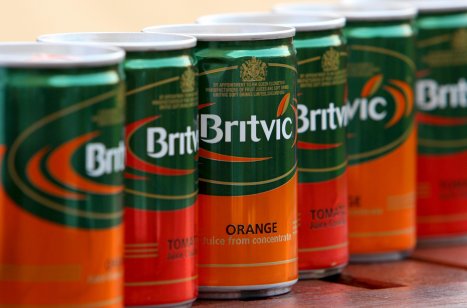 British soft drinks producer Britvic reported a revenue increase in its preliminary full-year results on Wednesday and said it was "confident" of making further progress next year despite inflationary cost pressures.
It said revenue increased by 6.6% to £1.4bn ($1.87bn) for the year ended 30 September 2021, while profit after tax increased by 9.1% to £103.2m.
It also reported record free cash flow generation of £132.7m, which enabled it to make a £31.9m reduction in adjusted net debt. Britvic also announced a full-year dividend increase of 12%, reflecting the board's confidence in its prospects and strong balance sheet.
Results highlights
The company said revenue had grown in the UK and in Brazil and noted continued growth in its At-Home channels with Out-of-Home rebounding in the second half.
It also highlighted margin rate progression and said it was accessing new spaces with the acquisition of Plenish, Aqua Libra Co and Rockstar.
Britvic noted how it had simplified its Irish business with the closure of Counterpoint. It also highlighted a strong cash generation with adjusted net debt and its earnings before interest, taxes, depreciation and amortization (EBITDA) leverage ratio back to its 2019 level.
What is your sentiment on BVIC?
Vote to see Traders sentiment!
Company outlook
Looking ahead, the business said it was encouraged by trading volumes and is confident about prospects for the year ahead.
Simon Litherland, Britvic's chief executive, said: "This year we have recovered strongly from the effects of the pandemic, with underlying revenue, margin, and profit all in growth. Our disciplined cash management enabled us to pay down debt and to increase our dividend by 12.0%, reflecting our confidence in the business."
He added: "We continue to invest in our brands, people, and infrastructure. Our portfolio of trusted family favourite brands has led the growth across our business units, and we continue to access new growth spaces through innovation, the acquisition of Plenish and the relaunch of Rockstar. We have simplified the business in Ireland with the closure of Counterpoint. Our Healthier People, Healthier Planet sustainability programme has also progressed well, with the rollout of recycled PET in GB, and carbon reduction initiatives across the business."
Litherland also said he was confident about the execution of the company's growth strategy and that the business will continue to deliver consistent returns to shareholders.
"While there are multiple operational headwinds leading to increased inflation, we are confident we will mitigate them through a combination of our agile and resilient supply chain, revenue management and cost saving actions. In 2022 we anticipate making further progress with revenue, profit and margin ahead of 2021," he added.
Britvic's shares were up 0.17% on Wednesday morning on the London Stock Exchange.
Read more: Shell (RDSA) builds plant to upgrade oil made of plastic waste