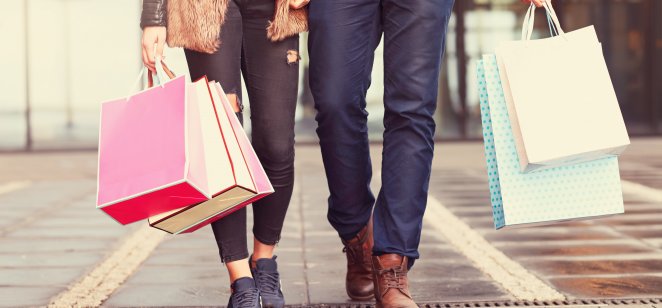 The beginning of the new year has brought positive news to the British retail industry with an increase in high street sales, which is surprising given that the post-Christmas period in January is traditionally a slower month for retail.
The statistics reflect a welcome trend of people becoming less reliant on online shopping as they had done during the Covid-19 pandemic lockdowns.
According to a report published by the British Retail Consortium (BRC), total UK retail sales increased by 11.9% between January 2021 and 2022, with a like-for-like retail sales increase of 8.1%.
A majority of this growth was driven by online non-food-related sales, which increased by 31.8% in January, against a growth of 2.5% in January 2020 – above the three-month average of 24.8%. However, overall, the non-food-related online penetration rate decreased from 66.2% in January 2021 to 41.5% in January 2022.
Within the retail sector, sales ticked up in footwear, furniture and jewellery. The food sector saw a small drop in sales in the three months leading up to January, likely as a result of other impacts as prices increased along with inflation.
What are people buying?
In the BRC report, Paul Martin, UK head of retail at KPMG, comments: "Footwear, furniture and jewellery saw strong sales growth in stores, while spending on food and drink, toys and computing all fell during January.
"Unsurprisingly, online sales were down across all categories compared to January 2021, with items for the home seeing the biggest fall in sales volumes."
Watches and clothes were other sectors that saw a rise in sales during January, while computing, stationary and toys saw the biggest drop in sales in the past year.
Helen Dickinson OBE, CEO of the BRC, added: "Consumers prioritised home purchases, boosting the sale of household appliances, electronics and homeware. In what may be signs of a return to pre-pandemic trends, furniture was the stand-out performer in January, after transport delays in the Christmas period began to ease."
Food-related sales suffer
Food sales saw a decline for the first time since July 2019. As people returned to offices to work and to eating out at restaurants, there has been a corresponding reduction in the number of meals prepared at home, which the BRC report cites as the main reason for the decline in food sales.
However, the decline was only -0.1% in the three months leading up to January, and -0.5% year-on-year. The impact has been low due to the current hybrid working culture, with many people continuing to work from home at least part of the week.
Inflation may also have a further negative effect on food-related sales, according to data from the BRC-Nielsen IQ Shop Price Index (SPI), which showed food-price inflation has continued to accelerate by an estimated 2.7% during January.

The SPI is a monthly shop-price inflation index that collates data to enable BRC analysts to provide wider commentary on UK retail-specific and economy-wide inflation by measuring changes in the price of 500 of the most commonly bought items to show the extent to which retailers contribute to inflation through pricing of common items.
It's not over yet
According to Dickinson, the retail sector is not out of the woods just yet. She points to inflation as being one of the biggest upcoming challenges: "Rising inflation, driven by higher costs of production, higher energy and transport prices, as well as other looming price hikes this spring, mean consumers will have to tighten their purse strings."
Furthermore, she adds, people will begin to rush to restaurants and live events after the end of winter, which may come at an expense to other retailers: "Retailers face competition from other spending opportunities as the public flood back to restaurants, cafes and live events."
Concerning the inflation challenges facing the retail sector, Martin adds: "Retailers are facing their own inflationary pressures and will need to take tough decisions on whether and how to pass on the increased costs they have been sitting on for some time to consumers facing their own financial challenges."
He says higher costs could mean a change in consumer behaviour: "We could easily see the health of the sector start to deteriorate if consumers choose to sit on [their] savings to weather the storm"
How can retail companies win in 2022?
However, despite the challenges the retail industry may face this year, there is opportunity for them to come out on top.
A 2022 outlook published by PwC identifies the following five areas of growth within the sector.
Meeting consumer demand. During times of low economic growth, the winners will be those who build consumer loyalty.
Dealing with cost of inflation. Successful retail companies will optimise supply costs and match product prices to their customer strategy.
Overcoming supply-chain pressures. With normal supply chains not due to return until 2023, businesses can overcome this issue sooner by investing in or creating their own supply chains.
Finding the right channel. As online sales slow, the 'winner' retailers will those that can capitalise on new channels to reach their customers. This can be via new platforms, partnerships and acquisitions.
Environmental, social and governance (ESG) integration. Net neutrality remains a focus for customers and investors. Retailers can gain customers' respect and attention by creating a brand that has ESG targets as a part of its overall messaging, as well as a company that can demonstrate its delivery of these targets.
Read more