Brazil coffee exports drain, while Honduras is brewing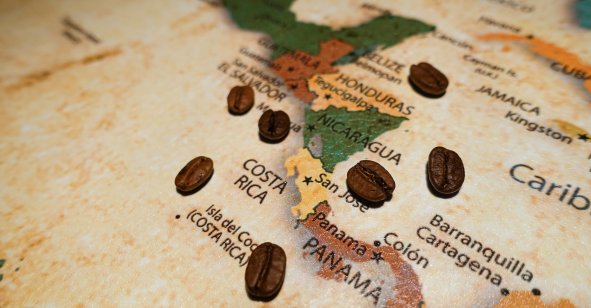 Brazil's coffee exports slid in November due to supply chain issues, but another Latin American country is brewing to become one of the world's largest growers of the get-up-and-go beverage.
At 2 pm EDT (UTC-5) Tuesday, coffee futures were trading at $2.37 per pound. The day's range is between $2.35 and $2.39 per pound.
Exporters group Cecafe said Brazil shipped 2.9 million 132-pound bags of coffee last month, dropping nearly 39% from the same period in 2022. Overseas sales of the South American country's arabica coffee beans fell 41.5% to 2.4 million bags, while exports of robusta beans declined 44.4% to 186,081 bags.
Exports of ground, roast and soluble coffee increased 0.1% to 355,325 bags, Cecafe said.
Overall, the first-thing-in-the-morning beverage was a top contender among soft commodities this year, with an 80% gain from January, second only to oats at a 93% increase.
Supply chain
From computer chips to coffee beans, the supply chain has hindered exports getting to market as long wait times at ports around the globe and unloading issues are plaguing the shipping industry. The issues causing delivery delays.
Brazil's coffee sector is not immune to these problems.
"We continue to face a dispute for containers and for space on ships amid successive cancellations of bookings, cargo rollovers and extremely high freight charges," Cecafe president Nicolas Rueda told Bloomberg. "This scenario is worrisome because industry experts indicate that it will drag into 2022 due to the large volume of agricultural products accumulated in the ports of Brazil, which will impact the performance of our shipments."
Additionally, Brazil was hit hard by the Covid-19 virus, as its President Jair Bolsonaro, a free market advocate, was slow to react to the pandemic for fear of its economic impact.
What is your sentiment on Coffee Arabica?
Vote to see Traders sentiment!
Brazilian scare
Ole Hansen, head of commodity strategy at Saxo Bank, told CNBC that during the past year, Brazil's crop for next year is in a "bit of a precarious state" due to weather, including low temperatures, frost in some production areas and a period of drought.
"We saw coffee rally to about $3 per pound back in 2011, when we had another Brazil scare," he said. "These are really the kind of numbers that prompt the market to speculate whether we can reach those levels once again, and I think with Brazil in mind, and if the projections over the coming months continue to confirm a slowdown or reduction in output, then the risk of our brew getting more expensive is very real."
Bean forecast
Edward Moya, senior market analyst with OANDA, forecast that next year's harvest is not doomed because of weather.
"Brazil's coffee output in the 2022-2023 season is expected to come in around 49 million bags, which means supplies will not dip despite drought and frost impacts. Arabica coffee futures are surging due to poor weather," he told Capital.com.
Honduras
Within the next couple of years, Latin America's major crop will be coffee beans.
An increase in Honduras' coffee harvests over recent years has led the Central American nation to challenge the established "big five" of coffee producing countries – Brazil, Vietnam, Colombia, Indonesia and Ethiopia.
Brazil stands head and shoulders ahead of all other producers, generating an average of more than 73 million sacks of coffee per year between 2015 and 2020, compared to roughly 40 million sacks produced annually by second-place Vietnam, according to the Honduran Coffee Institute.
Challenging Ethiopia
The new report states, while Colombia and Indonesia are firmly established as the third- and fourth-largest global producers, generating an average of 18 million and 14.5 million sacks, respectively in recent years, Honduras' coffee yields have pushed closer to overtaking fifth-place Ethiopia.
Between 2015 and 2020, Ethiopia produced an average of 9.5 million sacks of coffee per year, while Honduras produced an average of 8.95 million per year, and even exceeded Ethiopian production during the 2016/17 and 2017/18 harvests.
"That points to considerable growth in the Honduras coffee economy, with the country now firmly established as the leader among coffee producing countries in North and Central America, having had production comparable to both Mexico and Guatemala a decade ago," the Honduran Coffee Institute report read.
Honduran coffee plantations are mostly concentrated in the western part of the country, close to its borders with El Salvador and Guatemala, which are known as coffee producing countries.
Price per pound up
With coffee prices almost doubling over the past year, Honduras has seen a rise in the value of exports, which jumped 350% in October and November 2021, compared to the same period the previous year.
While the top four coffee producing countries are firmly established, Honduras has shown signs of challenging Ethiopia's place among the "big five" in recent years, while India has also been home to rising production. Ethiopia is in the midst of civil war, while Vietnam was besieged by Covid during much of 2020 and 2021.
Today, Honduras is the largest producer and exporter of coffee in North and Central America, and the crop is seen as being vital to revitalising the nation's growing export economy despite the turmoil of the global pandemic, which reported 378,423 confirmed cases of Covid and 10,416 deaths, according to the US Embassy in the country.
Read more: Coffee price analysis: will it reach 2011 highs or fall after the ascending broadening wedge?