Bosch shares surge in Mumbai amid electric scooter boom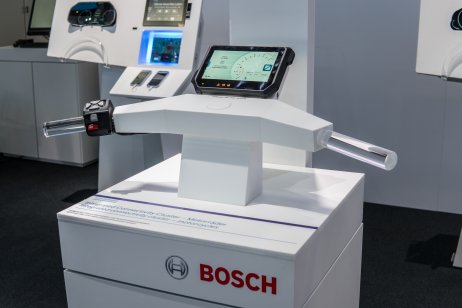 Shares of automotive components giant Bosch hit a one-year high in Mumbai trading on Wednesday amid rising electric scooter sales in India.
Bosch's stock finished 11.9% higher at INR17,315 ($231.21) on the National Stock Exchange (NSE), valuing the company at around INR511.48bn. However, the NSE's NIFTY Auto Index, which includes Bosch, fell 1.16%.
Bengaluru-based Bosch sells a host of motorcycle parts in India like antilock braking systems and digital instrument clusters, along with motors and drive control units for electric scooters.
Soaring petrol prices are now spurring the sales of both conventional and electric two-wheelers, which together account for 80% of all vehicles sold in India.
Cheap to run
The electric two-wheeler boom in the subcontinent has lifted other firms also. Softbank Group-backed Ola Electric, for instance, declared it sold four scooters every second in the first 24 hours of their sale.
Last month, Ola Electric said its e-scooters generated over INR11bn in sales in just two days.
Two-wheeler market
Bosch sees big opportunity in the electric two-wheeler (2W) market, analysts at brokerage house Motilal Oswal Financial Services said in an August note to clients.
"It is also working on low-voltage products for 2Ws and light commercial vehicles. The firm (will) localize EV components at the right time – as early localization may result in higher costs," they added.
The federal government's Faster Manufacturing and Adoption of Hybrid and Electric Vehicles in India Phase II (FAME – II) plan subsidises the cost of owning an e-scooter, by reducing prices upfront. That is in addition to the subsidies offered by various states, which buyers must claim post-purchase.
Big players
Prominent e-scooter companies include Hero Electric, Okinawa Autotech, Ampere Vehicles, Ather Energy and Pure Energy. Ather's CEO Tarun Mehta said that some 40% of the domestic scooters market could go electric by 2025.
India's 11 leading electric two-wheeler companies sold 29,288 units the first six months of 2021, according to data compiled by Autocar Professional, compared with 25,598 units in all of 2020.
Read more: India stocks drop as rising oil prices fuel inflation worries