Bored Ape NFT lots sell at auction for $24.4m, $1.8m
Subscribe to Weekly Highlights
The major market events for the week ahead right in your inbox.
Subscribe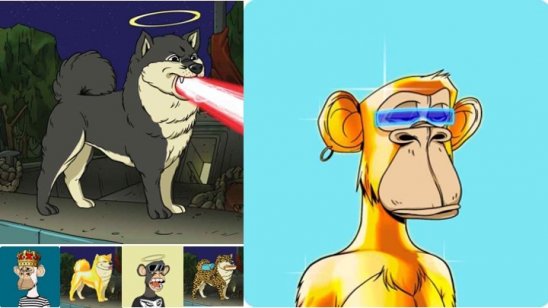 Content
The Bored Ape non-fungible token (NFT) digital art lots up for auction via Sotheby's both sold Thursday, at $24.3m for the Yacht Club lot and $1.8m for the Kennel Club lot.
This surpassed the reserve bid levels set before the auction. The winning bidders asked to remain anonymous, a Sotheby's spokesperson confirmed.
"101 Bored Ape Yacht Club NFTs just sold for $24.4m and 101 Bored Apes Kennel Club NFTs achieved $1.8m in our Ape In! auction – the most significant #BAYC sale to date," Sotheby's said in its pinned Tweet. "Congrats to all the apes out there."
Bored Ape welcomes winners
Yuga Labs, creators of the Bored Ape NFT series added, "What an historic moment for the club: the @Sothebys auction of 101 Bored Apes has closed at over $24m," over Twitter. "To the buyer, I think we speak for everybody when we say: WELCOME TO THE CLUB."
Each lot consisted of 101 collectible digital art works and grants the winning bidder the ability to generate a new Mutant Ape NFT using one of the NFTs in the collection. Each NFT functions as a membership to Bored Ape's online clubs.
Darren Rovell, a producer for sports-betting network The Action Network, reported shortly after the sale the average value of each Bored Ape Yacht Club NFT is $241,515, up from $3,600 two months ago.
The disparity in value between the two lots was chalked up to the relatively older vintage of the Yacht Club collection, according to Sotheby's senior administrator of Contemporary Art, Hallie Freer.
"(Yacht Club) were the original collectable set while the Kennel Club dogs were bred as companions to the apes," Freer said in an email to Capital.com. "Also, the apes have been on the market much longer – since late April – while the dogs were released in early August."
Bidding opened 2 September
While NFTs are still a niche asset class, they have gained favour among younger audiences and celebrities such as music producer and artist Jermaine Dupris as well as sports stars such as Golden State Warriors' All-Star NBA player Steph Curry. The fact that this auction is being handled by the Contemporary Art department at Sotheby's speaks volumes.
"We are seeing digital art overlap with contemporary art, especially how the market has grown over the past eight months," said Sotheby's vice president and senior press officer Derek Parsons.
Unlike much of the more traditional art world, where condition and provenance often reflect value, NFTs are transferred over the blockchain with a code that allows the owner to view the image and prove ownership of the individual asset. This negates any deterioration in condition over time.
Each NFT consists of a single, unique, 24-pixel by 24-pixel digital image. Originally pioneered in 2017, by digital creators CyperPunks, the NFT market currently totals an estimated $700m.
Sotheby's NFT track record since April
Sotheby's has been active in the NFT space since April when it auctioned The Fungible by creator Pak, which sold for $16.8m. In June, Sotheby's auctioned a curated collection of 28 NFT lots, called Natively Digital, by various creators, including CyberPunks and Pak. The Natively Digital auction brought in $17.7m total, with a roughly $634.6000 per-lot average.
But NFTs are not limited to what is considered digital art, because as Frank Zappa once said, "Art is making something out of nothing and selling it."
Original WWW source code sold by Sotheby's
In June, Sotheby's sold the "original archive of dated and time-stamped files containing the source code" at auction. The code was written by Sir Tim Berners Lee for what would become the World Wide Web.
The "This Changed Everything: Source Code for the WWW" lot included Berners Lee's hand-written notes, a visual representation of the code being written in DOS, as well as 9,555 lines of code "the contents of which include implementations of the three languages and protocols invented by Sir Tim," Sotheby's said in a release confirming the $5.43m final sale price. A .txt file named READ ME verifies the authenticity of the work.
The "World Wide Web application was the first hypermedia browser/editor, allowing users to create and navigate links between files across a network of computers," Sotheby's added.
Individual NFTs are graded by independent appraisers such as nameless, a custom NFT launching pad nft42. The nameless platform uses Arweave and the InterPlanetary file system for secure NFT data storage.
NFTs can be projected onto walls
A main component in deriving the value of individual NFTs is what is known as metadata permanence. Metadata is judged by standards set forth in Ethereum Improvement Protocols, adopted by NFT platforms to ensure function similarity.
In addition to images, NFTs include any visual representation, such as source codes. These visual representations can be both static illustrations or dynamic collections of images projected on a wall or recreated into physical form to, for example, frame and display.
Technology giant Samsung currently sells a line of QLED television projectors compatible with NFT displays.