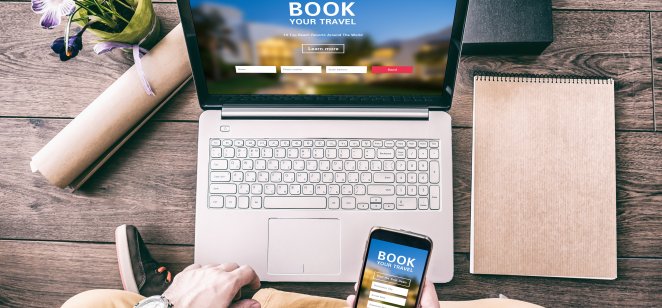 Booking Holdings released its Q3 earnings report and held an investor relations conference call on Wednesday, most notably posting a 77% increase in both total revenue and gross travel bookings over Q3 of 2020.
CEO Glenn D Fogel and CFO David I Goulden offered a glance at the performance of the company's vast array of platforms and comprehensive travel booking services as pandemic-related restrictions have eased in some cases, persisted in others and tightened in some areas.
Booking, Priceline, Kayak, OpenTable and the company's other offerings have tried to keep every aspect of leisure and business travel under one umbrella, even while the pandemic has turned goals into moving targets across the travel industry.
In the third quarter of 2021, net revenue increased more than $2bn (£1.46bn) over the same period in 2020, and room nights, a measure of lodging occupancy, were up 44%.
There was some push-and-pull with Europe rebounding and then facing upticks in Covid-19 cases, and the US seeing some cooling off travel due to the Delta variant, which seemed to create less deterrence as the quarter progressed. Flight offerings, through Priceline and other platforms, including a newer initiative operating in 27 countries, were up 131%, as discussed on the call.
Share prices were down slightly on Wednesday, but hovered healthily, above where they were at the outset of the pandemic.
"We executed well and produced strong results in our peak travel season," Fogel said on the call. "I'm encouraged by the signs of recovery that we are seeing in many parts of the world and am confident that we are on the path to an eventual strong recovery for travel demand globally."
Navigating restrictions
For much of the pandemic, travel restrictions were the bane of the travel industry's existence with hotels, airlines, rental car companies, restaurants and other facets all feeling the effects.
Given that each of those sub-industries have an impact on the bottom line of Booking Holdings, eased restrictions in some areas of the world have been welcome developments. The volatility of the pandemic, a bidding war for tech talent and inflation pressures added caution to optimism, but overall positive indicators appeared now and on the horizon, as well.

Most significantly, with the US opening more fully to vaccinated international travellers, eased restrictions have meant an uptick in travel and associated bookings.
Q3's short booking window and other factors made it such that few Q1 and Q2 bookings rolled into Q3, and also allowed most Q3 bookings to stay within the quarter. That meant Q3's figures may have been a bit inflated, and that Q4 would likely see some declining figures for logistical reasons, Goulden said on the call.

Nevertheless, the driving factor toward recovery of the company and the industry as a whole was the expediency of a return to pre-pandemic public health conditions.

"What we need is, obviously, more of a recovery against this pandemic, because that's what's crucially driving the problem in many industries, ours particularly," said Fogel, who took multiple opportunities to urge listeners to get vaccinated to spur recovery in the travel industry and well beyond.
Pent-up demand, pumped-up revenue
The pandemic limited activity, particularly travel, but also precipitated a leap in personal saving rates, particularly in the US.
Fogel and Goulden felt confident that, although difficult to quantify, demand for leisure travel was accumulating and ready to infuse Booking, its subsidiaries and their partners' ledgers with pent-up desire, the type described routinely in media reports and elsewhere.
"We absolutely know there's huge pent-up demand because any time any government lets go of a restriction, we see immediate, immediate pumped-up demand," Fogel said. "For example, the announcement of the 8 November opening for people to come to the US, immediately we saw demand. In the UK, when they changed restrictions? Immediate demand."
The difference between stocks and CFDs:
The main difference between CFD trading and stock trading is that you don't own the underlying stock when you trade on an individual stock CFD.
With CFDs, you never actually buy or sell the underlying asset that you've chosen to trade. You can still benefit if the market moves in your favour, or make a loss if it moves against you. However, with traditional stock trading you enter a contract to exchange the legal ownership of the individual shares for money, and you own this equity.
CFDs are leveraged products, which means that you only need to deposit a percentage of the full value of the CFD trade in order to open a position. But with traditional stock trading, you buy the shares for the full amount. In the UK, there is no stamp duty on CFD trading, but there is when you buy stocks.
CFDs attract overnight costs to hold the trades, (unless you use 1-1 leverage) which makes them more suited to short-term trading opportunities. Stocks are more normally bought and held for longer. You might also pay a stockbroker commission or fees when buying and selling stocks.