Boeing Q3 misses estimates, 787 delays may cost $1bn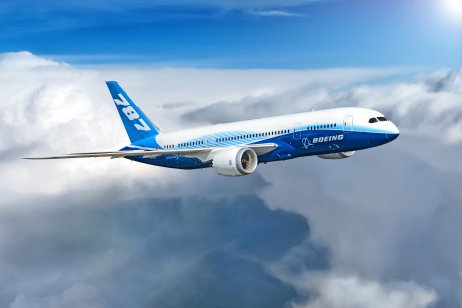 Boeing missed estimates for third-quarter earnings as the aerospace and defence company warned that delays to its 787 Dreamliner jet could top $1bn (£727m).
For the three months ended 30 September, Boeing's net loss narrowed to $132m (£96m) from $466m in the same period a year earlier.
Total revenue in the third quarter was $15.3bn, up from $14.1bn in last year's third quarter, driven by higher commercial aeroplane and services volume.
Loss per share at 60 cents
The non-GAAP loss per share was reduced to 60 cents from a loss of $1.39 last year.
Analysts were expecting a loss per share of 20 cents on revenue of $16.37bn, according to FactSet.
"Commercial market demand continues to gain traction with broad-based vaccine distribution and border protocols beginning to open," Boeing chief executive David Calhoun said in a press release.
What is your sentiment on BA?
Vote to see Traders sentiment!
Supply chain a 'key driver'
"Going forward, supply chain capacity and global trade will be key drivers of our industry and the broader economy's recovery," Calhoun continued.
Boeing said low production rates and rework on its 787 jets are expected to result in approximately $1bn of abnormal costs of which $183m was recorded in the third quarter.
Boeing delayed deliveries of its 787 Dreamliner after the US aviation regulator found defects in aircraft, according to press reports.
Reduced 787 production rate
The company currently produces about two 787s per month and expects to continue this pace until deliveries resume, at which point it will return to a rate of five 787 aircraft per month over time.
The Chicago-headquartered company said its commercial aeroplane division's revenue rose 24% to $4.5bn. The division delivered 85 aircraft during the third quarter and had a backlog of over 4,100 aircraft was valued at $290bn.
Revenues at Boeing's global services division was up 14% to $4.2bn on higher commercial services volume.
Revenue at Boeing's defence, space and security division revenue fell 3% to $6.6bn as the company took a $185m earnings charge on the Commercial Crew programme which is to take astronauts to the International Space Station and will now schedule its second unmanned test flight next year.
Boeing shares were higher in US pre-market trading.
Read more: Will space shares reach the stars?
The difference between stocks and CFDs
The main difference between CFD trading and stock trading is that you don't own the underlying stock when you trade on an individual stock CFD.
With CFDs, you never actually buy or sell the underlying asset that you've chosen to trade. You can still benefit if the market moves in your favour, or make a loss if it moves against you.
However, with traditional stock trading you enter a contract to exchange the legal ownership of the individual shares for money, and you own this equity.
CFDs are leveraged products, which means that you only need to deposit a percentage of the full value of the CFD trade in order to open a position. But with traditional stock trading, you buy the shares for the full amount. In the UK, there is no stamp duty on CFD trading, but there is when you buy stocks.
CFDs attract overnight costs to hold the trades, (unless you use 1-1 leverage) which makes them more suited to short-term trading opportunities. Stocks are more normally bought and held for longer. You might also pay a stockbroker commission or fees when buying and selling stocks.