Boeing (BA) up 5% on UPS jet order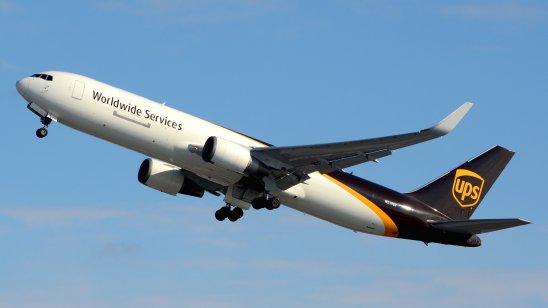 Boeing (BA) stock rose Tuesday on news that United Parcel Service (UPS) ordered 19 new freight jets with a plan to take delivery between 2023 and 2025.
In late morning trading, Boeing was up 5% at $198.34, while UPS was up 1.7% at $205.96.
"Our plan to purchase 19 aircraft and take delivery between 2023 and 2025 aligns with the strategy and capital expenditure forecast shared during our June 2021 Investor and Analyst Day. It also supports our sustainability efforts by making our fleet more efficient and improving reliability," UPS US operations president Nando Cesarone said in a press release.
Surging cargo demand
In 2021, air cargo demand has surged due to an expansion of e-commerce and express cargo markets, the company said.
UPS has been using the freight version of Boeing's 767 jet since 1995.
In total, the company has ordered 91 of the aircraft, Boeing said. The 767 carries up to 52.4 tons of cargo with intercontinental range.
Boeing said Tuesday's deal adds to a record-breaking year for freight jet sales, including 80 firm orders for new wide-body jets and more than 80 orders for Boeing converted freighters.
Read more: Southwest Airlines shares turbulent as cancellations continue