Blow-out Apple earnings bury supply chain fears, lift shares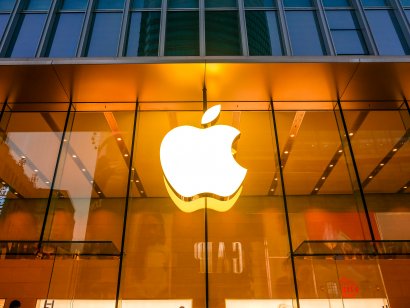 Overcoming stupendous supply chain pressure, Apple reported its best ever revenues quarter last night. Stock in Apple jumped more than 5% following the release of its fiscal 2022 first quarter results, which saw the Cupertino-based company's revenues leap 11% to $123.9bn (£92.3bn, €111bn).
Apple's net profits for the last quarter of 2021 – particularly important with it being the Christmas holiday quarter – boomed 20% higher to $34.6bn.
Still biting
Any weak spots? Not really. Sales expectations across all divisions were surpassed – apart from iPads, chafing against supply chain issues. Apple also reclaimed its number one position in China, taking 23% of the market overall, supported by strong iPhone 13 take-up.
Apple did not give guidance – the tech colossus doesn't supply outlook any more – though there was a good measure of product colour. Sales of iPhones were 9% higher overall, hitting $71.63bn. Revenues from the company's services unit including the App Store leapt 24% to $19.5bn.
Clearly demand for high-ticket hardware and software remains high, with little sign of iPhone sales weakness. What explains the better-than-expected numbers?
"Apple essentially wins on how big it is," says Anam Rahman, of Kavida.ai – which supplies software intelligence for supply chains.
"Its [Apple's] supply chains prioritise it because of how valuable it is. Because of the fines that Apple has [for non-fulfilment]… it ends up sucking up the majority of the capacity that's out there," adds Rahman.
"Below that they [the supplier] ask, 'do I prioritise Apple or Samsung?' And they're choosing Apple right now and saying 'no' to some of their other bigger customers."
What is your sentiment on AAPL?
Vote to see Traders sentiment!
Leading the market higher?
The level below Apple is more vulnerable because those companies are competing for fewer resources says Rahman – if you've Apple as a client, the long-term business is too valuable to lose, often.
Yesterday memory chip maker Western Digital reported better-than-expected Q2 earnings but Western Digital has faced considerable supply chain headwinds; its shares are around 17% down since the start of the year and they weakened more yesterday.
Trade nation analyst David Morrison says Apple has another thumping advantage.
"They've got the hardware but everything's integrated. People trust iOS [Apple's operating system]. It's reliable. It's safe and secure and it spreads across all [of its] products," says Morrison.
He adds: "In China it's really benefited from Huawei's problems with sanctions from the US." Last month Huawei reported its annual revenues had slumped by almost a third due partly to US sanctions hitting smartphone sales.
So is Apple as bullet-proof as it appears? "The thing that could be a concern is regulation," adds Morrison. "But if you think about Facebook, or Twitter, I just don't think the threat of break-up that these other business have [is there]."
Tone-setters
Microsoft reported a profits bump for the last three months of 2021 earlier this week, pumping its stock price higher. Microsoft is more software focused than Apple – Mac sales soared 25% to $10.9bn – despite a proliferation of Xbox and Surface computer products.
Software sales, more broadly, could however weaken as the post-pandemic shift return to offices grips.
So does Apple's strong numbers indicate that much of the recent negative big tech sentiment is over-cooked? It remains to be seen: the Nasdaq is almost 15% down since the start of the year with Apple still 12.5% lower since the beginning of January. Yet over 12 months Apple's more than 16% up.
Looking ahead, there is still comparatively little clarity on Apple's position on mobility. There continues to be rumours of self-driving cars in California; car tech is thought to be happening, but project detail is sparse. The rumour mill continues.
But there's more texture on healthcare and fitness opportunities that is likely to extend across more devices, expanding Apple's grip on the services sector.
Underwhelmed by 5G
Earlier this month Loop Capital Markets analyst Ananda Baruah reiterated a buy rating on Apple, sticking a $210 target price on the stock, accurately predicting that Apple iPhone sales would better Wall Street estimates.
Other analysts have said that Apple is also well-placed to take advantage of 5G adoption in China and the US – though so far the adoption of 5G has yet to take off at scale.
Apple's diluted earnings per share of $2.10 also beat the $1.89 consensus estimate from analysts. However, CFO Luca Maestri did tell the Financial Times that supply chain issues cost Apple "more than $6bn" in revenues.
"These record operating results allowed us to return nearly $27bn to our shareholders during the quarter, as we maintain our target of reaching a net cash neutral position over time," said Maestri in a statement.
Apple declared a cash dividend of $0.22 per share of the company's common stock, which will be payable 10 February.
In pre-market trade, Apple's stock price stood at $164.93, up nearly 3.6% on yesterday's closing price of $159.22.