Blade Air (BLDE) up 5% as Q4 revenue surges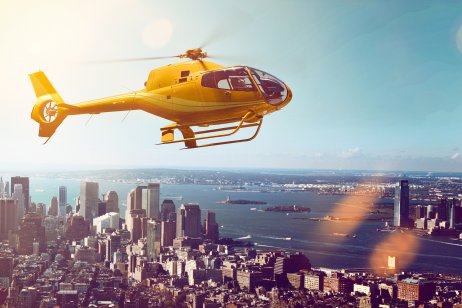 Blade Air Mobility (BLDE) stock was up Monday as the aerial transport firm's fiscal fourth-quarter revenues more than doubled.
Founded in 2014, Blade Air provides an alternative to ground transport within the northeast US and India through its helicopter, seaplane and fixed-wing services.
The company's asset-light business model means that Blade does not own or operate any aircraft. Instead, its network of operator partners provide aircraft, pilots, maintenance, insurance and fuel while Blade focuses on booking and aggregating fliers through its mobile app, website and Flier Relations team.
Q4 net loss widened
For the fiscal fourth quarter ended 30 September, net loss widened to $9.2m (£7m) versus $713,000 a year earlier. Revenue grew 144% to $20.3m from $8.3m in the prior-year period.
On the NASDAQ, BLDE stock was up 5% in pre-market trading at $8.98.
"Blade's growth versus both 2020 and 2019 well exceeded our expectations, and we are especially encouraged by our short distance business, which achieved 90% of pre-Covid revenues this quarter," Blade CFO Will Heyburn said in a press release.
Close eye on Omicron
"We are closely monitoring developments related to the Omicron variant, but Blade has not seen any negative impact to our businesses to date. We remain committed to adding additional airport capacity in the coming months and launching additional routes in 2022," Heyburn said.
The company said net loss was driven primarily by non-cash stock-based compensation, the change in fair value of warrant liabilities and one-time expenses, which were partially offset by increased revenues and lower cost of sales.
Recent deals
Blade Air's recently completed acquisitions of Trinity Air Medical and Helijet's scheduled passenger business in Canada created the largest urban air mobility company in North America.
In May, the company completed a special purpose acquisition company merger and went public.
ARK Investment Management, led by investment veteran Cathie Wood, holds over 10% of the company, according to a recent filing.
Read more: Blade Air Mobility acquires Trinity Air Medical for m