Bitcoin's cover blown? It's moving 'more like a risk asset'
Subscribe to Weekly Highlights
The major market events for the week ahead right in your inbox.
Subscribe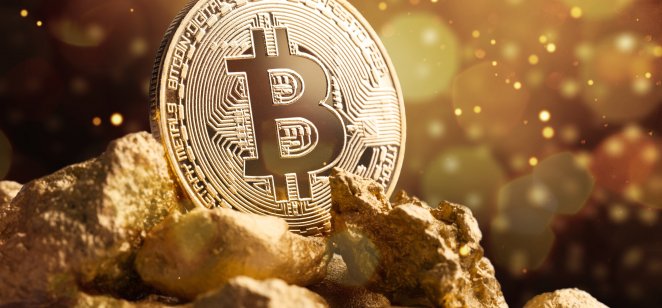 Content
For all the talk of bitcoin (BTC) being a store of value and inflation hedge, the virtual currency's most recent behaviour is suggesting just the opposite.
As global equity markets were roiled in recent weeks by inflation fears and geopolitical tensions centred in Ukraine, bitcoin found itself in a downward spiral – moving more like a risk asset than any sort of haven.
The digital token's correlation with the Nasdaq and S&P 500 stock indices have hit 18-month highs, while that with gold – a traditional haven asset – has been negative, according to digital-assets data provider Kaiko.
Bitcoin's rolling 30-day correlation with Nasdaq and the S&P500 is at its highest since March 2020, closing last week at .632 and .606, respectively, according to Kaiko. The original cryptocurrency has lost almost half of its value since reaching a record high above $69,000 (£51,200) in November and was trading near $38,000 in European morning trade on Thursday.
So, have the latest trends undermined bitcoin's claim to being a store of value, and cemented its profile as more of a risk asset?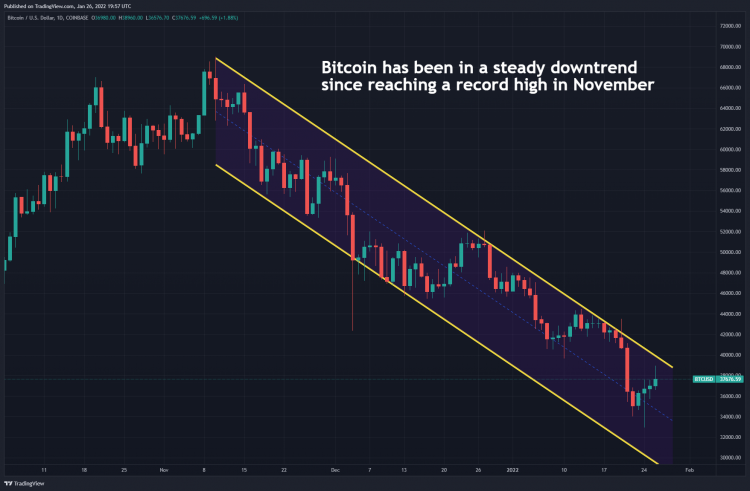 Bitcoin downtrend – Credit: TradingView
'More like a risk asset'
"Bitcoin is often considered an inflation hedge, but at the end of the day investors still treat it very much as a risk-on asset," said Clara Medalie, research director at Kaiko – a cryptocurrency data analysing firm. "Risk sentiment is extremely volatile right now which has caused global financial markets to experience sharp price swings as investors seek safe havens."
"Its correlation with gold, the ultimate inflation hedge, has been mostly negative in 2021," she added. "While the 'crypto as safe haven' narrative remains popular, what we are actually seeing in the data is that the asset class behaves more like a risk asset that is highly responsive to global shifts in financial policy," she added.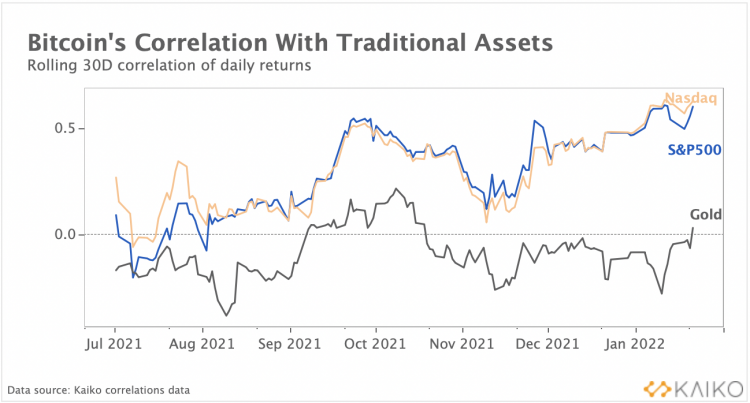 Bitcoin (BTC) moves have been tied to equities and divorced from gold – Credit: Kaiko
Bitcoin's appeal as an inflation hedge got a boost as the oldest cryptocurrency climbed an all-time high in November when the US inflation rate hit a 30-year high. While its decline since then has gone against that narrative, there are still investors who treat the digital token as a store of value, according to some market watchers.
'High risk' or 'safe haven'?
Adrian Kolody, co-founder of Domination Finance, a decentralised exchange for trading dominance pairs, said that crypto native investors often find themselves puzzled at the crypto market copying the traditional markets lately.
| | |
| --- | --- |
| Long position overnight fee | -0.0500% |
| Short position overnight fee | 0.0140% |
| Overnight fee time | 22:00 (UTC) |
| Spread | 0.00403 |
| | |
| --- | --- |
| Long position overnight fee | -0.0500% |
| Short position overnight fee | 0.0140% |
| Overnight fee time | 22:00 (UTC) |
| Spread | 66.00 |
| | |
| --- | --- |
| Long position overnight fee | -0.0500% |
| Short position overnight fee | 0.0140% |
| Overnight fee time | 22:00 (UTC) |
| Spread | 0.2821 |
| | |
| --- | --- |
| Long position overnight fee | -0.0500% |
| Short position overnight fee | 0.0140% |
| Overnight fee time | 22:00 (UTC) |
| Spread | 5.50 |
"They expect crypto's utility and unique nature to react differently in this sense compared to other asset classes," he adds.
Jan Wüstenfeld, an on-chain analyst for crypto research firm Quantum Economics, says that long-term holders still continued to view BTC as a store of value.
"Bitcoin's price falling with major indices like the S&P 500 and the Nasdaq-100 suggest that it is currently functioning as a high-risk asset. While bitcoin currently trades as a high-risk asset, on-chain data indicates that particularly long-term holders continue to treat it as a safe haven asset," Wüstenfeld added.
Long-term investments
Bitcoin's so-called illiquid supply – the proportion of its outstanding stock held in wallets that have never sold – is a staggering 76%, according to research firm Glassnode.
"Due to its properties and a potentially increasing user base buying it for the long-term, I believe bitcoin is positioned well to act as a safe haven asset in the long run," said Wüstenfeld.
"However, in the near term, I would expect bitcoin to continue to trade as a high-risk asset in tandem with equities and the correlation between both asset classes to remain high," he added.
Bitcoin's recent correlation to equity markets is no promise of continuing this trajectory.
"Bitcoin has previously experienced higher correlations to equities, thus there is no certainty that the positive trend we see today will last. Bitcoin tends to be more tightly correlated with traditional financial assets during times of macro uncertainty. The last time we saw correlations this high was during the initial rollout of pandemic-era monetary policy in mid-2020," said Kaiko's Clara Medalie.
Related reading