Bitcoin rallies as Russians dump rouble for cryptocurrency
Subscribe to Weekly Highlights
The major market events for the week ahead right in your inbox.
Subscribe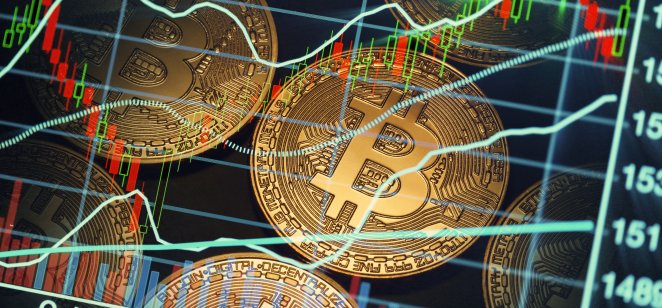 Content
While uncertainty in the financial markets continues as Russia presses its attacks in Ukraine, bitcoin is rallying, which seemed to take many by surprise.
BTC, which had been moving in close correlation with risky equities, broke away from the US S&P 500 on Monday and jumped 18%.
"The recent market rally in crypto markets has come as a bit of a shock to most market participants," David Moreno Darocas, research analyst at cryptocurrency market provider CryptoCompare, tells Capital.com. What happened?
Russians flocking to BTC
After the UK, EU members, US and other nations imposed financial sanctions on Russia following its invasion of Ukraine, the rouble plunged 30% and RUB/BTC purchases soared.
"Geopolitical instability highlights the inability of the current financial system to support those most affected by such crises." says Moreno Darocas. "Mainly, fiat currencies experience significant volatility and loss of value, demonstrating the benefit of currencies that are decentralised and not linked to governments or their political ambitions.
"This is why we have seen a significant spike of trading on RUB and UAH trading pairs over the last couple of days," says Moreno Darocas.
"With Russia's invasion of Ukraine, many people have lost access to traditional banking systems," Josh Goodbody, chief operating officer of Qredo, a cross-chain protocol for asset managers and traders active in the digital asset markets, tells Capital.com.
"This sudden loss of access was likely a player in the upturn on bitcoin and ethereum prices, as both Russians and Ukrainians might be turning to crypto as their own financial systems collapse."
What is your sentiment on ETH/USD?
Vote to see Traders sentiment!
Safe haven after all?
When Russian President Vladimir Putin launched an invasion of Ukraine last Thursday, the cryptocurrency market was hit with a sell-off. At the time, some crypto executives seemed dumbfounded by the market's reaction.
"...[the war] is likely destabilising for Eastern European currencies. And, more generally, for Eastern European financial systems. Which means they might be looking to alternatives. If you were in Ukraine right now, where would you trust your money?" Sam Bankman-Fried, chief executive at cryptocurrency exchange FTX, asked on Twitter, seemingly foreshadowing what followed.
"Most people in the world still don't understand bitcoin," commented Binance chief executive of Changpeng Zhao, at the time of the crypto selloff. Then after BTC took off on Monday, he took to Twitter again, saying: "It often takes a week for 'the market' to understand."
Is the recent uptick a sign of a shift from risky asset behaviour to a safe haven?
| | |
| --- | --- |
| Long position overnight fee | -0.0500% |
| Short position overnight fee | 0.0140% |
| Overnight fee time | 22:00 (UTC) |
| Spread | 66.00 |
| | |
| --- | --- |
| Long position overnight fee | -0.0500% |
| Short position overnight fee | 0.0140% |
| Overnight fee time | 22:00 (UTC) |
| Spread | 0.0015763 |
| | |
| --- | --- |
| Long position overnight fee | -0.0500% |
| Short position overnight fee | 0.0140% |
| Overnight fee time | 22:00 (UTC) |
| Spread | 5.50 |
| | |
| --- | --- |
| Long position overnight fee | -0.0500% |
| Short position overnight fee | 0.0140% |
| Overnight fee time | 22:00 (UTC) |
| Spread | 0.2824 |
Commenting on the Monday's rally, Mikkel Morch, executive director at digital asset fund ARK36, says it "may have a deeper significance for the bitcoin use case."
"The biggest crypto asset is now looking at a potential decoupling from risk assets and it is doing so at a time of unprecedented uncertainty. Cash used to be king in times of crisis but now rising inflation levels and broader macroeconomic woes make holding large amounts of cash risk in and of itself," Morch says.
"Are we, therefore, seeing the beginnings of a wider acceptance of bitcoin as a hedge - not only for investors but also for ordinary citizens? We will know for sure on the other side of this crisis but we can already say that we're currently witnessing historical power shifts taking place in real-time – and crypto is at the very center of the raging storm."
Maybe it will reverse tomorrow, but it's kind of remarkable that a week into a significant geopolitical/military event, bitcoin is outperforming gold.

— Lyn Alden (@LynAldenContact) 28 February 2022
Changing rate hike expectations
As an asset class, cryptocurrencies thrive in low interest rate environments and react nervously to any indications of raising rates. The market has incorporated expectations of an interest rate increase in March by the US Federal Reserve (Fed), though the central bank may want more flexibility due to the conflict in Ukraine, experts say.
"Economic uncertainty means that the Fed may hold off on increasing interest rates in the short term, which gave the market an additional bump," Goodbody points out.
"The crisis involving Russia has led to a U-turn in macroeconomic expectations," CryptoCompare's Moreno Darocas argues. "Previously, market participants were of the view that there would be numerous rate hikes by the Fed and other central banks this year – Morgan Stanley predicted six rate hikes in the US just two weeks ago.
"However, geopolitical uncertainty and the impact sanctions can have on the energy sector (with Russia being one of the largest gas and oil exporters in the globe) have tamed down many of these expectations, which may lead to a continuation of last year's main macroeconomic narrative; gradually rising inflation.
"With bitcoin and other cryptocurrencies being considered both risk-on assets and inflation hedges, this change in narrative is only beneficial for the industry."
Surprised short-betters
Last, but not least, the rally may have been supported by short liquidations. According to Mikkel, the second leg of the move was "at least partially fuelled by a small short-squeeze," Ark's Morch says.
Data from cryptocurrency analytics firm Santiment shows that traders who were shorting bitcoin outnumbered long-betters. Surprised by bitcoin gains, many short bets liquidated: "Those who were betting for bitcoin's price to drop were caught off guard, and many were liquidated on Monday," Santiment analyst Brian Quinlivan wrote in a blog post.
Related reading