Billions of vaccines give Indian equities a fresh boost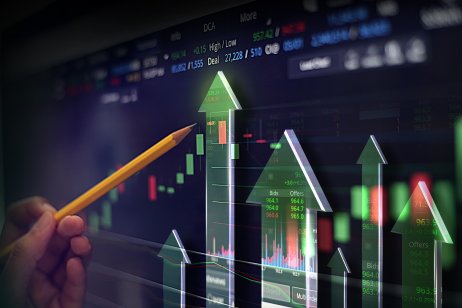 India has administered one billion doses of the coronavirus vaccine. It's an achievement that analysts say will add a fresh impetus to the already bullish sentiment that has driven the local bourses to record highs in recent times.
India reached the milestone of one billion vaccinations today, health minister Mansukh Mandaviya said on Twitter. India reached the 500 million vaccination mark on 6 August. Now, 76 days later, it has hit one billion.
Indian equity indices have rallied to a record high and are among the top gainers in the world after the government gradually lifted the lockdown restrictions imposed in April to contain the spread of coronavirus infections, which had by then reached over 100,000 cases daily.
Record highs
The most-watched National Stock Exchange's 50-share Nifty50 index has surged by over 50% over the past 12 months, while the bellwether Bombay Stock Exchange' 30-share Sensex has pushed above 49% over the same period. Both indices touched record highs earlier this week.
Speaking to Capital.com about how the vaccine drive would affect market sentiment, Harish Krishnan, vice-president and fund manager for equities at Kotak Mahindra Asset Management Company, said: "Markets discount these variables ahead of time, sentiment has been good for last few months and this development furthers emboldens these sentiments. Given strong returns in last few quarters in equity markets, it is imperative that this sentiment on the ground now translates to improving earnings, sustained improvement in the investment cycles as well as companies executing well."
IPO investments
The rise in equity bourses is due to record investments by individual investors, which is reflected by the amount of funds companies have raised through share sales. According to Prime Database, as many as 41 companies have raised a total of $9bn so far this year through initial public offerings (IPO). That's the highest sum since 2017 when 36 companies raised $10.4bn. Food delivery company Zomato had bids worth over INR1tn ($1.3bn) for its IPO in July that it originally hoped would raise INR90bn. This demonstrates the demand for Indian equities.
Investors have also demonstrated their confidence in the equity markets through Indian mutual funds, where assets under management soared to a record INR36.7tn ($49bn) at the end of September, up by almost 33% in 12 months, according to data provided by the Association of Mutual Funds.
"Equity markets have so far reacted well to India's vaccination progress, given the humongous task of vaccinating people across the country in areas far and near overcoming the resistance to vaccines and supply shortages intermittently … If we do not get any negative surprises on this front, the revival of the economy could be smooth and fast," Deepak Jasani, head of Retail Research at HDFC Securities, told Capital.com.
Investor influx
The confidence of some analysts is such that they believe that with the current pace of vaccination the markets will take a third wave of the virus and its implications in their stride. They point to the global trend where fatality and hospitalisation rates have fallen during the third wave in proportion to the number of individuals vaccinated.
One analyst that Capital.com spoke to said that macro-economic indicators point to the economy being on the verge of attaining the pre-Covid level. In the absence of any further virus-led disruption, together with the ongoing festive season, most segments of the economy will accelerate at a faster pace in the short term before any moderation, he said.
HDFC Securities' Jasani agreed. He said that "Retail investor influx has seen a momentum pickup in Covid times. As the experience of these investors has so far been good, we may keep attracting newer investors/additional allocation to equities.
"Investors abroad who had doubts about India's capability will now look at India more favourably," he added.
Caution
Some analysts are cautious about the pace of rises in the equity markets.
"Unlike the first wave, markets did not adversely react to the second wave and we assume that any evolving Covid strains will not create any pain for the equity indices. However, we do not rule out a correction of 10–20% in the process given that the intensity of the rise in Nifty over the past few months. Having said that, the overall structural bull run in Indian equities remains very much intact for the next four years," said Amar Ambani, senior president and head of institutional equities at YES Securities.
Any opinions in the article are the commentator's own and are not intended as investment advice. Investors should always do their own research and never invest more than they can afford to lose. Remember that stocks and markets can go up as well as down.
Read More: Indian start-ups' quarterly fundraising tops bn