Miner BHP's stock rises following Noront acquisition update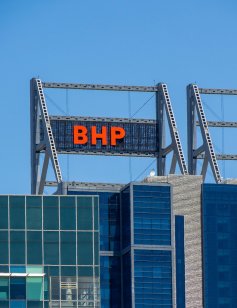 Multi-national mining giant BHP saw its stock rise early morning in London trade after it announced on Monday that it ended discussions with Australia's Wyloo Metals for potential support of its subsidiary BHP Lonsdale's CAD0.75 per stock offer for Canadian miner Noront Resources.
The Anglo-Australian miner's stock price rose 2.42% in early morning trading to 2,179.5p.
Following what BHP called 'constructive discussion' with Wyloo Metals regarding a mutually beneficial arrangement for the acquisition of Noront, the parties were unable to reach an agreement, the release said.
Wyloo Metals is an Australian-based metal and mining exploration business. Noront Resources is a Canadian-based mining company, with ownership or a controlling interest in the major discoveries in the Ring of Fire – an emerging multi-metals area in the James Bay Lowlands of Northern Ontario.
Cash offer for Noront
BHP Lonsdale and Noront are encouraging Noront shareholders to tender to BHP Lonsdale's all-cash offer of CAD0.75 per Noront share.
The offer is the only offer available to Noront shareholders and it continues to have the support and recommendation of the board of directors of Noront, said the press release.
As a reminder, the offer has a minimum tender requirement of more than 50% of the outstanding Noront shares not beneficially owned or controlled by BHP Lonsdale or any person acting jointly or in concert with the offeror.
Shareholders have until 14 January 2022 evening Toronto time to accept the offer and tender their shares, said the press release.
Read more: Aussie firms ready to spend more as Covid restrictions lift