Beyond Meat (BYND) plucks pair of Tyson executives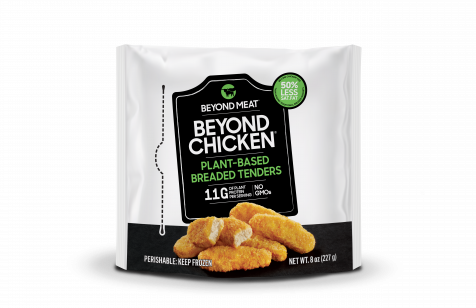 Meat alternative producer Beyond Meat has hired a new chief operating officer (COO) and created a supply-chain manager position in preparation for a calendar year that could stimulate the company's recent sluggish performance.
Doug Ramsey joins the company as COO, a position vacated earlier this year when Sanjay Shah departed for a position with the delivery service GoPuff. Shah was one of at least five executives to leave the company this year, engendering turnover amid some other turmoil.
With a diminished-scale meatless chicken launch ahead of two significant fast-food partnerships set to expand in the coming calendar year, Beyond Meat brought in Bernie Adcock to fill its new position of supply chain manager. Both Ramsey and Adcock spent three decades with Tyson Foods, the largest US meat and poultry processing company.
Tyson veterans
Adcock saw Tyson's the supply chain and Ramsey handled a multitude of duties, including Tyson's robust poultry division as well as global relations with McDonald's, which is beginning to offer Beyond Meat's McPlant burger.
Investors greeted the news favourably. Shares of the first plant-based meat analogue company to go public gained almost 5% on Wednesday to almost $75 per share. The stock added 13.7% over the past five days. One advantage Beyond Meat has today is that the cost of meat, and beef in particular, has risen, meaning cost parity should be more feasible.
"Beyond Meat is the gold standard in the plant-based meat industry and I am proud to join in its mission to produce delicious products that are healthier for our customers and more sustainable for our planet," Ramsey said. The company is the top selling US plant-based meat brand in the refrigerated category at retail and across total food service.
What is your sentiment on BYND?
Vote to see Traders sentiment!
Righting the ship
Since its smashing success of an IPO in 2019, Beyond Meat has been in a cycle of pushing and pulling that hasn't allowed it to realise its full potential in a multi-billion dollar market whose size could double by 2025 and triple by 2027.
Its tepid third quarter was hampered by net revenues of $106.4m, below the company's prior guidance of $120m–$140m, as well as the plant-based "chicken" rollout that did not deliver the boost some had hoped for in the leadup to the launch as competitors beat Beyond to the market.
The El Segundo, California-based company has had no shortage of demand but rather some issues meeting it. It has also launched some high-profile partnerships, including one with Starbucks for Beyond Meat's initial foray into China. Beyond Meat had difficulty satisfying demand when A&W's food service in Canada stocked one of its meatless burger patties. However, it expanded its partnership and offerings with A&W earlier this year to test drive Beyond chicken nuggets.
Crucial moment
The reasons for the hires of two veterans from Tyson – which at one point was an investor in Beyond Meat – and these two veterans in particular seemed obvious. In addition to seeking to improve its poultry position, Beyond has a burgeoning partnership with McDonald's and an agreement with Yum! Brands, the fast-food arm of PepsiCo which operates Taco Bell, Pizza Hut and Kentucky Fried Chicken, among other chains.
McDonald's recently added Oatly oat milk to its mix and has already debuted the McPlant burger from Beyond Meat in Europe and a very narrow group of US locations. Future products may also be developed, and the Yum! Brands deal projects to bring Beyond's brand to all three of the aforementioned chains at a minimum. Such potential also lugs in tow concerns about scale and being able to produce at the requisite volume for some of the world's largest quick-eats chains.
"I'm delighted to join Beyond Meat at a moment when the company is rapidly scaling for strategic partners, customers, and consumer demand in the US and globally," Adcock said. "I am looking forward to supporting the company's planned growth through the expansion of supply chain capacity domestically and in high-potential markets like the EU and China."
Read more: Beyond Meat down 11.7% after lower 3Q 2021 revenue guidance