Best shares to invest in July: five stocks positioned for long-term growth
By A.G.
14:23, 2 July 2020
Subscribe to Weekly Highlights
The major market events for the week ahead right in your inbox.
Subscribe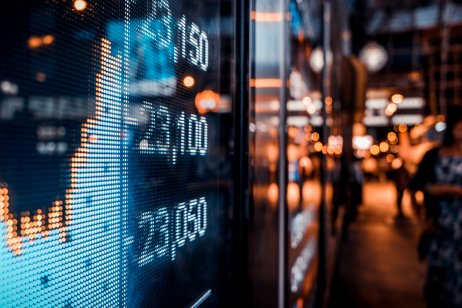 Content
Stock market overview: the two narratives
The stock market staged an incredible comeback in the second quarter, delivering its best quarterly performance since 1987. There are currently two competing narratives in the market.
The re-opening narrative is based on hopes of economic normalisation. Return to normality will benefit sectors most dependent on the economy, including travel, hospitality and retail. The second narrative is around the stay-at-home economy. The recent spike in Covid-19 cases in the US, for example, provides support for these stocks. While both narratives can't be correct at the same time, a few companies might benefit regardless of the path of the coronavirus.
Some changes to consumer behaviour are likely to be permanent. Further, the pandemic accelerated our transition to digital and contactless, all powered by the cloud. With that in mind, we look at the top stocks to invest in right now for the long-term.
What is your sentiment on NVDA?
Vote to see Traders sentiment!
Best shares to invest in July: how to future proof your portfolio
Nvidia (NVDA)
Nvidia is most known for its graphics technology for gaming. However, its data centres and robotics, which include autonomous vehicles, make it one of the best stocks to invest in July.
Data centres comprise the largest segment for Nvidia, with a $50bn total addressable market (TAM). After its acquisition of Mellanox earlier this year, the combined business is set to be a leader in data centre applications, AI and accelerated computing.
Autonomous vehicles are another long-term profit driver. Nvidia recently announced a partnership with Mercedes to provide both hardware and software for a fleet of software-centric autonomous cars. This follows the vision set forth by Tesla (TSLA), where a vehicle's functionality can be upgraded through software updates, similar to a smartphone. The new business model will fundamentally change the way we see cars and Nvidia is, arguably, the only company that can compete with Tesla in this space.
The stock has had a strong run of the lows, but the street sees potential for further gains. Susquehanna and Evercore have both upgraded their price targets to $450 in recent days.
Lululemon (LULU)
When thinking about what shares to invest in July, Lululemon is hard to avoid. It is one of a few secular winners in the retail industry. It has benefitted from the remote work environment with its digital sales growing at a staggering pace. At the same time, the company will also likely do well as we return to normal.
Longer-term, Lululemon targets doubling its digital business and quadrupling international sales over the next five years. It has recently made a bet on the growing at-home fitness market by acquiring Mirror for $500m in cash. Mirror is a young brand with a business model that is similar to Peloton.
Wall Street is bullish on the stock and analysts believe that some capital previously allocated to Nike has been flowing into the Lululemon stock. While the consensus price target is at $320, some analysts have a higher conviction with Stifel Nicolaus at $365.

Salesforce (CRM)
Salesforce presents an exciting opportunity in the SaaS space. Its performance this year lags behind other large software companies, but the stock is still attractively priced, making CRM one of the top shares to invest in. Despite short-term difficulties, Salesforce continues to gain market share in the CRM market. In the first quarter, it closed a deal with AT&T that has the potential to be one of the most significant transactions in the company's history.
In recent years, Salesforce pursued growth through acquisitions, buying Tableau in 2019 and MuleSoft in 2018. These purchases are a significant component of the Salesforce story. Ability to successfully monetise them is critical to the bull case for the stock.
Salesforce is also a perfect holding for socially conscious investors. During the Covid-19 pandemic, the company developed work.com, a platform used by 35 states for contract tracing. Furthermore, the company bought and donated 60 million pieces of PPE, did 11,000 implementations of its software for free and provided a commission guarantee for its salespeople.

PayPal (PYPL)
The coronavirus pandemic has dramatically altered consumer behaviour and their attitude towards money. According to a recent survey, 60 per cent of individuals don't want to use cash or touch a keypad. For businesses, digital and contactless payments are no longer "nice to have" but a critical necessity. Both Square (SQ) and PayPal are positioned to benefit from this trend and are current good stocks to invest in. PayPal, however, offers investors pure exposure to e-commerce and digital channels.
Throughout April, PayPal was adding 250,000 new accounts per day and is on track to add between 15 and 20 million during the quarter. Engagement across the platform is up more than 20 per cent and new users are 30 per cent more engaged. To capitalise on this momentum, PayPal is rolling out direct deposits with Venmo and is integrating Honey into the app. These and other features provide an opportunity for PayPal to monetise its Venmo user base. Credit Suisse (CS) estimates that Venmo has around 60 million US active users, roughly equal to all of its competitors combined.
During the pandemic, PayPal is helping its business customers through loan forbearance and fee waivers. While in the short term it will cost the company at least $150m, these actions will have long-term reputational benefits. Analysts consensus rating for PayPal is currently a "buy" with price targets at Berenberg and Barclays at $205 and $199, respectively.
Take-Two Interactive (TTWO)
Take-Two Interactive is a best-of-breed video game maker with some of the best franchises in the entertainment industry. Grand Theft Auto (GTA), for example, is the highest-grossing entertainment property of all time.
According to research from Activate Consulting, time spent on gaming is up close to 40 per cent during the pandemic. Their research suggests that some of this growth can be sustained. What many people don't realise is that gaming appeals to a wide demographic. For instance, the average age of a gamer today is 37, and 45 per cent of all gamers are female. The new generation of consoles, such as Sony's (SNE) PS5, will only improve the gaming experience.
The long-term growth story is based on the upcoming content pipeline, which will drive earnings growth. Over the next five years, the company plans to release 93 titles, significantly higher than the three or four per year it released historically. Deutsche Bank (DBK) has a $175 price target for the stock, allowing us to add it to our list of the best shares to invest in July. A potential acquisition of the AT&T gaming unit could be a short-term catalyst.

Stock market forecast: where to from here?
In the short term, easy monetary and fiscal policy is likely to support the market. Congress, for example, is contemplating additional stimulus in light of the recent acceleration in Covid-19 cases. The upcoming US election is a potential source of volatility. Joe Biden is widely perceived as being worse for the stock market due to his intention to raise corporate taxes.
Over the next 12 months, however, many expect to see the market push higher as positioning remains supportive. Piper Sandler, for example, has a 3,600 price target for the S&P 500 while Marko Kolanovic at JP Morgan (JPM) expects it to be at 3,400 by the end of the year.
Read more: Centrica share price forecast: trading opportunities for both buyers and sellers