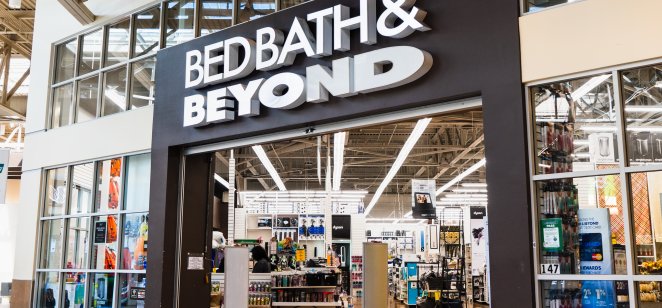 Content
Pandemic stock darling Bed Bath & Beyond (BBBY) cratered Wednesday after reporting a 25% decline in quarterly revenue and a management shakeup. BB&B stock is now near mid-March 2020 levels seen in the immediate aftermath of the Covid-19 pandemic.
Bed Bath & Beyond Inc. (Nasdaq: BBBY)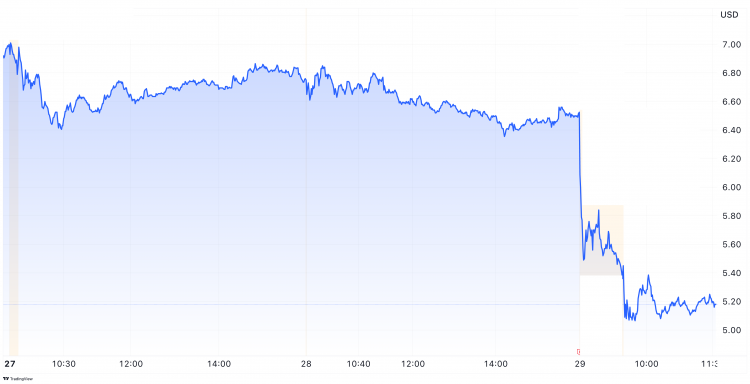 Bed Bath & Beyond Inc. (Nasdaq: BBBY) this week - Photo: TradingView
Citing inflation pressures and ongoing supply-chain problems, BB&B first-quarter revenue totalled $1.46bn (£1.20bn) for a $358m net loss, or $4.49 per share, missing the $1.28 per share loss analysts expected. Additionally, the big-box retailer has just $107.5m cash on hand, down 75% from the $439m from the February reporting period and 90% from the $1.097bn a year ago.
"I think we're seeing a lot of retailers struggling at the moment as people are cutting back on spending," tastyworks CEO Scott Sheridan said. "It's been especially pronounced in the less expensive retailers like Target (TGT), Walmart (WMT) and Bed, Bath and Beyond is in that same category.
Bed Bath & Beyond (BBBY) stock price
What happened to BBBY?
The Union, New Jersey-based home furnishings retailer named Sue Gove as interim CEO, replacing Mark Tritton, who was hired from Target in 2019 specifically to lead a turnaround. Additionally, Mara Sirhal is replacing Joe Hartsig as Chief Merchandise Officer to manage increasingly challenging supply-chain issues.
In prepared remarks on the quarterly earnings conference call, Gove specifically cited inflation and inventory management as headwinds. "In the quarter there was an acute shift in customer sentiment and, since then, pressures have materially escalated," Gove said. "This includes steep inflation and fluctuations in purchasing patterns, leading to significant dislocation in our sales and inventory that we will be working to actively resolve."
BB&B stock, already down 57% year-to-date, fell an additional 30% to $5 per share, versus Tuesday's $6.53 closing price. Trading volume was heavy, topping 18 million trades, compared to a 5.71 million daily average, according to data maintained by Nasdaq. BB&B stock trades on the Nasdaq exchange under the ticker BBBY.
The $5 per share level represents a new 52-week low and is approaching the $4.65 per share price as of 23 March 2020, as retail lockdowns dimmed BB&B's short-term prospects. Retail investors eventually pushed BB&B's stock to $39 per share during the meme-stock frenzy in the first-quarter 2020.
Bed Bath & Beyond Inc. (Nasdaq: BBBY) 2020-YTD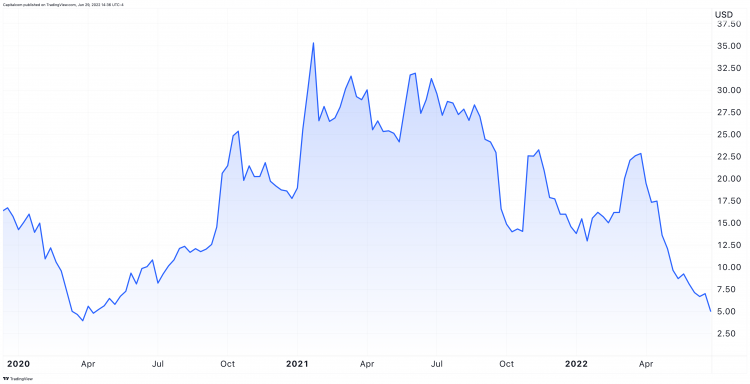 Bed Bath & Beyond Inc. (Nasdaq: BBBY) 2020-YTD - Photo: TradingView
Liquidity issues
The steadily declining cash was particularly concerning, as CNN reported some retail outlets have cut back on utilities – including air conditioning – in a cost-cutting measure.
What is your sentiment on BBBY?
Vote to see Traders sentiment!
"Regardless of whether or not they may be headed toward bankruptcy, the other concern for retail traders is the risk of the stock being delisted," added Sheridan. "If that happens, it makes the stock much more difficult to trade. You also have to keep in mind once a stock gets below $10, a lot of funds can no longer own the stock."
Buy BBBY on the dip?
Of course, BB&B sells many household goods consumers need, such as kitchenware and bedding at relatively affordable prices compared to the more high-end retailers and these challenges could very well be cyclical, Sheridan noted.
"This is a company with a pretty sticky base of consumers. For long-term investors, I don't know that it's necessarily a time to panic and sell," said Sheridan. "If you're a more aggressive trader looking for good risk versus reward, these are the types of underlyings where you may want to take a look."
CFD Trading calculator
Calculate your hypothetical P&L if you had opened a trade today #current date# at the market opening price:
Past performance is not a reliable indicator of future results
Further reading: