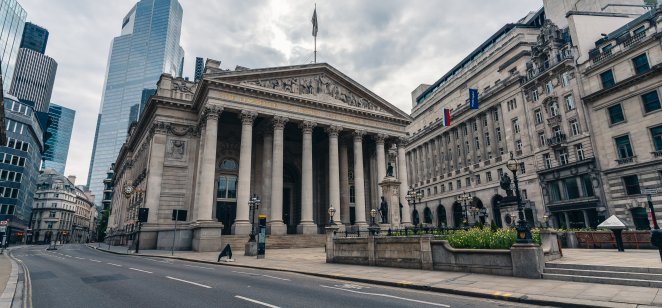 Sterling received a strong tonic after the Bank of England (BoE) acted to curb intensifying inflationary pressures on Thursday by lifting its main bank rate to 0.25%.
The pound climbed 0.7% to $1.3352 against the dollar and was up 0.5% to £0.8464 versus the euro in the moments following the Bank's decision at midday on Thursday.
Following the central bank's decision in November to keep its policy settings on hold, members of the monetary policy committee (MPC) voted by eight votes to one on Thursday to raise the base rate from 0.1% to 0.25% as the Bank embarks on its first rate-hike cycle since October 2017.
Inflationary pressures
The decision to raise the main rate addresses the need to tackle rising inflationary pressures as data on Tuesday showed the headline consumer price index hit an annual rate of 5.1% in November, up from 4.2% in October and now at a decade high.
Markets, which – up until three weeks ago – had been pricing in the near certainty of a December rate hike, had in recent trading sessions begun to rein back their expectations as the UK responded to the growing Covid infection rates with new restrictive measures.
The BoE said in its statement that the Omicron variant posed new risks to growth, and Bank staff had revised down their growth forecasts since the November meeting by around 0.5% for the fourth quarter to 0.6%, leaving gross domestic product at 1.5% below its pre-Covid level. It added that it now expected inflation to peak at around 6% in April 2022, but that it would fall back during the second half of next year.
Delay expectations defied
Many had expected the MPC to delay a rate increase until its February meeting to avoid further headwinds for the economy, which is already experiencing some slowing of growth.
Indeed, two weeks ago, Michael Saunders, one of the most hawkish members of the MPC, admitted there were "advantages in waiting to see more evidence" of the effects on the economy and public health of the Omicron variant.
But the MPC was reminded by the International Monetary Fund earlier this week of the dangers of delaying interest rate lift-off – saying second-round effects may be created as consumer inflation expectations become entrenched.
Economists' comments
Alpesh Paleja, lead economist at the Confederation of British Industry, said: "The decision to raise interest rates signals that the MPC wants to get off on the front foot in tackling rising inflation. We're likely to see at least a couple more rate rises, as flagged in previous commentary from the committee."
Paul Dales at Capital Economics agreed, noting that the statement continued to say that "modest tightening" was likely to be necessary.
"So, this is not looking like a case of one and done," said Dales, adding: "The Bank appears to have become a bit more hawkish and may perhaps now be thinking about raising interest rates twice or three times more over the next two years."