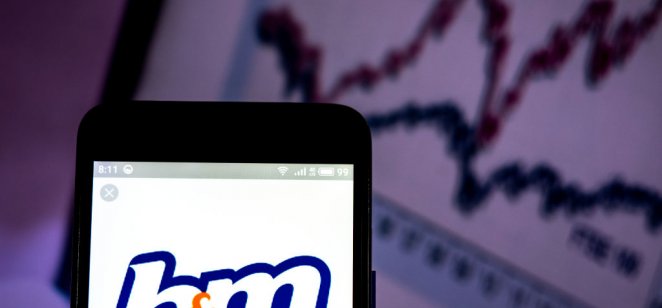 The pandemic was not a bad thing for all retailers. One shop which benefited heavily from the lockdown was the discount store B&M European Value Retail (BME). Allowed to stay open, as it was considered an essential store, B&M's profits boomed.
But success has not continued and last month the retailer announced its CEO, Simon Arora would be stepping down. The group's stock price is down almost 30% this year so the latest earnings report, which comes on Tuesday 31 May, will be watched closely to see how well the company is managing inflation and other pressures.
B&M European Value Retail (BME) stock price
What is hurting BME shares?
Sophie Lund-Yates, Equity Analyst at Hargreaves and Lansdown said in a note: "The market hasn't reacted kindly to the news that B&M's CEO is stepping down. While a changing of the guard can cause markets to wobble at the best of times, some of the negative sentiment stems from nervousness around B&M's path from here."
B&M's stock price has been down by almost 30% so far this year and, according to Danni Hewson, financial analyst, at AJ Bell, this is a big enough dip to put them in bear market territory. Hewson cites several reasons for this stock price drop:
Arora's sale of a 4% stake in the firm in January, reducing his holding to 7%, may have made some shareholders uneasy.
The recent rout in retail stocks in the US may have weighed on sentiment, after disappointing results and updates from Wal-Mart (WMT), Target (TGT) and Kohl's (KSS) to name but three.
And perhaps it is down to worries about inflation, the surge in the cost of living and how this will affect consumer sentiment in both Britain and France, as shoppers trade down through brands or even stop spending in some areas altogether.
"One of the biggest things to watch next week will be the outlook statement. B&M's core customers are likely among the worst affected by inflation," Lund-Yates wrote.
"The group's lower prices are also not as competitive as they once were, according to analysts. That means it's less likely to capture more affluent customers looking for value options, too," she added.
Wal-Mart (WMT) stock price
What should investors be looking out for in B&M's earnings release on Tuesday?
Well, investors, according to Hewson seemed to have shrugged aside January's positive trading update, which saw B&M (BME) upgrade its full-year earnings guidance and also declare a 25p-per-share special dividend.
"This raises the stakes for the full-year results and also any guidance that the company feels able to give for the year to March 2023," Hewson said.
What is your sentiment on BME?
Vote to see Traders sentiment!
"The market is expecting operating profits of around £578m, which would be a 5.8% fall on last year. This doesn't seem an unreasonable expectation, and so the biggest question from investors will be what happens next?" said Lund-Yates.
Hewson points out that the first number that analyst will study is sales. The consensus forecast is £4.8 billion, flat on the year before. The like-for-like sales growth comparison will also be telling.
Read more