Indian auto stocks may feel the heat as chip shortage worsens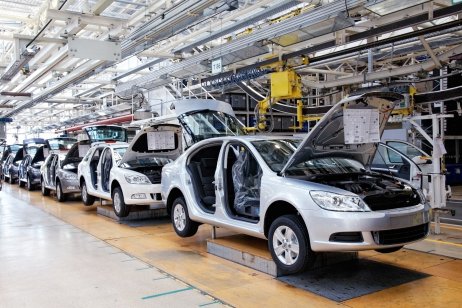 Automobile stocks in India are yet to take a hint from the global production doldrums caused by microchip shortages, as they seem to be riding the bull-run of broad equity indices. But, this may not continue for long, according to some analysts.
The chip scarcity is already forcing production cuts at some of India's biggest carmakers, raising the risk that they will miss out on an annual demand surge during October-November – a period marked by Hindu festivals such as Dussehra and Diwali – that's typical to the world's second-largest auto market.
That could slow the industry's recovery from the pandemic downturn, and could become a drag on the overall market sentiment, according to Religare Stock Broking and SMIFS.
Production cuts
India's biggest passenger carmaker Maruti Suzuki India said on 31 August that it will have to slash production across factories due to the shortage of microchips. Utility vehicle maker Mahindra & Mahindra said that its automotive division will shut down domestic production for a week in September, leading to a 25% cut in output.
"The chip shortage has certainly dented the prospects for the sector and it may result in de-rating if the situation doesn't ease over the next 2-3 months, considering we are entering into a festive season where sales are usually quite strong," said Ajit Mishra, head of research at Religare Stock Broking.
The US-based Ford Motor last week said it is scaling down operations in India and will cease local production. Ford would put up the shutters of its engine and vehicle manufacturing operations at its facilities in Chennai in south India and Sanand in western India, the company said in a US regulatory filing.
Sales down
The chip shortage worsened from March 2020 after the coronavirus outbreak and its impact has been such that Indian car manufacturers reported sluggish sales in August even after a rise in demand with eased restrictions. Maruti Suzuki sold 130,699 units in August, down 19.5% from the previous month.
Total retail vehicle sales in India fell by 11% on-month in August to 1.38 million units as the shortage of electronic chips intensified, according to data collected from dealers by the Federation of Automobile Dealers Association (FADA).
"With OEMs [original equipment manufacturers] drastically cutting down productions due to unavailability of semi-conductors and ABS [anti-lock braking system] chips, shortage of containers and high metal prices, customers for the first time may not get a vehicle of their choice and lucrative schemes during this festive season," said FADA president Vinkesh Gulati.
Index watch
The Nifty Auto index advanced 27% in the past year as compared to the National Stock Exchange of India's 50-share S&P Nifty 50, which surged nearly 51% in the same period. In the past six months, the auto index went down marginally by 0.67% compared to a near 17% jump in the broader Nifty 50 benchmark.
"Considering festivals, money managers will not dump auto stocks as of now. But if the festivals do not go well, then there is a chance that people will move funds away from auto stocks," said Awanish Chandra, head of Institutional Equities, SMIFS.
Although, some analysts do see a limited impact of chip shortage on the auto index, which accounts for only 5% of weight among the most-watched indices. Some point out that demand for automobiles is expected to surge significantly from here on with the government making efforts to revive economic activity and ease restrictions.
Long-term outlook
"Auto demand looks positive from a long term perspective. Investors looking to hold for a longer run may not make significant changes in asset allocation for the auto sector," said Shrikant Chouhan, executive vice president, equity technical research at Kotak Securities.
" While the near term is expected to remain challenging, we expect gradual improvement in the situation over the medium term," he added.
Read more: Resurgence in India foreign trade as economy picks up