Australian wheat growers see stronger demand from China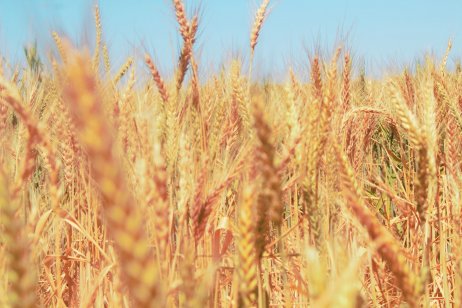 China may be in the middle of a trade dispute with Australia but that will not stop it from buying more wheat from the land down under.
Australian wheat farmers expect the world's largest consumer of wheat, China, to buy more of their product as it looks to offset supply shortfall from top northern hemisphere suppliers.
"We see a really strong demand for wheat from China. They typically source their wheat from Canada and the European Union but they are finding that supply has dropped from there and therefore China is coming to Australia to buy as much wheat as they can," Brett Hosking, the chairman of GrainGrowers, told Capital.com in an interview on 25 October.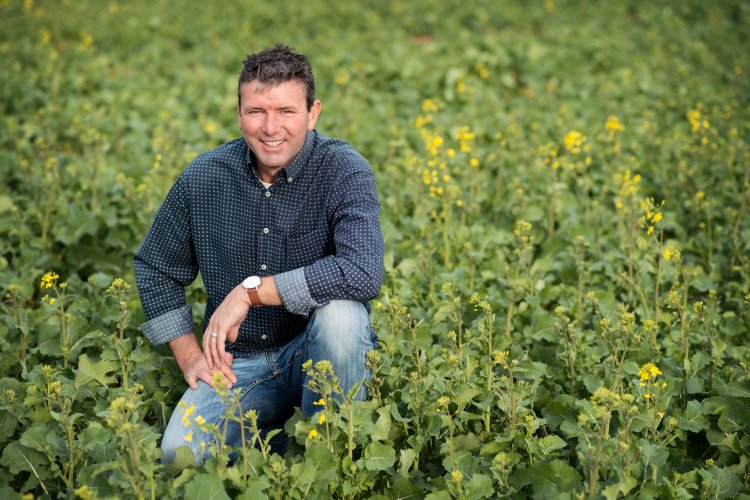 Brett Hosking, chairman of Australia's GrainGrowers - Photo: GrainGrowers
China's offtake overtakes Indonesia
According to Hosking, in the last 12 months, China has imported more Australian wheat than Indonesia, which has been Australia's largest individual market for wheat for years.
Indonesia, the world's second-largest wheat importers, accounted for 19% of Australian wheat exports in the five years to 2019/2020, according to GrainGrowers' State of the Australian Grains Industry (SOTI) Report 2021.
"The volume that has been shipped to Indonesia wouldn't have reduced in the past 12 month. But what we are saying the demand from China means that they have taken a little bit more than Indonesia did," he said.
China typically source wheat – used for making noodles, bread, and other food staples – from Canada, Russia, and the US, the world's top three wheat exporters.
According to the US Department of Agriculture (USDA) data cited by GrainGrowers, Russia, EU, US, and Canada account for 18%, 16%, 14% and 13% respectively of global wheat exports. Australia accounts for 8% of the world's exports of grain.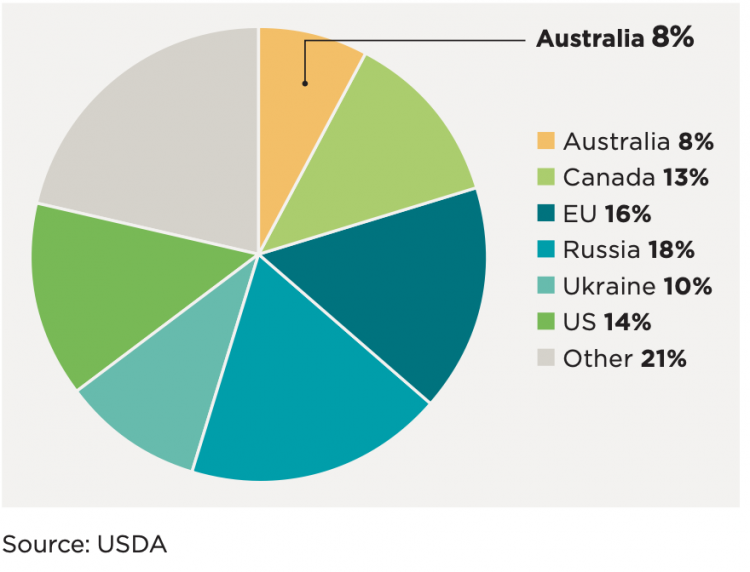 Australia's contribution to world wheat exports, 5 years to 2020 average - Credit: State of the Australian Grains Industry Report 2021
Global supply crunch
However, according to USDA forecasts in October, global wheat output is expected to fall by 4.4 million tonnes to 775.9 million tonnes for the marketing year 2021/2022. The drop is primarily because of significant output cuts from Canada, US and Iran due to hot and dry weather conditions during the growing season.
USDA also forecasts wheat production from Russia – the world's largest wheat exporter – to drop by 15% to 72.5 million tonnes for the marketing year 2021/2022.
Tight supply following troubled growing season in North America, rocketing fertiliser price, and strong demand from the Middle East and North Africa have driven the rally in the high-protein milling wheat, according to Ole Hansen, head of commodity strategy at Saxo Bank on a note on Tuesday. The price of wheat in Paris breached the record high of 2008 to €295.5 ($342.25) per tonne on Tuesday, according to the note.
In the US, the cost of Chicago wheat trades above $8 per bushel for the first time since 2012.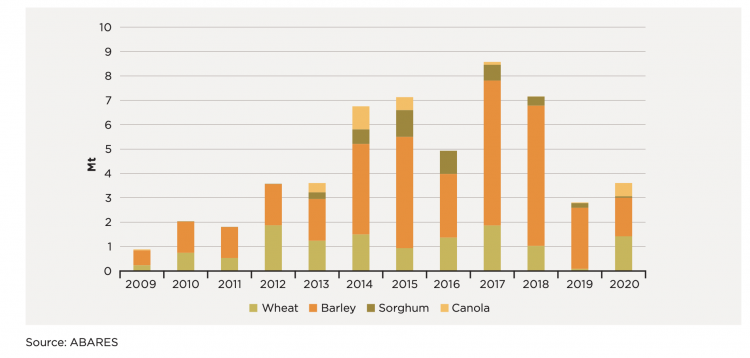 Australian coarse grain exports to China - Credit: State of the Australian Grains Industry Report 2021
Advantage Australia
The supply crunch comes at a time when China, which accounts for 19% of global wheat consumption, is importing record volumes of the grain.
In September, the USDA forecast that China will import 10.6 million tonnes of the grain in the 2021/2022 marketing year. It will be China's highest import total since the 1990s, the agency noted.
Meanwhile, in Australia the weather has been favourable for wheat production and is seeing a record output for the grain putting the country in the driver's seat to take advantage of the global supply shortage.
The country's wheat production is forecast to reach 32.6 million tonnes in 2021/2022, according to the Australian Bureau of Agricultural and Resource Economics and Sciences (ABARES) in its September 2021 outlook. If realised, it will be Australia's second-biggest wheat crop, following the 2020/2021 record of 33.34 million tonnes, according to data from the agency.
ABARES estimated that Australia's wheat export value to China will increase to $586m in 2021/2022, from $569m in the previous year.
Harvest progressing well
"We have been really fortunate and really blessed with the rainfall this season. We see the good quality in grains being produced, good protein numbers. We are seeing high yield," said Hosking, a fifth-generation farmer who runs a mixed farming business with his family in Quambatook, Victoria.
The country's grains harvest is currently progressing, with some crops have been harvested in the northern part of Australia, said Hosking, who has led the group of 17,000 members since October 2018.
"We expect between now and December, we'll see the bulk of the Australian grain harvest come off," he said.
Strong Asian demand
Hosking also expected that other Asian buyers, particularly in Southeast Asia, who source part of their wheat consumption from the northern hemisphere's suppliers, will be looking for Australian wheat to substitute the shortfall.
"There will be less grains travelling from Europe to some of our trading partners in Asia, and we will be able to supply them for that shortfall," he said.
"Australia, being close to the market, means that we can supply just in time. It doesn't travel as far on the boat. Therefore the cost of getting it to their countries will be more reasonable," he added.
The USDA forecasts Australia's wheat exports to increase by 500,000 million tonnes to 24.5 million tonnes in 2021/2022. Wheat accounts for 60% of the country's total grains exports.
"Ample supplies, at attractive prices, allows Australia to export to additional markets and become the third-largest exporter," USDA noted in its October 2021 global wheat outlook.

Australian wheat exports to Southeast Asia and non-Southeast Asia - Credit: State of the Australian Grains Industry Report 2021
Long-term partners first
Despite the shortage in nothern hemisphere, Hosking said the bulk of Australia's wheat exports would still go for the Asian markets, which have a long-standing trade relations with.
Southeast Asia and North Asia are Australia's two top markets accounting for 37% and 33% of the country's total grain exports, according to GrainGrowers' SOTI Report 2021.
Australia shipped an average of seven million tonnes of wheat to Southeast Asian markets, accounting for almost half of the country's wheat exports over the five years to 2019/2020. Wheat exports to three North Asia nations – China, Japan, and South Korea – averaged 3.2 million tonnes over the same period, accounting for about 20% of total wheat exports, according to the SOTI Report.
Asia's noodle market account for more than one third of Australia's wheat export, the SOTI report shows.
"It's really important that we look after our established trading partners because one day there will be a lot of grain producers in northern hemisphere countries; we want our trading partners to remember that Australia," he said.