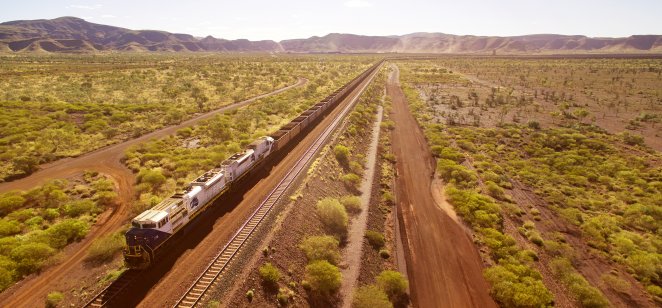 Australian miner Fortescue Metals Group has purchased two new battery-operated locomotives to transport its iron ore from its mines to port as it pushes ahead with the agenda of reducing carbon emissions.
The eight-axle locomotives have an energy capacity of 14.5 megawatt hours and will be manufactured at the Progress Rail facility, a company owned by US-based industrial equipment manufacturer Caterpillar in Sete Lagoas, Brazil.
Despite the announcement, Fortescue's stock price closed the day 1.05% lower on the Australian Securities Exchange (ASX) at AUD19.75, on a day when the broader Australian equities were down sharply with the ASX 200 falling 2.74%.
First trains by 2023
"The purchase of these new battery powered locomotives marks an important milestone in the decarbonisation of Fortescue's locomotive fleet and demonstrates our commitment to achieving carbon neutrality for Scope 1 and 2 emissions by 2030, as we diversify from a pure play iron ore producer to a green renewables and resources company," said Elizabeth Gaines, Fortescue's chief executive officer, said in a statement.
Fortescue will take delivery of the first battery-powered locomotive in 2023.
"We are pleased to be working with the Fortescue team to determine the application, feasibility, and suitability of battery electric technology for deployment on their railway and to manufacture two of our BE14.5BB locomotives for this important project," said Marty Haycraft, president and CEO of Progress Rail.
Emissions to be cut in half by 2025
In March 2021, Fortescue set a target to achieve carbon neutrality within its operations by 2030. This target includes existing operations and extends to all future operations, including acquisitions. The company aims to reduce its emissions to 50% below its business-as-usual unmitigated emissions by 2025 from its 2020 baseline.