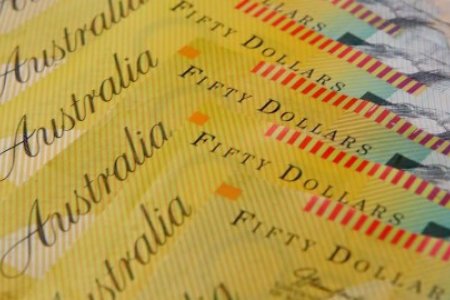 By Wayne Cole
SYDNEY, May 27 (Reuters) - The Australian dollar pushed to three-week highs on Friday as a solid report on retail sales showed consumers holding up well to surging inflation, setting the scene for further increases in interest rates.
It was enough to lift the Aussie 0.5% to $0.7135 AUD=D3 and finally crack resistance at $0.7126 after four straight days of trying. That brought gains for the week to 1.2% and put some distance between the currency and its recent two-year trough of $0.6829.
The New Zealand dollar also added 0.5%, to reach $0.6505 NZD=D3, but had yet to break resistance around $0.6514. The kiwi was up 1.5% for the week so far and also some way from its recent low, $0.6219.
Both currencies benefited from a pullback in the U.S. dollar as markets wagered the Federal Reserve's plans to raise interest rates aggressively over the next few months would see the pace of tightening slow later in the year, or even allow for a pause.
Markets see a June rate rise from the Reserve Bank of Australia (RBA) as a done deal, given the economy is proving resilient to high inflation and global headwinds.
Data out Friday showed retail sales climbed 0.9% in April as consumers spent more on eating out. Retail sales were up a healthy 9.6% on a year earlier. nL2N2XJ01V
Futures 0#YIB: are priced for quarter-point rate hikes in both June and July, and a rise of 50 basis points in August following inflation data for the second quarter, which are likely to be red hot.
The market even has interest rates reaching as high as 2.5% by the end of the year, an outlook most economists view as overly aggressive, given Australians hold record amounts of debt.
Kristina Clifton, a currency analyst at CBA, noted the RBA's first hike, in early May, had already taken a chunk out of house prices in Sydney and Melbourne and the weakness was likely to spread nationally.
"We see a relatively shallow tightening cycle by the RBA with a peak of 1.60% in early 2023, while financial markets pricing currently puts the peak above 3.0%," said Clifton. "An eventual wind back of this pricing will be a headwind for the AUD."
The Reserve Bank of New Zealand is far ahead in its tightening campaign, having hiked by another 50 basis points to 2.0% this week.
It projected rates could reach 3.4% by the end of the year and ultimately peak at 4.0%, higher even than hawks in the market had expected.
(Reporting by Wayne Cole; Editing by Bradley Perrett)