Aussie unaffected by government change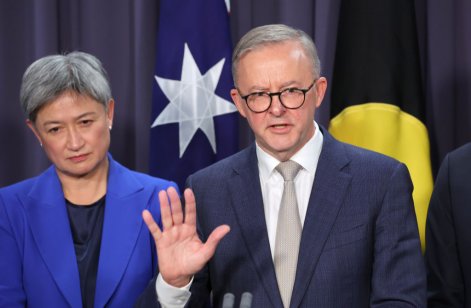 The Australian dollar (AUD), commonly known as the Aussie, pared the gains it made against the US dollar earlier this week after a new Labor government took the reins, under new Prime Minister Anthony Albanese.
However, the gains on Monday and the subsequent fall had little to do with Australia's change of government, according to experts who say the Aussie's fortunes are now firmly tied to sentiment in China.
On Wednesday (25 May), the AUD/USD pair fell 0.70% to 0.7054, following news that China's economic recovery remains shaky.
What is your sentiment on AUD/USD?
Vote to see Traders sentiment!
AUD/USD exchange rate
Policies not too dissimilar
According to Shane Oliver, head of investment strategy and chief economist at AMP Capital, the Aussie is unlikely to be affected badly as the macro policies of the Labor party are not significantly different from those of the previous coalition government.
"Labor's macro policies not being significantly different from the coalition's, and its victory not being a surprise, suggests that the market reaction to the new government will be minor, and that investment markets will quickly move on to other things," Oliver said.
"Industry sectors likely to benefit from the change in government include clean energy, health, education, home builders and manufacturing, whereas heavy carbon emitters may lose.
"The change in government has no implications on our growth, inflation and interest rate forecasts for this year. We continue to see the RBA raising the cash rate at its June meeting by 0.4% and increasing it to 1.5%-2% by year-end," he added.
Looser fiscal policy expected
Marcel Thieliant, senior Japan, Australia and New Zealand economist at Capital Economics, largely agrees.
"A Labor government will probably keep fiscal policy looser than the previous coalition government, putting more pressure on the RBA to hike interest rates. But while a Labor government will make greater efforts to decarbonise the economy, the bulk of mining output is exported so this won't have a big impact on the mining industry. And we doubt Labor will be able to end the trade war with China," he said.
"Indeed, with the federal budget deficit much narrower than the Treasury was anticipating just two months ago, Labor will find it hard to resist the temptation to keep expanding public spending," Thieliant added.
Aussie's fate tied to China
Similarly, according to experts at Dutch bank ING, the movement in the Aussie this week has been "fully motivated" by external factors.
"The result of the election in Australia does not appear to be a straightforward positive or negative for the AUD, also considering it was in line with projections… although it is possible that Labor will represent a slightly more fiscally supportive government than its predecessors, we don't see many implications for financial markets from this election result," ING said in a note.
"AUD remains strictly tied to China-related sentiment (which has improved lately) and global risk dynamics. For now, AUD/USD should be able to hold above 0.7100, although some material downside risks persist," the note added.