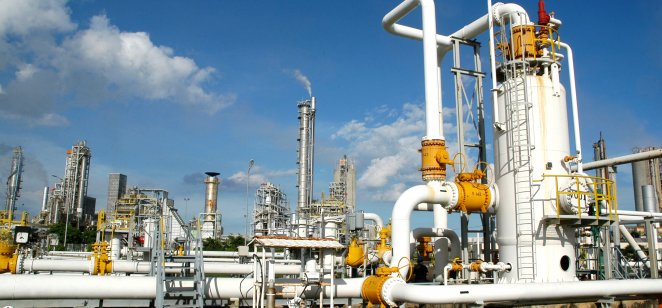 Despite soaring gas prices, several backfill projects to bring in new supply in Asia have progressed slowly, increasing risks of missing opportunities to tap growing demand and raising concern about future supply for the region.
Ongoing pandemic restrictions, sky-high spot prices and rising competition from renewables have not dented Asia's gas demand with consumption expected to grow at almost 3% over the next decade, Wood Mackenzie forecast. But the region's biggest challenge now is meeting the demand.
"Any previous assumptions that Asia Pacific's undeveloped and yet-to-find gas resources will fill much of the region's emerging supply-demand gap have been poleaxed by weak E&A (exploration and appraisal) activity and low commercial conversion rates," the global consulting company said in a note on 21 January.
Liquefied natural gas (LNG) in Asia hit a record high of over $56MMBt (metric million British thermal units) on robust demand and tight supply in October last year. The price of super-chilled gas has dropped with Platts Japan-Korea Marker for March delivery traded at $20.525/MMBtu on Thursday.
Rising demand, falling output
Last November, Wood Mackenzie forecast Asian gas demand would almost double to around 140bn cubic feet per day (bcfd) by 2040, driven by coal-to-gas switching and a need to underpin intermittent renewables generation.
On the supply side, however, the outlook is gloomy. While the region has abundant gas resources, it lacks commercially attractive opportunities. There were 56 billion barrels of oil equivalent (boe) of discovered resources in the region which were considered non-commercial. Over 70% of these resources are gas, Wood Mackenzie said.
The firm identified 25 trillion cubic feet worth of projects awaiting a final investment decision (FID), which were struggling to progress. In addition, deferred maintenance and development programmes at mature gas fields could cause problems in the future.
Angus Rodger, Wood Mackenzie research director said that Asia would need an additional liquefied natural gas of 240 million metric ton per year by 2040 due to chronic underinvestment across Asian upstream projects.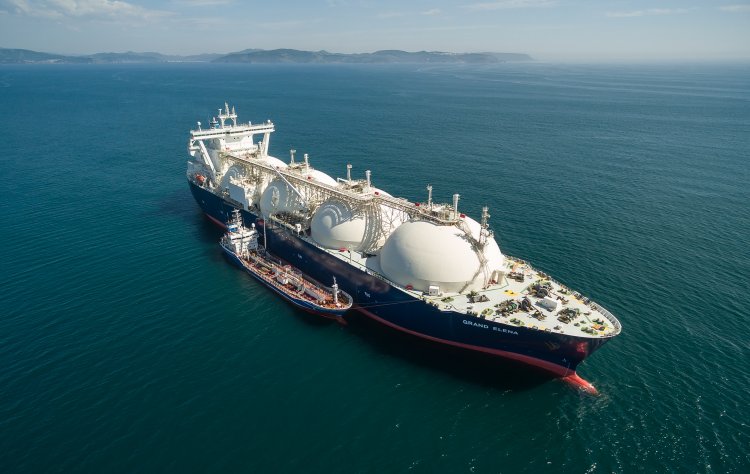 An LNG tanker is sailing in the open sea - Credit: Shutterstock
Backfill projects
"With several undeveloped LNG backfill opportunities across the Asia Pacific yet to be developed, the window of opportunity risks closing," said Wood Mackenzie in the note. Backfill projects are supplied from new sources to back up the existing projects.
The firm noted that Australian gas producers Woodside and Santos secured FID for the Scarborough/Pluto T2 expansion and Barossa gas project to backfill Darwin LNG.
Progress to bring up to 15 million tonnes a year of potential backfill supply, however, remains painfully slow at two of the oldest and largest LNG projects in Asia: the North West Shelf and Bontang LNG in Indonesia's East Kalimantan.
As costs to bring in backfill options are not cheap, the two projects have to choose either to prioritise backfill developments or start shutting in their LNG trains.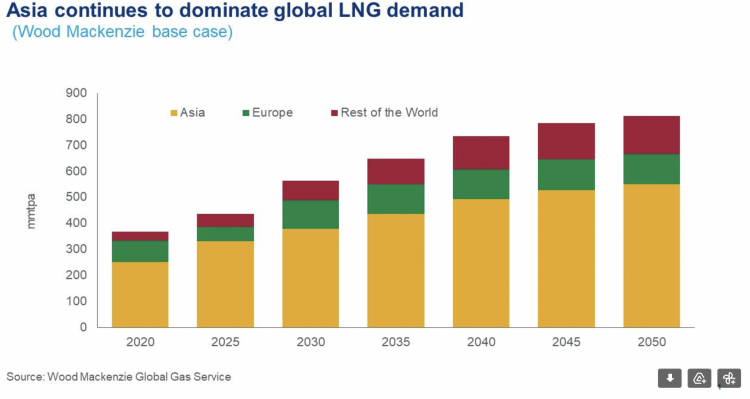 Asia continues to dominate global LNG demand - Credit: Wood Mackenzie
The Browse LNG at Western Australia's Dampier Peninsula is a leading backfill contender. But it is unlikely to be developed this decade given the high costs, environmental concerns, and misalignment in the joint venture. Adding complexity and costs to the project is the levels of CO2, which is up to 12%, as it would need carbon capture and storage.
A wildcard for 2022, Wood Mackenzie said would be the government of Papua New Guinea agreeing to a deal with the ExxonMobil-led P'nyang gas joint venture to bring the project back into the pipeline. This could bring PNG LNG Train 3 back on the table.
Imports set to rise
With less certainty on Asia's ability to meet its own gas demand, rising import dependency is now inevitable.
In 2021, new long-term LNG contracting rebounded to its highest level in five years, with Asian buyers accounting for 85% of global contracting.
Much of this newly contracted supply would come from Qatar and the US, plugging the fast-growing gap between Asian gas demand and declining indigenous supply across much of the region.