Ashtead (AHT) shares up 3.36% as it posts record results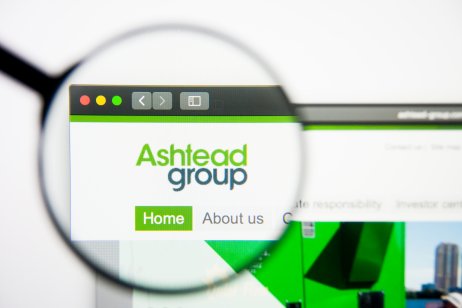 Shares of Ashtead (AHT) were up 3.36% this afternoon after the UK industrial equipment rental group reported a record performance for the six months ended 31 October.
Revenue for the first half of the 2021/22 fiscal year rose 18% to $3.9bn (£2.95bn) while rental revenue increased by 20% to $3.5bn. The group noted rental revenue was 14% higher than the first half of the 2019/20 fiscal year.
Second quarter revenue grew 15%, while rental revenue increased 18% to $1.9bn in 2021.
During the first half, underlying pre-tax profit increased 42% to $979m. Second quarter profit was up 27% up from the previous year.
"This market outperformance across the business is only possible through the dedication of our team members who deliver for all our stakeholders every day, while ensuring our leading value of safety remains at the forefront of all we do," said Brendan Horgan, Ashtead's chief executive.
Outlook
Ashtead now expects full year results to be ahead of previous expectations.
The group now sees a 17–20% year over year increase in revenue, up from 13–16% previously guided. US full year rental revenue is forecast to grow 18–20%, up from 13–16%. The outlook for Canada and the UK remain unchanged, with Canada expected to see 25–30% growth and the UK a 9–12% increase.
What is your sentiment on AHTl?
Vote to see Traders sentiment!
US

expansion
The London based firm, which owns US equipment hire company Sunbelt rentals, expanded in North America.
Horgan added: "Sunbelt 3.0 has been embraced by the business and we are making good progress across all actionable components. In the period, we invested $1.2bn in capital across existing locations and greenfields and $428m on 10 bolt-on acquisitions, adding a combined total of 58 locations in North America.
"We have a healthy bolt-on pipeline and have already spent a further $320m in the third quarter. This investment takes advantage of the ongoing structural growth opportunity that we continue to see in the business as we seek to deliver on our strategic priorities to grow general tool and amplify specialty."
Further volatility?
Ashtead's share price initially rose 4.1% following release of its results. In spite of its record performance, equity analyst Sophie Lund-Yates at Hargreaves Lansdown warned there could still be some volatility ahead for investors.
She said: "Ashtead's heavy duty industrial rental equipment fell out of favour during the peak of the pandemic, which is why new results look so spritely in comparison. However, it's been achieved, knocking the lid off full year expectations is good going.
"As the world, and more specifically, industrial work, has started to resume, Ashtead stands to benefit. Plans to build out other revenue streams have merit, but for now, it's still the traditional equipment rental business that's bringing home the bacon.
"The group's enjoyed favourable market sentiment over the last few months, boosting the valuation in a big way. While the optimism can be understood, it shouldn't be forgotten that Ashtead is an operationally leveraged business. As a cyclical company, its fortunes wax and wane with the wider economy too, so all-in, there could be some volatility if there are any unwelcome economic surprises."
The group increased its interim dividend increased by 28% compared to 2020 to 12.5¢ per share.
Read more: Ashtead buoyed by trading improvement